Worthing Congress 2012

2 October 2012
Reports on the workshops and lectures that took place over 21st, 22nd and 23rd July at Assembly Hall, West Sussex
Latin American workshop by Lorna Lee
Lorna Lee gave a very informative Latin American workshop, discussing foot pressure, hip rotation and delayed body movements through the Rumba action, focusing on the pressure through the foot on the free leg to control body weight distribution. As one exercise, she taught an Open Basic Movement and Lady's Hockey Stick. Lorna created great fun by giving out pieces of paper for participants to dance on in order to show correct foot control, stressing the importance of the leg and foot action. By the end of the workshop, there was a definite improvement of style, action, quality and appearance of the enthusiastic audience.
Modern Ballroom workshop by Michael Reilly
Michael Reilly explained in his lecture on Modern Ballroom very clearly and precisely, the importance of holding the body line in the correct position when dancing on the 'diagonal line' and retaining 'foot line' when dancing the Tango. He detailed the difference between forward in Contra Body Movement Position (CBMP) and forward and across in CBMP, showing the shaping of the feet on the 'curved track' on the forward and backward walks. Developing the Tango character, Michael gave an in-depth description of the leg action, showing an excellent, articulate foot and ankle shaping, using five of the basic figures, he demonstrated excellent body actions with accurate feet placings. The audience was enthralled with his excellent knowledge and teaching simplicity.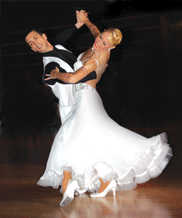 ---
Sunday 22nd July
Rumba & Cha Cha Cha Variations & Interpretation, Malcolm Hill, assisted by Claire Thompson
The first lecture of the day was an attractive 8-Bar Rumba routine, showing attractive and interesting developments of basic figures and which was confidently taught with detailed clarification offering a variety of interpretations.
The Cha Cha Cha routine showed all action movements and lines and was cleverly formulated, showing interesting rhythm changes. Both variations are ideal for weekly classes.
Teaching Tips for All Ages by Crystal Main
Crystal enthusiastically explained interesting teaching methods, focusing on one point at a time, covering problems caused when in promenade position and hips are too far apart. She aimed to keep things simple and not teach too much at a time, using a check list when commencing the dancing hold: poise and posture, foot expression and use of foot exercise, musical interpretation and quality of movement.
Classical Sequence for Ballroom Trained Dancers by Anne Lingard
This lecture involved several couples demonstrating different dances incorporating 3/4 - 4/4 and 6/8 timing, the Veleta, La Mascotte, Wedgwood Blue, Gavotte and a Boston Two Step. Anne delivered many technical points plus correct etiquette when walking onto the floor. It was good to see so many people participating, especially many young teachers.
Quickstep by Katie Gleeson
Katie's lecture was excellently demonstrated and clearly explained. An 8-Bar simple and effective group, showing good development of syllabus figures which would be ideal for Gold Star examinations.
Foxtrot by Alex Sindila
Alex showed a Feather Step, Bounce Fallaway into the Three Step. There was an interesting use of the Outside Swivel taken from 2 – 3 of the Curved Feather, which connected, to a Reverse Wave from step 4 ending with an Open Impetus. This was danced and taught with an experienced air for a young couple.
Rumba & Jive Variations by Djordjs & Emma Tanasijevic
This was a sparkling, challenging Rumba variation which cleverly used syncopated timings combined with stylish body lines and attractive arm shapes. Both dancers showed superb foot and ankle tone throughout.
A relaxed, useful Jive using a mixture of chassés and flick ball changes, this variation will be ideal for the weekly class or in Gold Star examinations. Both amalgamations were clearly and carefully taught and very well received by the audience.
Making Ballroom Cool for Kids by Claire Thompson
Claire explained that she asks her children how they think learning could be made 'cool'. She said that they like gadgets, so for example, when teaching the Waltz, she uses coloured paper stepping stones to show the pattern of steps. Amongst other ideas, in this lecture, she used coloured ribbons to help with the quiet use of feet. She demonstrated that choice of music is important and sometimes it is good to put in a more difficult step, such as a Fish Tail for interest and even include the use of iPads.
It's All About the Action by Graham Oswick
Continuing with the theme of foot pressure in Rumba, Graham explained that it is important to co-ordinate the use of knees, body and arms combined with the tracking of the feet and legs and keeping the base small. Assembling the people onto the floor, he proceeded to analyse the importance of foot speed which develops excellent musicality. It was obvious that people enjoyed participating and trying out his ideas during this excellent lecture from a Latin American expert.
Club Dance by Paul & Elaine Hills
Paul and Elaine presented a selection of figures from the Argentine Tango syllabus, incorporating a Salida, forward and backward Ochos, Parada and a Bycyclette. Paul and Elaine successfully showed how to use the variation in Tango Vals, which provides an interesting feature for teaching.
The Importance of Line by Monica Needham
Monica discussed how many poor lines are shown in medallists and low grade competitors because the top half of the body is used independently. With the help of Alex Sindila and Katie Gleeson, she explained how to dance the Oversway showing correct balance, shape and line. The man shaping to left on the Viennese Turn produced a lady's head turn to the right, enhancing the line. Monica lectured in a very relaxed and enjoyable way – a true professional.
DFR – Solo to Pairs by Jonathan Reed & Laura Rampton
An explosive start to this lecture saw Jonathan and Laura skipping onto the floor to the tune of 'Staying Alive' from Saturday Night Fever. Using the same music, they developed this dance into a couples routine which was enthusiastically enjoyed by all those taking part. This excellent dance was brilliantly taught by Jonathan and Laura, providing a very entertaining lecture.
Samba & Cha Cha Cha Variations by Damian Evans
A snappy, short Cha Cha Cha variation showing interesting syncopations with developments of chassés and foot changes, culminating in a sparkling choreography, useful for hobby and advanced dancers. Damian finished the day of lectures with a scintillating Samba, using an attractive amalgamation which showed a clever use of rhythmical changes and contrast. Both variations were positively taught, clearly and concisely.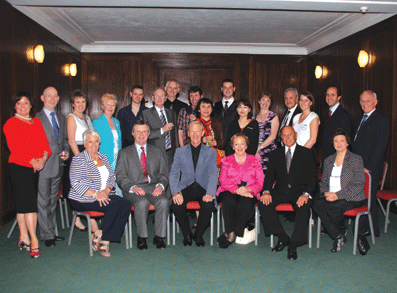 ---
Monday 23rd July
Paso Doble & Jive by Richard Still & Morgan Hemphill
The first lecture of the day was an 8-Bar Jive variation. Richard developed the basic figures, which is very useful for social or medallist classes. He presented the work most clearly and carefully using a 'rhythmical teaching' language. This was a very good variation consisting of Travelling Promenade Spins and Twists, ending with a pivot and lady's Ronde into a stylish high arm line – a perfect amalgamation for Gold Star work, Richard showed humour and enthusiasm in his presentation.
Class Variation – Tango by Mario De Marco
An attractive amalgamation showing developed movements of syllabus figures, with interesting rhythms and timings used to give a sparkle to the routine. This was confidently taught with very clear voice projection.
Class Variation – Waltz by Emma Hawley
This well constructed Waltz group used common elements from other dances to create flowing, attractive and useable work which would benefit pupils of various ages and abilities.
Modern Sequence by Glen Badham
The Sequence Faculty invited Mr Glen Badham to lecture and who clarified many essential and important Ballroom principles necessary to develop the quality of this style of dancing. He spoke passionately about body lines and harmony within the Ballroom hold, to achieve a stylish performance. Important technical detail was taught in this lecture.
Using Your Imagination – Part 2 by Julie Tomkins
Following on from last year's lecture, Julie once again produced many Latin gems in Cha Cha Cha, Jive and Rumba. Using her clever imagination and timings, she presented short amalgamations which would be excellent for hobby classes or Gold Star medallists. Used as individual modules or to build a structured choreography culminating in a terrific Jive, this left the audience eagerly waiting for Part 3 – a brilliant lecture.
Foxtrot & Quickstep Variations by Greg Gillespie
The Double Reverse Spin was cleverly used to create a flowing choreography that portrayed the characteristic of the Foxtrot. The content was simple and extremely effective. The Quickstep showed free flowing movement with rhythmic expression combined with interesting contrast. This talented young teacher lectured with a voice of experience.
Solo Demonstrations in Ballroom Professional Examinations by Vernon Kemp & Anne Lingard
Two of our senior examiners and technical 'gurus', Ms Anne Lingard and Mr Vernon Kemp, presented a wealth of knowledge in their technical lecture, highlighting the importance of solo demonstration – not only in day-to-day teaching, but also for professional examinations. This most important and informative lecture showed both the wrong way and the correct way, giving members a plethora of knowledge and information to take away with them to greatly assist in their personal development.
Latin Sequence by Lorraine Kuznik
Lorraine demonstrated the Rumba Sicilia. She explained the importance of leg action, speed of action and as always, foot pressure. Her workshop was invaluable not only in Sequence but to all teachers of Latin American dance, reinforcing many of the valuable points used by Lorna Lee who opened the Congress.
Basic Principles Rhythm, Tango & Viennese Waltz by John Taylor
In my own lecture, I aimed to provide some excellent teaching methods and ideas, delivered with humour and expert simplicity so that participants would experience a fun-filled workshop that not only covered, but also corrected many common faults to assist the Viennese Waltz section of my lecture. I treated the audience to a rendering of Tulips in Amsterdam. I also gave 'hints and tips', as I commonly do in my lectures.
Samba & Jive Variations by Lorraine Kusnik
This group in the Samba was developed from Gold to Gold Star, making both attractive and very useable for advanced medallists and competitors. The amalgamation showed rotation, lines and a variety of rhythmic interpretations. A cleverly formulated Jive group showing slick actions and movements using imaginative timings and rhythms, the variation was fun to dance and will be ideal for class and Gold Star work. Lorraine presented both amalgamations professionally and efficiently.
---
Phyllis Haylor Scholarship 2012
As the Sequence Faculty representative, it gave me great pleasure to be one of the five assessors at this year's Phyllis Haylor Scholarship, which took place on Saturday afternoon of the Worthing Congress.
The Scholarship takes the form of a ten minute presentation, selected by the candidate from one of the pre-set subjects related to dance, followed by five minutes of questioning by the panel. 11 Associates entered from various Dancesport Faculties, all of whom were very articulate and passionate about their chosen subject.
Being my first time as an assessor, I was uncertain as to what to expect. However, the whole experience was very enjoyable and conducted in a friendly atmosphere, although, I am not so sure if the candidates thought the same!
Personally, I was pleased to see such energy and enthusiasm from all participants who obviously took time and care over their address which bodes well for their futures. I strongly embrace the structure and standard of the ISTD's professional framework and believe that it is every teacher's duty to attain the highest possible qualifications in their chosen genre. Therefore, I would encourage all new Associates in the Society, who are eligible for the 2013 Phyllis Haylor Scholarship, to enter and take this opportunity, not only for a cash sum to develop their own career, but more importantly, as a stepping stone to attain the highest standards for the future and benefit of their pupils.
Finally, I would like to personally congratulate and thank all who took part and regret that we could only select one successful recipient of the Award. It was not an easy decision.
---
2012 Winner, David Mallabone
After watching his younger brother dance as a Juvenile and Junior competitor, David decided to take up competitive dancing when embarking on an Economics degree at Cambridge University. Whilst there, he won the national universities' Latin competition and captained Cambridge to success in the Varsity Match against Oxford. After graduating from university with first class honours, David worked as a mathematics teacher whilst continuing his competitive Amateur dancing career, training with and being inspired by Göran Nordin, Nicola Nordin and Karen Hardy. In 1997, along with a small group of friends, he founded the XS Latin formation team.
Upon turning professional, David returned to his roots and joined the coaching teams for both XS Latin and the Cambridge University Dancesport Team. He was very proud to coach XS Latin to their fifth British National Formation Championship title in 2011. He is training for his professional examinations at the Lait Dance Club in Ipswich with Pat Lait, whose knowledge, wisdom and patience provide continual motivation.