Reaching Out to Teachers

22 June 2014
Chitra Sundaram interviews teachers from Canada, the Netherlands, South Africa and
the United States
ISTD Classical Indian Dance Faculty teachers respond to Faculty member Chitra Sundaram with news of many successes and further ideas and questions from North America, South Africa and Europe. Established ISTD teacher Lata Pada speaks of the early years of creating completely new lesson plans to cover all aspects per syllabus. And younger teachers speak gratefully of structure and milestones provided for students – and their parents.
"The ISTD's Bharatanatyam syllabus is very well designed"
To state the obvious, dance teachers are the ISTD's number one bastion and upholder of the 'faith' – a faith in dance pedagogy and the value of time-honoured and practice-tested syllabi and examinations. They provide solid steps that help dancers-in-training fulfil their dreams. This is true across all faculties in their worldwide mission. As one of the youngest faculties of the ISTD, the Classical Indian Dance Faculty (CIDF) is delighted to hear similarly from a sampling of our teachers from an inspiring geographic spread: Canada, South Africa, the United States and the Netherlands. [Look out for their brief profiles at the end of this article.] They represent established and new teachers, some with over 300 students examined and others preparing nearly another 100 for 2014 – 2015. For us, this is exciting and energising. Here is what they have to say:
What made or makes you choose the ISTD route to qualifications for your students?
Lata Pada (Toronto, Canada): I find the ISTD system comprehensive, as it addresses all the necessary and important areas of training in Bharatanatyam, including those that go beyond technique and repertoire. The syllabus is detailed, well structured and proportioned, and crucially, it is not 'school' or 'style' specific, and is thus accommodating of the techniques of various streams of Bharatanatyam.
Chrada Sheoratan (Utrecht, the Netherlands): The ISTD's Bharatanatyam syllabus is very well designed. It develops a high level of maturity and understanding of dance and related aspects of music and theory. Through the ISTD programme, I have been able to cultivate high standards in technique and theory. My gurus, Nina Rajarani [CIDF Secretary, committee member and Bharatanatyam examiner] and Y. Yadavan have been a strong influence. These examinations provide me, my students and their parents with a useful tool to measure progress, development and success.
Kirti Ravjee (Johannesburg, South Africa): After discovering Sujata 'Didi' Banerjee [CIDF Chair and Kathak examiner] in London and becoming her student, I learned about the ISTD exams and took one myself. It was then that I decided I would follow the same route upon opening Ghungroo Dance Academy in South Africa in 2010. Most Indian dance schools in South Africa only offer internal exams. Ghungroo Dance Academy is probably the only Indian dance academy that offers the ISTD syllabus for Kathak in South Africa.
Gurmeet Marhas (Chicago suburbs, USA): The ISTD syllabus for Kathak is well-rounded and highly structured in its approach. Every aspect of Kathak education has been analysed and documented in the syllabus. The content and standards are well defined. There is a professional approach towards teaching and grading, making it an objective framework. This benefits and appeals to all the stakeholders: administrators, teachers, parents and students alike.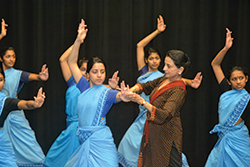 How have your students and parents responded to the introduction of the ISTD syllabus and examinations?
Chrada: The enthusiasm of my students and their parents plays a major role in our accomplishment. We all really enjoy both the examination sessions and the preparation for it. I would encourage other dancers to embark on this worthwhile journey.
Kirti: Parents and students are thrilled to see that there is some form of structure, that at the end of an exam they have something to show for their efforts.
How easy, or difficult, was it to implement the syllabus and get buy-in from students and parents?
Kirti: I would say it has been easy to sell to parents and students as many do dance as more than just a hobby. They are looking to have some type of qualification and certificate to show for their training, even though they do not want to necessarily pursue careers in dance.
Lata: It has taken a few years because we have had to systematise our curriculum delivery by making lesson plans for each class to ensure we are covering all aspects of the training in a progressive manner. In the last few years, I have noticed that while students have become comfortable preparing for the lower grades, there is a high level of enthusiasm for the higher grades and excitement about the exams. Parents are full of appreciation that the academy functions like a training organisation and that their children are expressing their commitment to ongoing training as opposed to something they just dabble in or consider a hobby.
Gurmeet: The documented methodology makes it possible for educators to focus on teaching Kathak to students, as other worries are already ironed out and addressed by the ISTD. Also, the ISTD grade levels have been accredited on the Qualification and Credit Framework recognising that learning Kathak is a part of the overall learning and education of students. This is an added benefit for parents and students when choosing the ISTD.
Chrada: The parents and students are really enthusiastic. Due to their enthusiasm and motivation, the preparations go very easily. Our common goal is to raise the standard of Bharatanatyam in the Netherlands. The students are studious and supported by their parents. The youngest students are studying with their parents.
What have been the biggest challenges or difficulties in being an ISTD teacher?
Gurmeet: There is a lack of forums imparting knowledge on how to remain injury-free, for example, through the use of the right type of floors, correct posture, warm-up and cool-down exercises tailored specifically for Kathak dancers. A major hurdle is the availability and access to books on Kathak, and a lack of such books in English that cater to younger and beginner students.
Lata: It feels isolated being the only Bharatanatyam academy in Canada affiliated with the ISTD. I truly feel the absence of a peer group of teachers and examiners with whom I can share experiences of training, coaching and exam preparation.
Chrada: My personal challenge in the beginning was conducting classes according to the ISTD programme. I had to broaden my horizons and develop my own knowledge of the background of dance before I could transfer my knowledge to students. For this, I started to take classes in India and London, and found a skilled coach who guides me through my journey.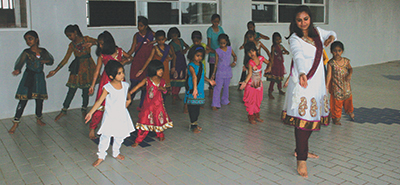 What are some simple steps we could take, as an ISTD Faculty, to help with your challenges, and thus help other teachers outside of the UK?
Chrada: To provide opportunities for us to broaden or retrieve the knowledge of dance and familiarise ourselves with new innovations in dance. It would be nice to organise intensive weeks with all ISTD teachers, to work according to the ISTD programme. It would also be nice to have an exchange programme between teachers so they can learn from each other to see how other classes are conducted.
Gurmeet: I would recommend articles and DVDs that would help to identify and address possible injury and health issues, specifically relating to Kathak. Any information on recommended dance floors for Kathak would also be very helpful.
Lata: It would be wonderful if ISTD affiliations increased in Canada and the USA to justify more visits from UK teachers. Such visits would provide the opportunity to network with North America based teachers, understand the realities of teaching in this environment (which might be different from that of the UK), share the benefits of the ISTD to the larger dance community and maximise the coaching time outside of an examination setting.
This has been a great exchange. Are there any other last comments or compliments? They are whole-heartedly welcome.
Kirti: I would love to have access to more information, music and theory materials available on the ISTD website for classical Indian dance, even if there is a small cost to pay.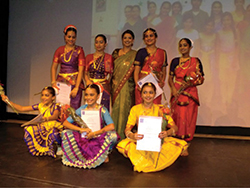 Chrada: I would like to extend my heartfelt thanks to my gurus Nina Rajarani and Y Yadavan, all the skilled examiners, and to the ISTD for making this possible. This opportunity motivates us and I am very optimistic about what the future has to offer. Thanks to both the ISTD and the Dansschool Natya Sudha, the standard of Bharatanatyam in the Netherlands can now move forward.
Lata: My sincere appreciation to the Classical Indian Dance Faculty for their painstaking and meticulous efforts in creating the syllabus and continuing to revise and update its content. This has been a labour of love and is truly a gift for Indian dance globally! I must say how grateful I am for their guidance and patience whenever I have called to clarify any doubts.
Chitra Sundaram: Thank you! Truly, you have all offered up some valuable issues and excellent suggestions for consideration that we, as a faculty will take up. I thank all of you for your time and responses and for flying the flag for the ISTD and Indian classical dance around the world.
Chitra Sundaram