Reports from this year's Dancesport Congress

13 November 2019
Alex Costi, Marcus Edwards, Jake Hooker and Nicholas Kelly report from this year's Dancesport Congress
Reports
Saturday 20th July 2019 report by Jake Hooker
Nick Kelly and Cheyenne Russell
Fantastic Fallaways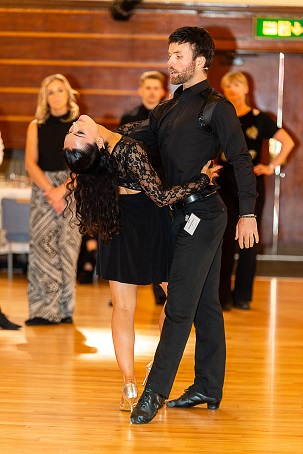 Starting with the Waltz and the variety on each fallaway, with angelic rotations and different timings. I loved the level changes and uses of the rise and fall on different beats from the standard technique creating an interesting take for higher level dancers to use. Switching to the dramatic Tango, another great display of their topic of Fantastic Fallaways used in a very staccato routine of steps. I liked how they changed the direction of some figures to give alternative alignments to steps allowing them to travel into the fallaway brief. Nick and Cheyenne demonstrated both dances with a beautiful connection and with the presentation in mind, giving a clear understanding of the intent with each step and combination of fallaways, making them appear very different with meaning and thought behind each one.
Crystal Main, assisted by David
Crystal Clear Choreography
If there is anyone you want to see do the Samba and Jive it is the delightful Crystal. Showing off how you should use feet, hands, alignments and timings to truly benefit the rhythm of each dance. Performing her steps of the Samba first, Crystal demonstrated the leg and body action of her steps and continued to show impressive isolation of hip action. Watching this is a complete joy in my book and only makes you want to move to the music in the same way. Crystal always seems to have that effect at any level she dances at from partnering pupils to then performing on stage. I liked the way she used basic steps to tweak either the timing or the alignment to get into other steps without losing the feeling of it or using a pattern we've all seen and used a thousand times. Flicking into the Jive, the routine had some great takes on regular steps but focused on flexed knees to create more shape. Flowing movements and sharp flick ball changes kept the energy high for a well put-together amalgamation. This lecture certainly hit the Crystal Clear standard.
Joanna Bevan
DFR Warm-Ups
A very interesting lecture from the weekend, impressing everyone who attended the congress about the importance of warming-up before fully dancing in lessons or competitions. Though this lecture was from the Disco Freestyle Faculty, it certainly had noticeable importance in all dance styles in the Dancesport family. Joanna exhibited her knowledge for everyone to see with her well-spoken lecture, delivering concepts for fast, slow and small space warm-ups that will really aid all dancers in any form. Interesting games and tasks for the Congress audience to get involved in and telling everyone the reasons behind them proved to be a winner and eye-opener. This did include a rather fun warm-up session using cones, which, wearing a suit and Ballroom shoes, did prove to keep the viewers amused with large steps in tight trousers and bum wiggling. My apologies to Richard Miles who witnessed the latter! This warm-up exercise, though a giggle, did prove what is needed for everyone to stay safe when dancing and to stay injury-free. Overall, an amazing lecture that I'm sure we will see more of.
Vice-Chair ISTD Warren Boyce
Developing Ballroom Frame
Heading back to the Ballroom lectures, with not only a talented dancer, but a true professional and a fantastic detailed talk about the development of frame, Warren presented his view on systems and the stages of the frame in all Ballroom dances. Listening to this insight into the two systems he sees in Ballroom goes to show the time and effort that high level competitors and coaches will go through to achieve what many others can't, making them the best. The first system articulating the 'Connection Frame' used by 95% of dancers to ensure they are dancing together and stable. This was demonstrated by a charming juvenile couple, which clearly showcased the connection they had together and how to move as a partnership. Moving into the second system, which Warren only sees 5% of couples do correctly, is a 'Fluid Movement' system. This gives a far more dynamic look in creating sway and presenting expression into the musicality of the steps. Distinguishing the idea of using four directions – Center, Right, Left and Lift – to create expanded frame lines, which Glen Boyce and Cäroly Jänes executed superbly. They're certainly a couple to become future world champions.
Phillip Blackburn
Beyond Gold
This lecture from the Sequence Faculty was a lovely display showing that Sequence dancing has beautiful shaping and power just like its Latin counterpart. Phillip showcased his own winning Paso sequence with partner Chelsea Judson, dancing the Tauromachia Paso Doble (translates to Bullfighting Paso Doble). What more could you ask for in a routine that displayed so much form and control? With the lecture focusing on teaching others the choreography, Phillip explained why certain actions appeared in his sequence and then related it to the characteristics that should emerge in all Sequence dances. I had a joyful time learning this and have taken a lot home about how to create more shape whilst using complex fast timing to show more substance and feeling into the dance. It really felt like an above gold routine and it was a pleasure to watch when demonstrated at the beginning of the lecture.
Nicole Cutler
Developing Rhythmical Expression
What a treat! A lecture to focus purely on Cha Cha Cha and being able to watch a stylish technician showing off not only her vast knowledge but ability, too. The power and clarity in Nicole's steps and figures perfectly joined by Matthew Stickels, who performed his strong posture and supportive lead. A quote from the lecture that stood out for me was "listen with your ears". Now we all do, but Nicole went deeper into the meaning of such a quote: "We need to listen IN the music not ON the music." Reinstating the beat values of when steps are half or a whole beat to illustrate perfect harmony to music and movement. On top of all that knowledge of rhythm, Nicole discussed how the influence of direction and preparation of steps aids the creation of expressive rhythm, not just in Cha Cha Cha, but all dances. Flawlessly characterised twists and turns with musicality in mind, produced a more than developed lecture of all to see and take part in.
Chair ISTD Christopher Hawkins
Swing, Sway and further Dynamics
The final lecture of the day was another standout talk from the one and only dancing Ballroom legend Christopher Hawkins, who has always been an idol to me ever since I started Ballroom. My notes for this lecture covered a number of pages and every word has been a golden nugget to take on and use in not only teaching but my own dancing, too.
Christopher covered the three sections in his topic of Swing, Sway and Further Dynamics, expressing how to develop and evolve each one for each level of dancing, using mathematics to harmonize swing and sway to create more volume and fullness to every figure you could possibly think of. Coming out with metaphors to help you imagine the motion of all the components together like how to picture the couple swinging from "monkey bars" to better their pendulum swing of movement together, rather than individually to produce a further dynamic to the dance. An interesting mention to the evolution of arm swing and how the head can build more sway into a step and connect that with a partner was brilliant to see when performed with Cheyenne Russell throughout the lecture.
It was indeed a pleasure to see such high class dancing on a final lecture, worth its weight in gold. I see Christopher as the Yoda of the Ballroom world and the creations and wisdom that comes to his mind passed down from years of obvious hard work and dedication are why he became a World Champion and Chair of our brilliant Society.
Sunday 21st July 2019 report by Nicholas Kelly
Michelle Postlethwaite, assisted by Richard Miles
Fanography – Creative Ways of Entering and Exiting Fan Position
Michelle started the second day of the 2019 Congress with her subject Fanography assisted by Richard Miles. The main point of the lecture was to show interesting and new ideas to enter and exit fan position, with a clever 8-Bar routine that was adapted from Rumba to Cha Cha Cha with minimal changes. The routines were demonstrated beautifully by two lovely dancers, super clear timing and very stylish curl actions, which combined with an engaging teaching style made this lecture a great start to the second day.
John Foskett, assisted by Michael and Nika Foskett
Foskett Figures – Simple Variations in Foxtrot and Quickstep
John Foskett was assisted by former World Under-21 Ballroom champions Michael and Nika Foskett. This was a very well-prepared lecture with a clear plan of how to show and teach the choreography. Michael and Nika demonstrated the routines with great quality and accuracy while John explained alternate timing, sway and shaping options. An interesting yet simple combination of some syllabus figures with a little extra added on top. This was a fabulous lecture that I'm sure many teachers will be taking back to their classes.
Julie Oram
Charleston
Following the morning's coffee break, we were treated to an introduction to Charleston by none other than Julie Oram. Julie started her lecture by demonstrating a fun, energetic and lively solo Charleston group. It was shown clearly and with a huge smile the whole way through. Following this, Julie asked everyone to join her on the floor. The floor was filled and everyone was up and dancing within minutes. Charleston is a style with lots of interesting moves, shapes and figures. I feel it's important for people to come out of their comfort zone and try new things and this clear, well-delivered and fast paced lecture was perfect for just that.
Yvonne Taylor-Hill, assisted by Michelle Postlethwaite
An Examiners Eye – Fundamental Faults at Lower Levels and How Best to Correct Them
As lunch time approached, the room was becoming excited for the break ahead. However, that quickly changed as a woman of passion, experience and a rather large soap box took to the floor. It's safe to say that knowledge was the sustenance people were now craving. In my opinion this was one of the best lectures of the weekend, not focussing on choreography but on the true fundamentals of dancing. Starting with Rumba, Yvonne talked about foot pressure and how this is not used enough, she continued to talk about other issues such the "Natural Top's Cuban Cross" and the dreadful "Creeping Foot". Yvonne mentioned many other problems in all dances. Dance exercises showed how to improve foot pressure, which also gave the Worthing floor a good sports massage. A wonderful lecture that left the entire room in awe of this highly qualified lady's experience and expertise.
Andrew Rhys Davies, assisted by Lily Cox
Sequence Above Gold – the Premier Two-Step and the Empress Mazurka
Returning after lunchtime the lectures resumed with an amazing lecture on Sequence above Gold. Andrew Rhys Davies (assisted by Lily Cox) started off by demonstrating the first of their two selected dances, the Premier Two-Step. Once again, we found this lecture focussed on the quality of the dancing rather than choreography (it helps when most of the participants already know the choreography). Andrew gave lots of top-class pointers including techniques to improve foot pressure, "Squashing Mushrooms" and all of this taught in a clear, intelligible voice at the perfect pace. The second dance focussed on was the Empress Mazurka, which also did not disappoint. All in all, this lecture was precise and detailed, clear and calm taught by a talented dancer who has a fabulous teaching style. Congratulations on your first ever lecture, in my opinion it was one of the best lectures of the weekend.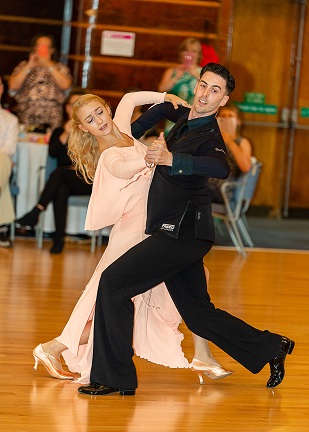 Steven Arnold and Yasmin Priestnal
Weaving Your Way to Success – Simple Variations in Waltz and Foxtrot
This young and experienced couple had a tough task to take their wonderful dancing and break it down in a way that everyone was able to see, understand and copy. They used a powerful and well-known lecture technique of 'tell it, show it, explain it'. They told everyone what they were going to do, they demonstrated exactly that with style and grace, then they broke it down. Once again inviting everyone onto the floor they taught and explained their tricky combinations of Waltz and Foxtrot with good information and clear direction on how to achieve the different positions they were moving in and out of. This was a perfect continuation of my lecture Fantastic Fallaways on the Saturday morning, and a very well delivered lecture from two dancers who cannot only teach but also dance to a high level.
Jake Hooker
The Phyllis Haylor Scholarship Award winning lecture
It was nice to see a slightly different lecture with Jake Hooker's award winning lecture. Over the past two days most lectures were specifically targeted to one main area of dance, so it was good to hear a lecture about fitness and its effects on dancing and vice versa. This is clearly something that can be applied to all areas of dance. The lecture included points such as: Is fitness important to dancing? What muscles do we use? How do we breathe? When do we breathe? This was a very considered, insightful and inspirational lecture by a highly intelligent young man, who, since turning professional six years ago, hasn't missed a single Dancesport Congress.
Michael and Lauren Hemera
Contrasting Characters – Rumba and Paso-Doble
In our eighth and last lecture of the day, Michael and Lauren Hemera took to the floor with their subject Contrasting Characters, and what a lecture it was. Michael started off talking about emotional content and how to identify what you would like to show within certain movements. They did a small group of Rumba choreography which enhanced the points they were trying to make, an interesting use of timing on the Rope Spin along with other syllabus figures was a nice added touch. Many other points were mentioned over the two dances, for example acceptance versus rejection, imagination and creation, changing holds and not setting a frame, and finally stillness versus movement. So much information within such a contained subject truly showed how incredibly gifted both these dancers/teachers are. This lecture concluded the 2019 Congress in Worthing and was the perfect end to a wonderful weekend.
Tea Dance and Team Match report by Alex Costi and Marcus Edwards
After a fantastic afternoon of lectures we were looking forward to the opportunity to enjoy some social dancing and were curious see the new Team Match event. We devoured a selection of cakes and sandwiches then took to the dance floor.
Meanwhile, in the foyer the teams were being drawn out of a hat; 24 couples from numerous ISTD schools to be divided into 6 teams. Each team would comprise a Juvenile couple, Junior couple, Adult Ballroom couple and Adult Sequence couple, and would be led by an ISTD committee member. All of the dancers were ISTD medallists.
After a stint of social dancing we went back to our seats and the teams were welcomed onto the floor, each with a team theme song and individual marching style. Nigel Kirk's team was particularly memorable for the volume of their entrance as he enthusiastically brandished a vuvuzela-style horn. We could tell this would be a Team Match with a difference.
Once the teams had been introduced, they sat with their team leader around the edge of the dance floor. The judges were then welcomed to the stage as proceedings were now underway.
First on the floor were the Juveniles who danced the Cha Cha Cha. It was lovely to see a mixture of boy-girl and girl-girl couples on the floor and the children really set the standard for the match.
Next were the Juniors with their Disco pairs; a complete change of pace, which made us all sit up a bit, although by this point many of us had abandoned our seats to stand up and cheer the dancers on.
After Disco the marks for the first round were announced (in no particular order, which kept our grey cells working). From then on we received cumulative marks between each round, calculated by Robert Aldred and announced by our compere Christopher Hawkins, who maintained both the sense of occasion and the fun and camaraderie of the event.
The Under-35s danced Waltz and Tango, restricted to ISTD syllabus figures. All of the dancers showed our basic and standard figures with excellent control and musicality, a reminder of the value of our syllabus work as building blocks for dancers of all levels.
The final group to dance were the Sequence adults, dancing the Countess Waltz. It was wonderful to see yet another contrasting dance style and to note the diversity of the competitors in this group; an all-female couple, younger adults and seniors all out on the floor, united by their evident passion for this poised and elegant Dancesport genre.
It was then time for each group to show their second dance; Juvenile Jive, Junior Rock 'n' Roll, Under-35 Tango and Open Adult Waverley Two Step. Again, between each round the cumulative scores were given, the anticipation building as we tried to work out how close it could be and who could challenge Simon Cruwys' team, who seemed to be storming ahead. In the end Simon's team were indeed named overall winners.
The audience was carried along by the energy of the event from start to finish and everyone in the ballroom was smiling throughout. The Team Match celebrated the diversity and talent of our Dancesport medallists and indeed the skill and dedication of our teachers. The competitive element really was secondary to this, although of course I'm sure, Simon's team were very glad to have won the title… this year.