Ruby Ginner Awards 2019

19 November 2019
A tribute to Kay Ball and results from the successful Awards, which was held on 10th November 2019 at The Venue, Milton Keynes
A tribute to Kay Ball by Sonia Bond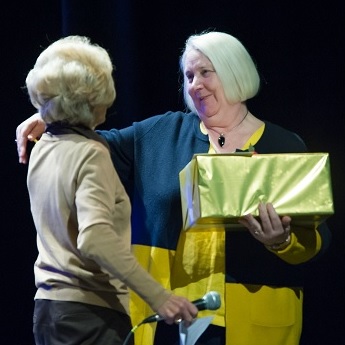 I was privileged to present a gift of thanks and appreciation to Kay Ball on behalf of the committee and examiners, and all those who are connected to the Classical Greek Dance Faculty.
Kay was trained at the London College of Dance and Drama, where she discovered her love for Classical Greek Dance under the inspiration of Rona Hart and Joan Darwall.
Kay was awarded the Daphne Hawkesworth Cup twice for her outstanding contribution to Classical Greek Dance and has received the prestigious Imperial Award for outstanding services to the ISTD.
Kay has touched many young lives through her dedication and teaching, making a huge contribution to the development of young dancers and teachers. Her work for the Classical Greek Dance is to be greatly admired and we all sincerely thank her for all she has done to develop this valuable form of dance.
After 13 years on the committee in 2001 she became Chair of the Classical Greek Dance Faculty. This role is consuming in itself, but Kay then rose to other important and prestigious positions of the ISTD including Chair of the Theatre Faculty Board, Chair of the Benevolent Committee, and she was also appointed onto the Board of Trustees.
Kay has devoted an amazing amount of time and energy into improving and progressing both Classical Greek Dance and the ISTD itself. She has achieved so much for us all and it is a tribute to her that the Classical Greek Dance Faculty is thriving, with the standard of work getting higher each year.
Ruby Ginner Awards 2019 Results
Class A
| | | |
| --- | --- | --- |
| Class Award | Bella Digby | Kilburn School of Dance |
| Musicality Award | Doris Garrod | Kilburn School of Dance |
| Performance Award | Sophie Hartley-Booth | Sandford School of Dance |
Class B
| | | |
| --- | --- | --- |
| Class Award | Georgia Gunning | Kilburn School of Dance |
| Musicality Award | Daisy-Fleur Howe | Kilburn School of Dance |
| Performance Award | Tayla Pickering | Kilburn School of Dance |
Class C
| | | |
| --- | --- | --- |
| Class Award | Isobel Barber | Mayhew School of Dance |
| Musicality Award | Lola Gallacher | Dupont Dance Stage School |
| Performance Award | Piper Mullen | Mayhew School of Dance |
Class D
| | | |
| --- | --- | --- |
| Class Award | Vivianna McKean | Kilburn School of Dance |
| Musicality Award | Lucie May Coombes | Mayhew School of Dance |
| Performance Award | Arianna Allen | Dupont Dance Stage School |
Class E
| | | |
| --- | --- | --- |
| Class Award | Evie Paddison | Mayhew School of Dance |
| Musicality Award | Beatriz Kingsmill-Smith | Mayhew School of Dance |
| Performance Award | Ariana Nedelcu | Kilburn School of Dance |
Class F
| | | |
| --- | --- | --- |
| Class Award | Lili-Skye Howe | Kilburn School of Dance |
| Musicality Award | Hannah Digby | Kilburn School of Dance |
| Performance Award | Francesca Allen | Kilburn School of Dance |
Class G
| | | |
| --- | --- | --- |
| Class Award | Imogen Burn | Kilburn School of Dance |
| Musicality Award | Kiran Young | Kilburn School of Dance |
| Performance Award | Freya Cox | Mayhew School of Dance |
Special Awards
| | | |
| --- | --- | --- |
| Kay Ball Shield morning session | Evie Knights | Buckhurst Hill and Woodford School |
| Kay Ball Shield afternoon session | Ariana Nedelcu | Kilburn School of Dance |
| Tanya Allen Trophy morning session | Olivia Dallow | Dupont Dance Stage School |
| Tanya Allen Trophy afternoon session | Georgia Mackness | Mayhew School of Dance |
| Junior Boys Trophy | Oakley Bassford | Dupont Dance Stage School |
| Biddy Pinchard Cup | Bella Digby | Kilburn School of Dance |
| Christine Orange Cup | Francesca Allen | Kilburn School of Dance |