Spring Congress 2013

17 June 2013
Ian de Souza reviews another fantastic event at the Marriott
On 17th March 2013 two important dates were showing on my mobile phone: Saint Patrick's Day and the ISTD Spring Congress.
In Ireland they would have been putting on funny green hats and enjoying Guinness. At the luxurious Marriott Hotel, a full house was putting on dancing shoes ready to enjoy not Guinness but a day of excellent sessions in Ballroom, Latin, Sequence, and Disco Freestyle with top lecturers from throughout the world.
The ballroom at the Marriott Hotel was full as Raymond Miles took the floor to open Congress with his lecture titled Imaginative choreography for the social dancer in Waltz and Tango. Raymond, ably assisted by Amy Holden, had chosen an amalgamation in Waltz comprising a Running Spin Turn to an Outside Change, overturned into Quick Open Reverse followed by a Left Whisk, then untwisting into a type of Heel Pull and Twist into a Rumba Cross. A flowing amalgamation showed contrasts, rotation and varying body speeds.
He continued his masterful work in Tango where he had chosen a Chase into a Chasse and Whisk and instead of the usual ending took a step in Promenade as the lady did a Developé to an Attitude into a Throwaway followed by a Pivot and Fallaway Whisk into the Promenade Turn with a Rock ending.
This amalgamation is obviously going to be a favourite with Gold Star pupils and not just social dancers. Both amalgamations were constructed so that they can be easily divided into short amalgamations as well as allowing for developments.
"Slow Rhythm is a wonderful tool for teaching us floor awareness, balance awareness, and partner awareness for creating a natural movement in harmony"
Next was an excellent lecture presented by UK Ten Pro Dance Champions Richard Still and Morgan Hemphill, who had just got engaged.
Although a comparatively new couple to the lecture floor, they oozed professionalism and experience and an excellent command of their subject as they presented very usable teaching amalgamations and choreography firstly in Cha Cha Cha, presenting stylish work which looks good.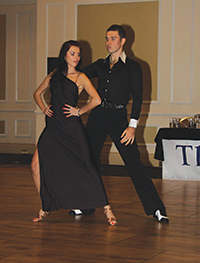 Using fundamentals of the various basic movements: Back Basic, Open Basic, Slip Chasses, a Ronde action and Cuban Breaks, with interesting change of rotation and turn and varying body positions, they created an effective dance amalgamation which was enjoyed by all. They continued in Samba using the same concept of developing Licenciate figures to create a group which presented the characteristic of Samba well, the various rhythm changes, light and shade with a good choice of progressive and stationary figures and good rotation. They demonstrated excellently how basic figures can be combined into excellent choreography and I hope we will see Richard and Morgan many times in the future.
It was now the chance for Robert and Louise Aldred to take the floor on behalf of the Classical Sequence Faculty to cover two of the Sequence dances being used at the Grand Finals, the Richmond Gavotte and the Regency Mazurka.
In these two beautiful dances, Robert and Louise not only broke down the sequences but highlighted all the areas which can go wrong and where attention needs to be paid, giving teachers advice on correcting many of the technical details that can create problems.
They always bring charm and elegance to the lecture floor and show such a beautiful use of feet and ankles as well as detail and control to any work they present. Teachers, having attended this lecture, now have a clear advantage when taking their pupils to the Grand Finals in Blackpool.
For me personally one of the highlights was the lecture by Vernon Kemp. His subject today was Slow and Quick Rhythm for Medal Tests. At last we were covering one of the most important but possibly most ignored dances in the Ballroom section. Slow Rhythm is a wonderful tool for teaching us floor awareness, balance awareness, and partner awareness for creating a natural movement in harmony.
Vernon had chosen two sample amalgamations in both Slow and Quick/Medium Rhythm presented as 8-bar chunks suitable for Silver, continuing to 8 bars suitable for Gold.
In true Vernon Kemp style he started with the music, choosing music that was impossible not to dance to and presenting something different which feels good, looks good, and is exciting to dance. If nothing else, Vernon's lecture will ensure that many of us are now thinking outside the box when developing choreography for Slow and Quick Rhythm candidates.
The Club Dance Faculty have completed the Salsa technique and the Salsa syllabus for examinations for both amateurs and also the Salsa Associate and Licentiate examination. These are official from 1st September 2013. In preparing the examination and technique, experts in Salsa from around the world have worked with the ISTD, including Susanna Montero, known amongst many as the 'Queen of Salsa.' At Congress she was ably assisted by Susan Hammond who has also been very influential in writing the Salsa technique. Together the two Sue's gave an overview of the Salsa examination and presented some of the material from the technique, giving a very good insight to what no doubt is going to be a very popular examination. The Salsa technique, Salsa study notes and syllabus can now be obtained from the ISTD.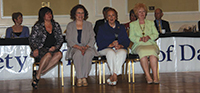 Congratulations to the Club Dance Faculty and to the ISTD for once again proving we can be leaders of the profession. The Salsa technique, Salsa study notes and syllabus also include valuable information for teachers wishing to develop Salsa classes within their schools. Teachers entering candidates for Salsa examinations between now and the end of the year may still use any suitable figure in Salsa and from January 1st 2014, the Salsa technique will become mandatory.
Jake Davis and Alvona Kalinina, the current British Showdance champions, then took the floor to present some super work in Paso Doble and Cha Cha Cha. They showed a beautifully constructed Paso Doble choreography using amalgamations based on Flamenco taps, Spanish lines and Syncopated Chasses ending with a Syncopated Separation.
The Cha Cha Cha choreography presented was effective, simple and very clearly taught. Jake is a very experienced professional and knows how to create quality work whilst ensuring everybody has a lot of fun. I do hope we will see them both back again very soon.
Next Fred Realness created a party atmosphere with The Real Experience, introducing dance for people of all ages using the music of Stevie Wonder. He started off with a fun-filled, action-packed class, taking everyone through basic locking moves. Then he said the magic words, "Street dancing is something sociable which you can dance with each other," and promptly got everybody dancing together through the soul train line. Everybody was having a ball strutting their funky stuff.
As Fred says, "Everything must start with fun!" The DFR Faculty have obviously found a real gem in Fred and must be congratulated.
Following Fred, came a line-up of four of our very experienced examiners, namely Margret Connon, Anne Lingard, Janet Clark and Julie Thompson. They gracefully took their seats to answer many frequently asked questions pertaining to examining Ballroom and Latin and the examination system, which are asked by both old and new teachers.
The floor was now open for Professional Rising Star Latin champions, Gunnar Gunnarsson and Marika Doshoris, who certainly rose to the occasion with an excellent lecture in Rumba and Jive. For Rumba they presented a stylish amalgamation showing attractive developments of syllabus figures which was both well presented and enjoyable to watch and feels good to dance based on the theme of a curl and an Alemana with, as always, an interesting twist.
Next came a hoppy, poppy Jive with good syncopations, again beautifully presented showing a lot of solo work. This is an amalgamation that people are going to have fun learning at all levels and teachers will have a lot of fun teaching. The entire lecture was beautifully presented with both professionalism and charisma.
The last lecture should have been Neil Dewar to show imaginative social dance choreography in Foxtrot and Quickstep. Unfortunately Neil was unable to attend and instead, onto the floor walked John Taylor, who by many has been named the 'Miracle Man.' Just over a year ago as he lay in hospital the doctors wanted to turn off his life support machine. Fortunately his wife stopped them as John said, "I have been to heaven but they sent me back." I guess the angels sent him back to get his golf up to par before letting him in.
Everyone on the floor was having fun as he took them through a light-hearted Quickstep of a Natural Turn into a Hover Cross, a Twinkle, a Chasse to the right, Four Quick Run, Progressive Chasse and a Drop Lock followed by the Tom Boys (an attractive static variation in Quickstep).
In Foxtrot he prepared a group showing excellent body flight, contrasting body speeds with light and shade with both crescendo and legato, which is enough to make any dancer addicted to Foxtrot. Everyone was up, everyone was joining in and everybody was having fun. It was simply a super lecture to end a magnificent day. John and Teresa, who demonstrated for John Taylor, did exceptionally well having only had a chance to prepare the amalgamation during the lunch break.
All in all, a very successful day for the ISTD with a well-attended Congress in a super venue, an excellent choice of lecturers from throughout the world and a great opportunity to see so many friends. A most enjoyable day!
Ian de Souza