Stopgap Dance Company wins a prestigious dancescreen award

3 December 2019
The Company's film ARTIFICIAL THINGS, directed by Sophie Fiennes, wins the dancescreen award in the category of SCREEN CHOREOGRAPHY OVER 15 MINUTES: Choreographic work specifically created for the screen, including experimental films and narrative fiction.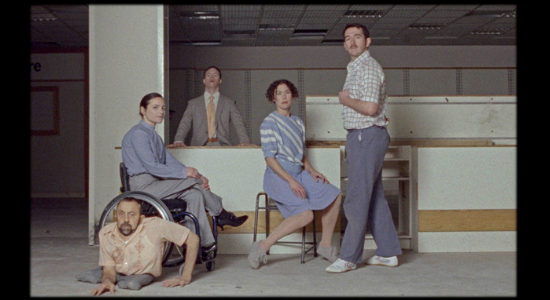 Filmed on location in a derelict suburban shopping mall and featuring an ensemble of disabled and non-disabled dancers, ARTIFICIAL THINGS explores human interdependence, strength, and vulnerability. The film is a re-imagining of the stage work of the same name and dancers Amy Butler, Laura Jones, Chris Pavia, David Willdridge and Dave Toole, who devised the original piece, all appear in the film.
Initiated and organised by the IMZ International Music + Media Centre, Dance Screen is one of the world's most important international dance film competitions. This year's competition took place in partnership with TANZRAUSCHEN, who co-organised a varied festival programme at Rex Film Theatre in the dance and film city of Wuppertal.
In selecting Artificial Things as the award winner of the category, the jury said "This film's cinematic vision speaks to the depth of human experience through the metaphor of a supermarket. The jury responded to the strength of the ensemble and a non-hierarchical vision of corporeal expression."
Lucy Bennett, the Artistic Director of Stopgap Dance Company and the choreographer for the film, attended the award ceremony on 23rd November. In receiving the award, she said "Stopgap Dance Company is so honoured to receive this award. A lot of hard work has gone into this work from everyone involved. The film showcases some of the original pioneers of inclusive dance: Artists who are now change-makers, choreographers and masters of their craft. It also features the immense David Toole who is desperately ill in hospital at the moment. This award will be next to his hospital bed for all the medical staff to see."
Director Sophie Fiennes, whose films include GRACE JONES - BLOODLIGHT AND BAMI, THE PERVERT'S GUIDE TO CINEMA and OVER YOUR CITIES GRASS WILL GROW, is no stranger to dance, having made films for television with UK choreographer Michael Clark and Belgian theatre-maker Alain Platel. She said "I want to thank the judges and IMZ for choosing our film. The fragility and tenderness of the dance was a gift to work with. Thanks also to the cinematographer Remko Schnorr for his great work."
Produced by Lone Star Productions, the film Artificial Things, duration 25 mins, was commissioned by The Space for the BBC and Arts Council England. Fiona Morris, CEO and Creative Director of The Space, said, "The Space was delighted to support Stopgap in the filming of Artificial Things. The film is not only brilliant but helps to challenge traditional perceptions around ability and dance and winning this prestigious award will mean that this fantastic work will gain further recognition and exposure."
Watch ARTIFICIAL THINGS in full on WDR's website.
About Stopgap Dance Company
Stopgap Dance Company creates exhilarating dance productions for national and international touring. It employs disabled and non-disabled artists who find innovative ways to collaborate. Stopgap values a pioneering spirit and is committed to making discoveries about integrating disabled and non-disabled people through dance.
Stopgap's productions are devised by the company dancers and collaborators, working as an ensemble under the artistic direction of Lucy Bennett. As a choreographer-led company, Stopgap has expertise in inclusive choreography and has extensive experience of nurturing disabled and non-disabled artists. As a charitable organisation it openly shares skills and knowledge through performances for outdoor, indoor and digital platforms, and through training and outreach programmes and publications.
It engages a cross-section of societies globally, to change perceptions about difference and inspire everyone to achieve their potential. "Difference is our means and our method"