Tap at ISTD Spring Programme

3 October 2019
Feedback from this year's CPD training
By Vanessa Atkins-Clarivette
The three days of DDE Tutor Training Course for Tap held during April this year at the Arts Educational School in London was a joy to attend. Fortunately, this Spring Programme was made available to all teachers prior to its start date.
Helen Green provided a detailed refresher course from Primary to Grade 6. This class was taken in a relaxed and friendly manner with plenty of opportunities for the attendees to raise questions and take notes. This was followed by Heather Rees on day two covering Tap technique incorporating parts of the New Intermediate Tap syllabus. It was also exciting to learn some of the sequences from Miss Rees' book, Tap Dancing Rhythm in their Feet, and how to be creative by using different rhythms and choreography. We were also honoured to have Ruth Armstrong briefly in attendance to demonstrate her Musical Theatre Amalgamation from the New Intermediate Syllabus. Her performance was exquisite showing the style and quality required to deliver this sensational routine. This was followed by a brief talk by Miss Armstrong on the importance of achieving the correct style for this particular routine.
On day three we were extremely fortunate to have Choreographer John O'Brien teach a Swing Tap Masterclass. His choreography was exceptionally creative and inspiring. Mr O'Brien's humorous approach to teaching ensured the class were attentive and amused throughout.
This Spring Programme was definitely worth attending and I would thoroughly recommend these types of courses to all DDE trainee teachers up to Fellowship members. Regardless of the level you have achieved you never stop learning.
By Beth Cowan
Having completed two gruelling but fabulous tutor training days, in preparation for Licentiate/Fellowship exams, I arrived at Arts Ed a little fatigued but excited for the day ahead. I was hoping that this Intermediate Tap refresher course would be just that, refreshing and that my memory and feet would not let me down….
After an impromptu studio swap our tutor for the day, Hannah Willcocks, introduced herself and questioned the six of us on our knowledge of the Intermediate Tap syllabus. One of our number had made an impressive non-stop trip from Australia via France purely to attend the day – that's dedication.
It was most satisfying and rewarding to be taught by a member of the choreographic team whose first hand knowledge of how all exercises should be performed proved to be an invaluable experience. Hannah's passionate and energised delivery combined with her expertise, overcame any weary limbs and memory loss and had me wishing I were a student at Bird College.
After a quick recharge in the sunshine in beautiful Chiswick for lunch, we continued at a whirlwind pace working through the syllabus in great detail.
We managed to cover all of the content… I think. Six very happy tappers made their way home full of inspiration and extra knowledge to impart to their students, one all the way Down Under.
By Abigail Waite
This was my fourth time attending the Spring Course and again I was not disappointed. This year I participated in the DDE Tutoring classes and the swing tap master class. The Tap lectures with the inspirational Miss Rees and Miss Green were an absolute delight and I felt privileged to be able to work with these two fabulous lecturers whose knowledge is second to none. Going through the graded syllabi gave a wonderful opportunity to check on details and offered us the chance to discuss different elements and raise any queries we had. At the end of the day, when we received our certificates, we were even awarded a chocolate egg for our hard work.
The second day working on Intermediate and other elements of tap was just as exciting. The challenge of working on different versions of time steps and combinations really made our brains work (and our feet ache) but the energy and the enthusiasm lasted until the end of the day. Miss Rees' explanations of Tap technique and her ability to 'guide our ears' to the proper rhythm of a step will certainly benefit my own teaching of these elements.
My final day was spent joining in the 'swing tap' master class taken by the amazing John O'Brien. I enjoyed this immensely as it's not very often as a teacher that you get the chance to take a tap class yourself.
After a short warm up we worked on some free time steps and developed these into some short sequences. Using the swing music and with John highlighting the syncopation and rhythms I feel like we all settled into the style and feel of 'Swing' tap. We learnt a different version of the shim sham, which was great fun and I have even tried a bit of this with my own students. Finishing the day with improvisation in a different format was enlightening and has also given me more ideas to try in my classes.
My whole time at this year's Spring Course was certainly educational and fun, meeting people from all over the world and learning from such talented, tireless teachers. I went home feeling exhilarated, motivated and very tired.
By Sarah Wells
Day 1
What a fantastic day of inspirational tapping! Alison Forrester led us expertly through the first day of new work.
Having never seen this new syllabus before I was quite concerned with my ability to pick up and be able to retain all the exercises, it was many, many years ago I remember learning the previous Inter/Adv1 work at Chichester. I should not have worried, Alison's attention to detail was so clear and in depth that everything made sense, well at least on the day it did! I had been told that the new work was very difficult, but with her expert direction it all seemed very do-able and having now started teaching some of my students who have learnt through all the new grades they grasp this quite adequately from the onset. I like the diversity of the syllabus, so much for the promising senior student to learn from: styles, quality, tone and performance skills are all put to the test. It was an exhausting day, but so enjoyable.
Day 2
We were a little nervous to be learning both amalgamations with the remainder of the syllabus…. Again, we shouldn't have worried; we had another very good day. Ruth Armstrong was fascinating to work with, she outlined all her original ideas for the Musical Theatre dance sequence, I really like this and believe the students will too. We were given super clear explanation and she teaches with great enthusiasm. So interesting to learn brand new time steps and turning steps. Very excited to get teaching this and revise it all, but certain I will need to go again in the future to remember all those extra little gems of information that both tutors so generously gave to us all. I did go straight home and buy the DVD to help me remember (this is such a good teaching tool) thank you to all those involved for the hours of work and recording that it must have taken to produce this.
My student, who danced for me made the following comment: "Alison Forrester was so very inspiring, incredibly clear and easy to understand what she wants from the syllabus, it was also so excellent to learn the amalgamation from Ruth Armstrong, to get her original concept and style with the movements. I thoroughly enjoyed both days!"
Feeling very inspired for my new term, thank you both for generously giving your ideas and knowledge to us all that attended the course.
Click here to read a full report from this year's ISTD Spring Programme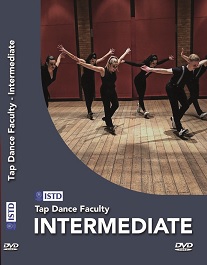 Buy the Tap Dance Faculty Intermediate DVD and Syllabus from the ISTD Shop
Log into My ISTD to benefit from member pricing.