Tea by the Sea

25 September 2019
Simon Cruwys reports on the annual Blackpool Tea Party
The Imperial Society of Teachers of Dancing held its annual Tea Party at the Grand Hotel, Blackpool on 27th of May, hosted by Society Chair, Sue Passmore and Dancesport Chair, Christopher Hawkins. Guests came from around the world, making this a truly international event. Committee members, examiners and heads of faculties were there to give a warm and united welcome.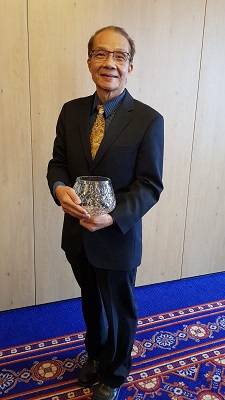 This was a chance for dance champions, teachers and current competitors alike to gather and discuss their love of dance and it was fitting that this year's International Imperial Dancesport Award was presented to John Chong, who flew in from Malaysia to accept this coveted award for services to the Society over several decades, promoting its technique and upholding its integrity, as well as training many dancers who are now running schools and entering our examinations. For an interview with John Chong click here.
This was also a great opportunity to give thanks to the members for their support and for continuing to promote the ISTD far and wide. Speeches given by Sue and Christopher were well received, which talked of our ambitious projects for the future as well as on-going collaborations, all vital for continued growth in our artistic, educational and mind-and-body-benefitting business.
With tea and sandwiches aplenty the mood around the room was one of high spirits. Catching up with friends and making new acquaintances all added to this clear sense of direction and a positive vision for the future. Congratulations must go to all involved for the organisation of such a successful event.
"The mood around the room was one of high spirits."