The Fluidity of Dance

17 December 2012
Photographer Robin Conway discusses how he captures dancers underwater to create his stunning images
The art of underwater photography has certainly evolved since 1856 when Englishman William Thompson lowered his housed plate camera to the seabed in Weymouth Bay to take the first known underwater pictures. With a range of specialist equipment now available, the subject matter tends to consist mainly of the natural world, sea life and underwater landscapes, although some photographers take a more artistic approach.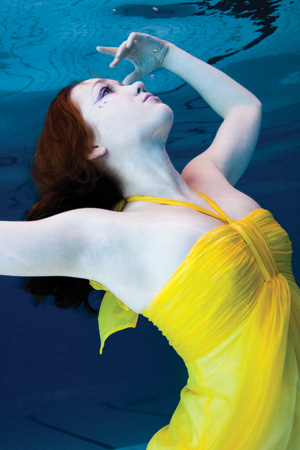 Underwater photographer Robin Conway has undertaken a number of shoots with dancers. He was inspired to pursue this artistic direction after meeting Ksenia Ovsyanick and seeing her perform with the English National Ballet. Following his initial collaboration with Ksenia, he has also worked with other dancers from the ENB, including Ruth Brill, Barry Drummond, Anton Lukovkin and Laurretta Summerscales.
Robin discusses the art of underwater photography and why dancers make such great subjects
In my work the subject is submerged in an environment, which is ever changing and in a constant state of flux. The subject is consumed by the underwater environment, which means they cannot stay submerged for great amounts of time. All the senses of the photographer and the subject are numbed and, through this, the subject experiences a feeling of timelessness within the short amount of time they are submerged as well as a connection with the environment itself.
"I found the experience of the underwater shoot amazing! It was very hard to get across the position I wanted to make as the water is so strong"
Historically, the body has always fascinated artists. Equally, artists have always been influenced by the elements, water being one of the most influential. While the underwater environment has been used for the purposes of documentary or as a backdrop within the context of commercial development, few artists, except within their imagination, have literally ventured under water. While there are practicing photographers working underwater in the commercial sector, there are few artists working within this particular genre.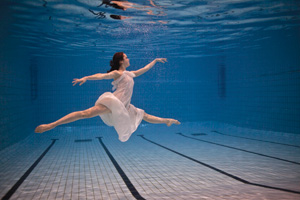 By looking at the way the body responds to the challenge of being taken out of context of its natural environment, my intention is to define the genre within the context of art practice.
My interest in observing body movement in water began 10 years ago through an interest in scuba diving. Consequently I spent many hours watching the human form engage with water as an environment while undertaking photo shoots.
"I found the experience of the underwater shoot amazing! It was very hard to get across the position I wanted to make as the water is so strong. It made me understand my body more and to really use my muscles to get what I want. Then on top of that you have to look calm and make sure your hair isn't in your face! It was very challenging but I enjoyed it so much," said Laurretta Summerscales.
"The body feels very different in the water. It is much lighter and very hard to control (which being a ballet dancer I am not used to at all)"
In developing my art practice, I have connected with my lifelong interest in dance by particularly seeking out dancers as a subject because they are defined through their rigorous and relentless training in perfecting their art form. Dancers have a heightened spatial awareness which is challenged by this particular unique environment culminating in achieving perfection within the final image. By photographing dancers who have the grace and freedom of expression in movement and placing them in an environment that enhances yet hinders their art practice, the final result culminates in a unique collaboration with breathtaking results.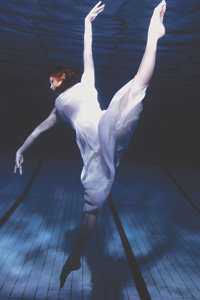 The lens captures the individuality of each subject as they overcome and conquer the power of the environment in which they perform. I hope that my art work will inspire the viewer by celebrating the grace, vulnerability and resilience of the human body whilst celebrating the art form of dance.
"It was great and a very interesting experience. It took me a certain time to be comfortable under water, but I really enjoyed exploring. The body feels very different in the water. It is much lighter and very hard to control (which being a Ballet dancer I am not used to at all). From trying to hold a certain position, I had to keep moving, even start almost dancing, trying to make every shape suitable for a photograph," said Ksenia Ovsyanick.
The dancers also gain a unique professional development experience, enriching their technical skills and building their physical capabilities. The dancers that I have collaborated with to date have observed how the experience of adapting and performing Ballet under water is providing them with a new approach to technical training and body conditioning, helping to build their physical precision and stamina.
For me, dance is by far the truest artistic form of expression and one where the dancer is the embodiment of the art form. I also believe that the nature of the underwater environment and the grace of Ballet dancers go hand-in-hand to create and evolve into something truly magical.
Robin Conway
---
Robin Conway is an independent photographer, with specialist experience and interest in underwater photography and moving image work. Having completed a BA Photography and MA in Fine Arts at Camberwell College, University of the Arts, he has been developing his practice for over eight years, exploring the artistic potential of capturing bodies in the underwater environment, through the use of the latest technology in underwater photography, in collaboration with dancers.
Robin is keen to work with all genres within dance and choreographers to create a new body of work using stills and moving image. Visit www.robinconway.co.uk for more images and information about his work.