The Wigan Warriors and Ballet

15 April 2019
The two worlds of ballet and rugby collided in Wigan two years ago and now it seems nothing will tear them apart
Two years ago the Wigan Warriors rugby league youth team started taking ballet lessons! This was thanks to Pianos Pies and Pirouettes, a not-for-profit community organisation led by ISTD pianist Alan Gregory and his business partner, ISTD qualified dance teacher Donna Harrison.
The Royal Ballet's Christopher Powney invited Alan and Donna to take this undisputed group of 'alpha males' to train for the day with the boys of The Upper School, under renowned teachers Rodolfo Castellanos and Jay Jolley.
The Warriors, none of whom had any previous ballet experience, were deeply impressed with how fit the ballet boys were, so much so that they have been training in ballet with Donna once a week ever since. As a result their injury rate to both knees and ankles has dropped and their core strength has increased.
In partnership with Wigan Warriors Community Foundation, and supported financially by Wigan Council, Pianos Pies and Pirouettes are not only expanding the programme to the Warriors' women's and under 16s teams, but are also now offering it to 95 local schools in the Wigan borough.
The programme aims to get more boys into dancing in the North of England by taking away the old stigma that dance isn't for males. The fitness aspect of their programme is to be put under intense scientific scrutiny as the Hammond School, Wigan Warriors and Wigan and Leigh College come together to devise an unbiased fitness test for their respective students.
We caught up with some of the key players in the project to find out more.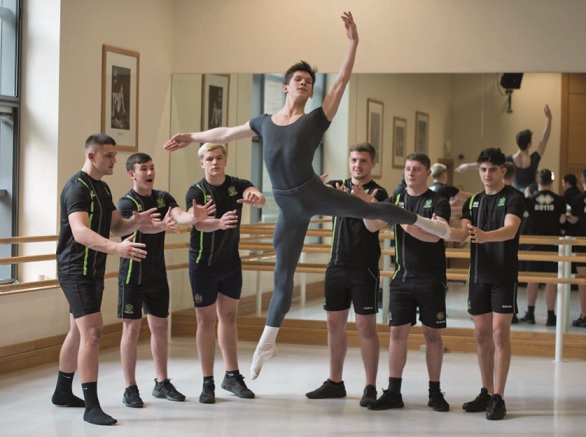 Alan Gregory, Pianos Pies and Pirouettes
Alan explained how the invitation for the Wigan Warriors youth rugby team to train for the day with the boys of The Royal Ballet Upper School came about: "I approached them. I'd been playing the piano for a while, for both the RAD and ISTD at various venues throughout the North, mostly for exams, but also at workshops for the RAD at Ballet North in Leeds. It became increasingly apparent that there were very, very few boys at any of these events.
"Without stating the obvious, this was probably because family or peer pressure can dissuade many boys from the idea of dancing, even if they have done so when younger, when they are at their most vulnerable and impressionable in their early to mid teens.
"The solution? Ask the most macho male participants, in one of the most physical and aggressive of sports, rugby league, if they would consider incorporating ballet into their training programme. The idea being that if such obvious alpha males were doing ballet, how could even the most prejudiced of parents or guardians object to their boy becoming a dancer?
"Being a 'Wiganer' the obvious and only choice was the Wigan Warriors. I made various phone calls and eventually went to meet Matty Peet, the Under-19s coach at the time. If ever there was a living example of a rugby league coach, then Matty was it. Standing at well over 6ft and as broad as he was long, my heart sank as he approached, as in an act of incredible reverse prejudice I immediately assumed he would laugh me out of the building. To my surprise and great shame, once he'd heard my faltering request and rationale he immediately said yes. I don't think I've ever been more shocked. Three years on, Donna Harrison, my dance director and I, who are Pianos, Pies and Pirouettes CIC [Community Interest Company], are stilll there!"
The programme aims to get more boys into dancing
When asked how long he's been an ISTD piano teacher, and how that started, Alan explained: "I started playing for Miss Tina's Dance Academy, an ISTD school in Springfield, Wigan, I think over 12 years ago. I cannot remember the exact date, as it now feels like I have been doing it all my life. I was an amateur player, who had gone back to piano lessons after virtually not playing for 20 years and my then teacher told me a local school needed a pianist so I applied. After playing for a while, as I got used to the repertoire, Tina suggested that I start playing for her examinations. At the time she was hiring in external pianists, from the ISTD list. So I played for one set and asked the examiner how I could become an official ISTD pianist, and get on 'the list'. I cannot think of the lady's name, but she explained she would write a report to the ISTD on my competence and hey presto... a few months later there I was, on the coveted list."
We asked Alan why he set up the CIC, to which he replied: "I set up Pianos Pies and Pirouettes in 2016, with a view to providing music, dance and cookery lessons for disabled adults and families in deprived areas, to help introduce people to something they may never have experienced before. At the same time the rugby/ ballet idea was formed, and the two went hand in hand. The name reflects what the organisation does, as well as causing a smile to appear on most people's faces, which was the intent."
ISTD trained ballet teacher Donna Harrison has been on board right from the start. In Alan's words: "Without Donna there would be no Pianos Pies and Pirouettes."
Alan's own story is a moving one. He was finally able to go to university and follow his dream to study music in his forties. This helped him to survive a personal tragedy when his wife developed terminal cancer. Alan explained: "It gave me something to aim for when I thought I had lost everything. Suicide had momentarily crossed my mind, but music and dance filled me with such personal pleasure and fulfilment through being involved with a dedicated and committed team such as that at Miss Tina's, and seeing the kids grow from children into real dancers."
At the start Alan played the piano during the Wigan Warriors' ballet training sessions but now he explains: "My commitments to the Hammond and other charity work that I am now involved in, together with the expansion of the dance programme into potentially 95 schools across Wigan borough means I've had to stop. We will be looking at taking on new pianists as the business grows."
In the interests of furthering the aims and ethos of Pianos Pies and Pirouettes Alan invested his pension pot. He remembers: "I withdrew all my pension monies to finance my writing the lyrics, script and music for Beyond Wigan Pier, an original musical based on George Orwell's book The Road to Wigan Pier. It starred all-new talent from Wigan: singers and dancers; the Wigan jazz youth orchestra and choir; narrators including Donna Hall CBE, Chief Executive of Wigan Council; Lisa Nandy MP, the member of parliament for Wigan; Andy Burnham, Mayor of Manchester; Anthony Atherton, Wigan England under-16s coach; Craig Mullen, Wigan Warriors' first team player, who had been through our ballet programme; and to cap it all Richard Blair, George Orwell's son, which was, believe me, a world first!"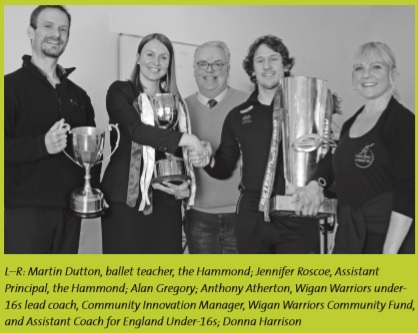 "Why did I do it? Well it was to show the young people of Wigan that 'the arts' are for them too and not just for the people they watch on the telly. The concert version of the first act was premiered in front of 1,000 adoring Wiganers in April 2018, to rave reviews locally and in the national press (Daily Mirror columnist Ros Wynne-Jones attended) and we are still looking for partners to help us put the full show on again in 2020."
The ballet sessions have helped with injury prevention around the knee and ankle area
Donna Harrison, Pianos Pies and Pirouettes Ballet Teacher
We asked Donna how it all started, to which she replied: "Alan and I first met back in 2014. We worked for a charity that offered a range of inclusive activities for disabled adults. Alan was the music and singing teacher and I was the dance teacher for the charity. We worked well together so we decided to put our talents to good use and open our own CIC [Community Interest Company] called Pianos, Pies and Pirouettes. The main focus of which is helping people in the community.
When asked what it was like introducing ballet to the rugby players, Donna explained: " The Warriors took to the ballet sessions very well. Being sportsmen, they want to be the best at everything, and that includes ballet."
The age range of the Academy boys is 16–19 years, and Donna says she experienced no resistance or negativity from them about doing ballet. She said: "The lads realise that the ballet sessions help in many ways, so they are willing to push themselves in every way. I devised a special ballet programme specifically for Wigan Warriors. After meeting with the coach and other trainers, looking at the lads' strengths and weaknesses I put together a programme that would help with their agility, strength and coordination, working to reduce injury particularly around the ankle and knee area."
The boys don't do a full ballet grade class, but Donna says: "The ballet sessions really have helped with injury prevention around the knee and ankle area. In the two years of running this project injuries have decreased. The ballet sessions help in many ways. They are working muscle groups that they don't really use or strengthen in the usual everyday rugby training. Learning to land jumps correctly, being able to transfer weight correctly and balance is just a small part of how ballet helps without anyone realising."
We asked if Donna encourages the boys to practice their ballet moves at home, to which she replied: "The lads don't really practise their ballet at home, but I do use them for demonstrations in primary and secondary schools. So they do get more practise than they realise."
Darrell Goulding, Wigan Warriors Coach
When asked about his initial reaction to the boys doing ballet training with Donna once a week, Darrell explained: "I was intrigued to see how ballet could make a difference to the performance of our players and what effect it would have, mainly on injury prevention. I was also looking forward to the players being outside their comfort zone and seeing how they responded to this."
When asked how it was presented to the boys and what reactions he got, Darrell said: "After it was decided we were going to go ahead with the programme Alan and Donna did a presentation to the players, explaining why we had decided to do this and what the possible outcomes could be. I think it helped that it was backed up with evidence and relevant examples from the NFL [National Football League]. I think this helped the players realise the potential benefits to performance."
We asked Darrelll to comment on how and why he thinks doing ballet has reduced injury rates, to which he replied: "Last season when doing the trial we had fewer ankle injuries than in previous seasons and this was the number one priority of the experiment from the rugby side. We cannot be sure ballet is the sole reason for this but it certainly would have helped. It would be interesting to see the outcomes of a longer term trial. I also believe a major benefit was the lads being completely out of their comfort zone and learning how to come through this and therefore grow as individuals."
When asked if he'd recommend ballet training to other teams, Darrell answered: "I would one hundred percent tell other teams to try activities like ballet and as many various sports and concepts as possible in order to increase performance. There will be many benefits from these experiences just as Wigan Warriors discovered from our ballet experience."
Craig Mullen, Wigan Warriors Player
Craig was one of the original cohort of rugby players to do the ballet training, and is now in the Wigan Warriors first team. He recalls: "It was challenging doing ballet with the boys of The Royal Ballet Upper School. The ballet boys were very disciplined and made it look very simple. I can't quite say the same for ourselves! The best part of the experience was taking part and getting stuck in with the lead dance coach of the session. He ripped into a few of the lads and we had a right laugh about it. The ballet sessions really helped to improve my ankle and knee stability along with my core strength. These can be common injuries within our sport and ones that I've suffered with in the past."
When asked what he would say to anyone who says dancing isn't for males, Craig replied: "Try it for yourself before you comment. You'd be surprised, like I was, at how physically and mentally challenging it can be. Parts of my body that I didn't even know could become sore were now aching."
When asked if he'd recommend ballet training to other rugby players, Craig commented: "If you're serious about prehab [Prehabilitation/strength training] and injury prevention, why not? What is there to lose? For players prehab can become monotonous so this is a great way to vary it up and make it more interesting."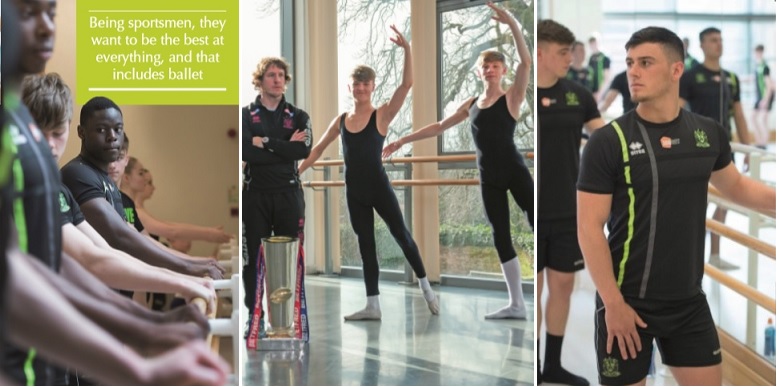 Martin Dutton, The Hammond School
Martin, who teaches ballet at the Hammond, explained: "I first got involved with this company [Pianos, Pies and Pirouettes] when Alan Gregory joined the Hammond as a pianist last year. I feel so passionate about bringing boys into the Hammond, as I started, with some of my colleagues, a boy's day of dance, which runs every year. Pianos Pies and Pirouettes is something very close to my heart, which I hope will make a big difference to how boys see dance."
When asked why he thinks it's important to take away the old stigma that dance isn't for males, Martin explained: "I think boys need to be made aware of how masculine and strong you need to be as a dancer, as the training is far more than most footballers and other sports people do. The amazing opportunities male dancers can have and also their incredible physiques should make boys really want to become dancers. They need to see lots of YouTube clips of the amazing male dancers that are out there and realise how much training they do. Ballet Boyz and other companies show how strong male dancers are and this should take away the stigma of 'ballet is only for girls'."
We asked Martin if he will be involved in the programme to get more boys dancing, to which he replied: "I am definitely on the programme as I feel this is such an important chance to get more boys dancing. We are hoping to bring in some of the Wigan Warriors to do some classes and also to explore and test the different strengths and weaknesses of some of our male students with some of theirs. I think it is so important to show these boys, who haven't necessarily been educated in the arts, why dancing is so masculine and strong."
In terms of how the Hammond is going about devising the planned unbiased fitness test, Martin said: "I am working closely with some sport scientists from Wigan Warriors and Wigan and Leigh College to find out what would be the best unbiased tests. They will be coming over here to see how we train our students and hopefully I will be able to go over there. I think it has to be unbiased so as not to favour anyone particular. Once we have spoken about our findings then hopefully we can start planning these tests."
Maxine Mealey, Wigan & Leigh College
Maxine is the Vice Principal and Head of Arts and Chaplaincy at Wigan & Leigh College and she first got involved via Alan Gregory. She says: "It is important to remove the old stigma that dance isn't for males to ensure that dance pathways are available for all, along with the huge benefits that come with them. Yes dance requires physical skill, technique, flexibility and fitness but it also supports good mental health and wellbeing. We have seen growing numbers of males applying for dance course places and the stigma has reduced significantly in recent years, which can only be good thing. Dance, like sport, requires dedication, commitment and strength. We are keen to support any good programme that encourages boys to dance. Our male dancers relish this opportunity too."
Wigan and Leigh College along with the Hammond School and Wigan Warriors will be putting the programme under intense scientific scrutiny. When asked how the College will help to devise an unbiased fitness test for the respective students, Maxine replied: "We are looking to make sure the tests are as unbiased as possible and will achieve it in many ways. Firstly, we will ensure that we are testing components of fitness that will be relevant to both sports, and not test any that could put a sport at an advantage. Secondly, as the different sports will generally require different body compositions, we will interpret the results in relation to the invidiual's body weight ratio, rather than just their overall results. Finally, all of the tests will be conducted in a lab, ensuring that all of the tests are reliable and results can be compared accurately."
Interviews by Tamsin Moore