There is Always Movement

8 October 2018
Jane Pritchard looks at the career of Bronislava Nijinska

Bronislava Nijinska was a great choreographer. She may only be remembered for a handful of her creations but with Les Noces (1923) set to Igor Stravinsky's remarkable score, and simply designed under Nijinska's own guidance by Natalia Goncharova, she created one of the masterpieces of 20th century ballet. Although her work for Serge Diaghilev as a dancer (1909–14 and 1921–25), and as the Ballets Russes' choreographer (1921–26) is well documented, her work elsewhere is not. The fact that she created her own companies and worked for periods with companies as varied as the Ballet of the Theatre Colon in Argentina and the short-lived, touring Polish Ballet (1937–38) has left her career poorly documented, so that it becomes a surprise just how many ballets she created. Nijinska complicates her story further by re-working many of her creations for different dancers in companies of different sizes, often having her ballets being redesigned.
Nijinska's heavily edited autobiography was published in 1981. But, frustratingly, it only documents her life up to 1914. This is indicative of the attitude that the most interesting point about Bronislava was that she was Vaslav Nijinsky's sister and muse. While accepting that their sibling relationship was important, Nijinska's later career is every bit as interesting as the early years and this short article, inspired by a lunchtime lecture at the Victoria and Albert Museum, focuses on Nijinska's career away from Diaghilev's Ballets Russes.
Choreographically it is true that Nijinska learnt a great deal from her brother. It was Vaslav who encouraged her to improve and make her own the role she created as the fleet-footed Papillon in Mikhail Fokine's Le Carnaval (1910). It was on Nijinska's body that her brother experimented with poses and steps for his ground-breaking ballets L'Après-midi d'un faune (1912), Jeux and Le Sacre du printemps (1913). It is likely Nijinska also learnt a great deal about choreography and management when she helped her brother with what proved to be a disastrous season at the Palace Theatre, London, in 1914. Here the management wanted to stage Nijinsky's greatest 'hits' from the Diaghilev seasons but the Nijinsky siblings must have been aware that if they staged those ballets in the original choreography they would have been sued. It was therefore necessary to create new versions of Les Sylphides and Le Spectre de la rose as well as Carnival and the Polovtsian Dances from Prince Igor. All had their scores freshly arranged and new settings.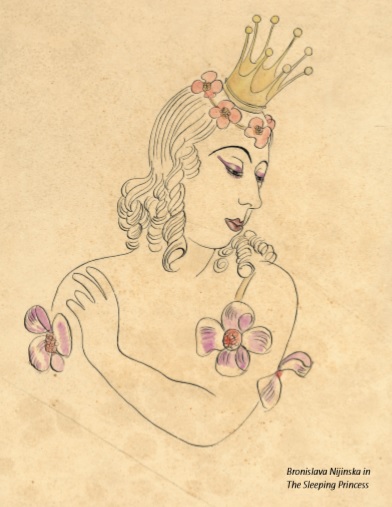 After the failure in London Nijinska, her husband and daughter returned to Russia where they remained during the War and early years of the Revolution, a period that would see the birth of a son and Nijinska's separation from her first husband. In Russia Nijinska needed to create her own accessible dances – La Poupée, a doll solo to music by Anatol Liadov, danced on point, and Autumn Song, a free movement, barefoot dance to music by Tchaikovsky – to perform at the popular Narodny Dom in Petrograd. Both solos would be adapted for later performances in the West. She then began her more experimental choreography in Kiev where she established her Ecole de Mouvement. Her choreographic sketches created during the early Revolution and experiments with willing students (some of whom would later join her in the West) provided the foundation of her choreographic career.
In 1921 Nijinska returned to the West hoping to collaborate on experiments with her brother as she was unaware that he had been institutionalised. Diaghilev invited her to help mount The Sleeping Princess in London and her four subsequent years working with the Ballets Russes established her international profile and provided her with good resources. However, Nijinska was always her own person, preferring to leave the Ballets Russes in 1925 to choreograph at the Paris Opéra and establish a chamber company of her own. This small group toured England in the summer of 1925 with a programme of largely original choreography all designed by constructivist artist Alexandra Exter. It is possible that the variations from Les Sylphides and Polovtsian Dances from Prince Igor had their origins in the 1914 Palace programme. The tour of English seaside towns and spas does not appear to have been successful in commercial terms. Nevertheless, it is extraordinary to think that it was regional theatres, not those in London, at which the most avant garde choreography and designs were being presented and the tour reached places at which even Anna Pavlova's company never danced.
After presenting some of her new programme in Paris, Nijinska became ballet-mistress at the Colon in Argentina, a theatre she returned to on several occasions, reworking and sometimes expanding her productions. But her next creative venture was choreographing eight ballets for Ida Rubinstein's Company. These included Maurice Ravel's Bolero and La Valse, Stravinsky's Le Baiser de la fée and La Bien-aimée arranged by Darius Milhaud. One of the young dancers who was stimulated by working with her was Frederick Ashton who constantly acknowledged his debt to her. She revealed the potential of new choreography while he was still a novice.
Frederick Ashton constantly acknowledged his debt to Bronislava Nijinska
The 1930s began for Nijinska with the creation of Paysage enfantin for Olga Spessivtzeva at the London Coliseum and through the decade Nijinska choreographed for her own companies and various Ballets Russes groups. She was also invited to Hollywood to choreograph Max Reinhardt's film of A Midsummer Night's Dream although ballerina Nini Theilade (who had performed in Reinhardt's stage production) was responsible for her own role as lead fairy.
For the first half of 1937 Nijinska became Ballet Mistress for the Markova-Dolin Ballet touring the UK. It should be recalled that Dolin had been very much Nijinska's protégé at the Ballets Russes in the 1920s. For Dolin and Markova she revived Les Biches in which Markova was particularly impressive as the enigmatic "modern young woman par excellence". Nijinska also reworked her romantic ballet The Beloved (La Bien-aimée) the central pas de deux of which was described by Lionel Bradley as "pure poetry". After six months improving standards at the Markova-Dolin Ballet, Nijinska became involved with the establishment of the Polish Ballet, a nationalist endeavour for which all the ballets were created to scores by Polish composers. It was not particularly well received when it presented a Christmas season at the Royal Opera House, Covent Garden, but the neo-classical, Chopin Concerto, exemplified Nijinska's achievement in presenting, as Amanda Thom Woodson has shown, "emotional texture which transcends literal meaning".
At the outbreak of the Second World War Nijinska closed-up her house in Paris and moved to the USA, making California her home for the last three decades of her life. She continued to teach and choreograph, notably creating productions for [American] Ballet Theatre and the de Cuevas companies. In the 1950s Nijinska disappeared from the international scene until 1964 when Frederick Ashton as Artistic Director of The Royal Ballet was, as he said, privileged to invite her to mount Les Biches and Les Noces. Dolin has written that he prompted Ashton to make the invitation and it is significant that these two danseurs, who acknowledged their debt to Nijinska were key to the restoration of her position in the pantheon of great choreographers.
Bronislava Nijinska was a notoriously hard taskmaster
Movement was important in Nijinska's choreography. She famously noted people should not "be misled by pictures. My ballets are not static", and many dancers commented on the stamina her choreography demanded. Despite her achievements Nijinska had a challenging personal life moving between Russia, France and the USA with her son being killed in a car crash in 1935. Her deafness (a result of bombing during the Revolution) and isolation that went with it meant that she was usually supported as she mounted ballets by her second husband and later her daughter, Irina. She was a notoriously hard taskmaster but she achieved the results required and continues to be admired by choreographers, dancers and the discerning public.
Jane Pritchard, Curator of Dance, Victoria and Albert Museum
Profile photo credit: V&A IMAGES