Translating tradition: a new action research project by the ISTD

23 October 2018
A report on initial findings from our research on inclusivity and the ISTD syllabi
Dance is a viable activity for young disabled people, but their participation in the art form is often restricted by a number of barriers. One of the biggest barriers is the lack of training available that focuses on progression and development. Many dance classes for young disabled people are recreational in nature, focusing on creativity and fun. While such opportunities are clearly valuable, there is a gap in provision for those who wish to develop their abilities further.
A number of organisations have recently pioneered initiatives aimed at addressing this gap. As one of the largest dance examination bodies in the world, the Imperial Society of Teachers of Dancing (ISTD) recognised the need to explore ways of making their syllabi more inclusive. The ISTD recruited two teachers of integrated groups and matched them with inclusive dance specialists to help them work on the ballet and modern syllabi for 12 weeks, translating specific exercises for their learners. Dr Imogen Aujla from the University of Bedfordshire employed an action research design in order to facilitate change during the research project and produce tangible outcomes on its completion. Data collection methods included observations, reflective journals written by the teachers and specialists, and focus groups with dancers and parents.
Early analyses indicate that the specialists assisted the teachers in several ways, ranging from practical strategies in the studio such as imagery and differentiation ideas to discussions around language use, optimal environments, and resources. The dancers enjoyed the process and felt they had learned new skills. This was supported by the clear progress the students had made in terms of both their technique and their confidence. Although analyses are ongoing, it is hoped that the findings will help to enhance pathways into dance for young disabled people and increase the accessibility of private studio classes. The full results of the project will be launched in February 2019.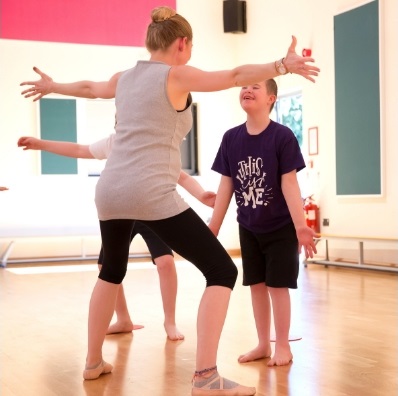 Further information
Research contact - Dr Imogen Aujla: Imogen.aujla@beds.ac.uk
Project contact - Artistic Projects Manager, Michaela Ellis: mellis@istd.org