Angela Rippon OBE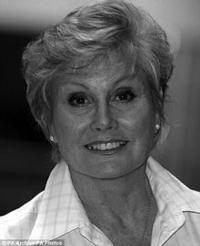 Angela Rippon has one of the best known faces and voices in British broadcasting. Since her very first television broadcast for BBC Plymouth on 8th September 1966, the career of this award winning journalist has embraced an impressive variety of programmes on both radio and television for both Commercial and BBC stations, in Britain and America. The scope and quality of her work has been recognised by the Royal Television Society who have entered her on their Roll of Honour.
While her work has mainly been centred on her first love of News and Current Affairs, she is equally at home presenting programmes in a lighter vein ranging from the arts to quiz programmes. Trained as a journalist in her home town of Plymouth, Angela worked at both the BBC in Plymouth and Westward Television before joining BBC National television in 1973, to be appointed the first woman journalist newsreader in 1975. Angela was a founder member of the commercial breakfast service TV-am in 1982 and in 1984 moved to America to work for the Boston based CBS affiliate Channel 7.
On returning to Britain Angela worked on a variety of programmes for both BBC and ITV before joining LBC Radio in 1990. Television programmes include Come Dancing, The Antiques Roadshow, Olivier Awards, What's My Line and The Morecombe and Wise Christmas Show. She presents numerous Radio 2 documentaries in addition to programmes such as Friday Night is Music Night, where she comperes live transmissions with the BBC Concert Orchestra.
Currently she works for BBC television's Watchdog unit on Healthcheck, and is a regular contributor to the Holiday Programme.
Miss Rippon is involved with a number of charities. She is the national Vice President of NCH Action for Children and The Riding for Disabled Association, Patron of Support Dogs and a Barker of the Variety Club and has recently been appointed Vice President of the British Red Cross and Chairman of English National Ballet.
Grand council: Grand Council Member