Charles Richman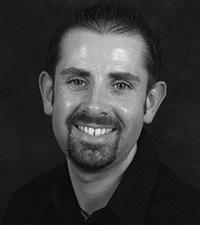 Email: charlesr@istd.org
Charles began dancing some twenty six years ago when he joined his local dancing school in Hornchurch, Essex.
He still remains indebted to his very first teacher back then, ISTD member Rita Sinclair, who has been a constant source of encouragement.
After spending many happy years entering amateur medals/exams and medallist competitions he decided that a teaching career in dance was for him. Charles has been teaching dance professionally now for ten years after qualifying with the ISTD.
In 1998 he was awarded the John Dilworth Scholarship for Latin American dancing and was nominated for the Ballroom Scholarship the following year.
In 2000 he was appointed to the ISTD Country/Western sub-committee and was a co-opted member of the Disco/Freestyle Faculty committee before that. His expertise in Country/Western dance has led to several television and video Vappearances and he enjoys lecturing to other teachers. Last year he passed the Country/Western Examiners' Technical Assessment and is now looking forward to becoming one of ISTD's many ambassadors.
Always looking for new challenges, more recently Charles turned his talents to teaching Salsa. In 1999 he was a Grand Finalist in the British Salsa Championships held in London with his partner Katie Welch, so it seems fitting that he became a member of the Club Dance Faculty committee last year.
Today Charles is a senior Dance Sport teacher and Approved Tutor with Anthony Clifford Studios in Romford and also teaches for J.D's Dance Saloon also based in Romford. Visitors to ISTD HQ may have seen Charles and the J.D team teaching Line Dancing to members of the public in the Broadgate Arena, just outside Liverpool Street station! He can also be found teaching various classes throughout Essex.