Dame Merle Park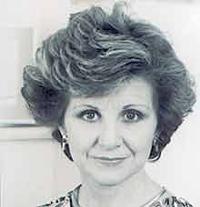 Merle Park began her ballet training with Betty Lamb in Rhodesia and in 1951 went to England, where she studied at the Elmhurst School for three years. In 1954, after only six months of study at the Royal Ballet School, she joined the company and made her debut as a mouse in Carabosse's train in The Sleeping Beauty.
Although still in the corps, from 1955 she danced numerous solo roles including a carefree milkmaid in Façade and a sparkling Bluebird pas de deux. Her small, light frame and fleet, sunny style made her a natural soubrette, as was seen in her first Swanilda in 1958. She was promoted to Principal in 1959, becoming ever more confident in La Fille Mal Gardee, The Sleeping Beauty, and the sweet romance of the Two Pigeons. Ever more accomplished, she textured her vivacity with emotional details to portray Cinderella and Titania in The Dream and in dancing her first Swan Lake in 1973.
In Symphonic Variations and as Nikia in La Bayadere, her musicality and classical precision glistened, while her Kate in John Cranko's The Taming of the Shrew twinkled with roguish humour. Inspired to highly dramatic performances by modern dramas such as Romeo and Juliet and Manon and by dynamic partners such as Rudolf Nureyev, Anthony Dowell, Mikhail Baryshnikov, and David Wall, she also created the unearthly Celestial in Antony Tudor's Shadowplay and the child-woman Clara in Nureyev's The Nutcracker. Capping her multi-faceted career with a theatrical triumph, Park created the Countess Marie Larish in Kenneth Macmillan's Mayerling (1978) and the title role in his Isadora (1981).
She was named a Commander of the Order of the British Empire in 1974, opened her own school in 1977, and in 1983, while still the Senior Ballerina of the Royal Ballet, became a Director of the Royal Ballet School. She was awarded the Queen Elizabeth Award in 1982 and was honoured with the title of Dame Commander of the Order of the British Empire in 1986
Grand council: Grand Council Member