Dr Swati Raut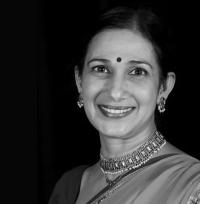 Dr Swati Raut has a Ph.D in Organic Chemistry from the University of St. Andrews in Scotland.
She trained in Bharatanatyam at 'Nrityashree', Mumbai, founded by Guru Krishnan Kutty. He was not only a well known Kathakali dancer but is also an able Bharatanatyam teacher who trained under the late Lakshmi Kantham of Tanjore of the Pichhaiya Pillai school. Following Swati's Arangetram (dance graduation) in 1979, she continued to train in Bharatanatyam and also learnt Mohiniattam from Smt. Ammu Kutty. She has performed extensively in India in the eighties, both as a solo artist and in Dance Dramas produced by Nrityashree. Swati also taught dance in India.
Presently, she is pursuing dance full time and is one of the founder members of the Northwest Dance Alliance. She is one of the board members of DIGM (Dance Initiative Greater Manchester), as well as one the members of Faculty committee of ISTD (South Asian Dance).
She conducts Bharatanatyam (Pandanallur Style) and Indian Folk dance classes as an independent artist in Bolton, Preston, Salford and Liverpool and has around 90 students. Her students have been taking ISTD exams for the past eight years. Swati has taught Bharatanatyam to dance students at Ashton Sixth Form College and Preston College as a curriculum enrichment activity.
She conducted one of her student's Arangetram on the 28th of March, 2010.