Gauri Sharma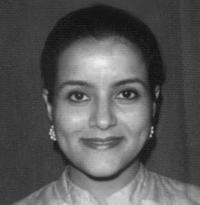 Gauri learnt Kathak from her mother and Guri Smt Padma Sharma. She also absorbed Kathak as a youngster from Guru Lacchu Maharaj and Guru Mohan Rao Kalyanpurkar.
An early initiation and numerous performances for the past 16 years have seen her ascend the Kathak stage with a unique presence.
She has performed in most major towns in India and several other places throughout the world.She has participated in Maharashtra State Kala Mahotsav, Sharad Chandrika Festival, Swami Chinmayanand gatherings and Sur-Singar Samsad sammelans, amongst others.
Gauri also dabbles in choreography and has choreographed items for the stage. Dance ballets like 'Gangaur', 'Punyatirth' and recently, 'Uday', have all been performed in Bombay to critical acclaim.
A first class honours graduate from Sophia College, she went on to do a Mass Communications course at Sophia Polytechnic. This has led to an affinity for the small screen and among the more notable examples of her TV performances are her role as Urvashi in Mahabharat and an exquisite dance sequence in Bharat Ek Khoj for Shyam Benegal.
Gauri has performed in England and France. Her latest lecture demonstrations in the town of Pont Saint Esprit, in the South of France as well as Nigeria and United Kingdom have received rave reviews. Her choreography for the opera 'Ramanujan' at the Munich Biennale has given her impetus for contemporary work. Her performances at the Westminster Abbey, 'Coming of Age' with the Akademi, Festivals of Sampad and Milap Festival Trust have given Gauri a good foot hold in the UK.
Gauri is presently teaching at the Federation of Patidars and privately, whilst performing with her company Ankh, 'The World is Her Stage'.