Gaynor Owen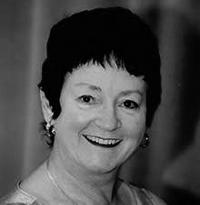 Gaynor Owen started dancing at the age of 6 years and at 11 years old began to study seriously as a junior student at the Hammond School, Chester.
When she was 16 she became a full time student at the Hammond. After graduation she reached the required standards for Fellowship of the ISTD in Ballet, Modern and Tap Branches (now Faculties).
Following a short and successful theatrical career, she turned to her real vocation and established herself as a teacher in 1956, teaching at various venues in the North West of England and North Wales. The main school, Merseyside Dance Centre, in Birkenhead, grew to take in full time students, and meanwhile Miss Owen was invited to become a Modern and Ballet examiner with the ISTD in 1975.
In 1983, the College, Merseyside Dance & Drama Centre, opened in Liverpool City centre, having outgrown the Birkenhead premises. Currently, the college has between 85-100 full time students. Graduates are performing and teaching worldwide.
The Liverpool area always had a good following for ISTD work, but since the death of Miss Sheilagh Elliot Clarke, there had been no courses held. In 1973, Peter Pearson suggested that Miss Owen become organiser for ISTD courses in the area and a short Congress was arranged as a 'try out'. This was very well attended, as all courses have been up to the present day. Manchester congresses have been very popular and 3 have been held to date in July 1994, October 1995 and October 1998.
Miss Owen is now firmly established as Principal of a recognised centre of dance excellence and is now a major international examiner and member of the ISTD Modern Theatre Faculty Committee. She is also a member of Faculty Link.