Michael Stylianos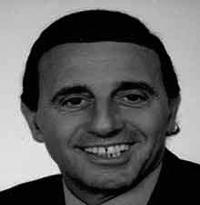 Michael and Lorna Stylianos have been full time professionals since 1965. Together they enjoyed a fruitful competitive career. Never dancing as amateurs and during the short span of eleven years, they won and successfully defended all major professional Latin American Titles.
After their competitive retirement they continued to appear in cabaret and were much in demand worldwide. They have appeared in front of members of the Royal family on numerous occasions and in 1986 were the first and only Latin American dancers to appear at Caesar's Palace in Las Vegas.
In 1975 they received a Carl Alan Award for the most outstanding partnership of the World, then in 1982 Michael received a Carl Alan for the person to do the most for Ballroom Dancing. This was mainly due to his involvement and publicity with the British Ice-Skating Team. He contributed enormously towards the success of Jayne Torvill & Christopher Dean, introducing many of the Latin American movements onto the ice. He received a third Carl Alan Award in 1993, for the best Latin American Teachers.
Michael continues to work with the Roller and Ice-Skating Association and is their National choreographer. He lectures regularly for the Olympic Ice-Skating Union and is their Ballroom adviser. Since retiring from competitions they have directed their boundless energy into the training of other dancers.
For eighteen years they ran a successful studio in South London catering for dancers of all grades. In the summer of 1993 they opened a new purpose built Dance Academy especially for the training of International competitive dancers.
Internationally well known, Michael and Lorna travel the world teaching, lecturing and adjudicating. They currently train the current day Champions and have been responsible for the training of many National, European and World Champions. Including the 14 times World Champions Donny Burns MBE & Gaynor Fairweather MBE, Michael has received awards for his teaching achievements from Slovenia, Greece, the USA and Finland, where he also received the freedom of the City of Oluo.
Michael and Lorna hold Fellowship qualifications with the prestigious Imperial Society of Teachers of Dancing. They are both elected Latin American Faculty officials and in 1998 Michael was invited to sit on the Grand Council. They organise 5 Championship events each year including the successful Imperial Ballroom & Latin American Championships.
Grand council: Grand Council Member