Nigel Kirk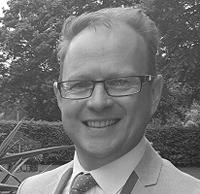 Nigel is delighted to be elected as Co-Vice Chairman, having served on the DFR Faculty Committee for 15 years. He is a Fellow and International Examiner, and also an International Championship Adjudicator with the ADFP. He is Co-Organiser for the North of England for the DFR Faculty in their Annual Medallist Competitions, a job he has held for many years.
In 2015 he was the proud recipient of the prestigious Carl Alan Award for Competition Coach/Choreographer Award.
He has worked alongside the ISTD and the English National Ballet in a production of Summertime at the Royal Albert Hall, and his work has been performed on cruise ships and theatres. His students have performed for the past 5 years with Pasha Kovalev on his annual dance show tour.
Nigel has been lucky to have worked on some fabulous projects while on the DFR Faculty, such as the Graded Examinations, and most recently the Street Dance Syllabus and examiner training. Nigel is also the Dancesport representative on the Street Dance Working Committee.
He has a busy school in the North West of England, doing ISTD Examinations, competitive work and produces work for his students to perform in the theatre too.
He looks forward to starting his new position and is excited for the future of the DFR Faculty Committee