Olive Newson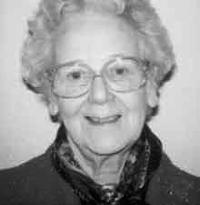 A former Principal of International Affairs and Special Events for the Sports Council, Olive Newson is currently retired and sits as a Member of the Grand Council.
Her links with the ISTD date back to the late 1940's and were made via the Central Council of Physical Recreation. Miss Newson was a College Governor at London College of Dance & Drama from this time, and remained involved with the college until the management was transferred to Middlesex University in 1994.
In 1984, Olive Newson was appointed an Independant Member of the ISTD Council, and served in this role until 1998. She has also served as a Council Member for the Council for Dance Education & Training from its inception until 1998.
From 1938 through to the 1970's, Miss Newson has diligently worked to bring a wide experience of teaching and teacher training of post school physical recreation (including both Movement and Dance).
Through long experience of serving with the controlling boards of national governing bodies of sport and many international bodies concerned with physical education, she is more than familiar with the niceties of correct constitutional and management practices, which themselves provide such a proven foundation for true progress.
Grand council: Grand Council Member