Paula Goodyear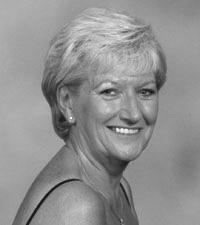 At the age of 13 Paula Goodyear, formerly Paula Smith, learnt to dance in the teenage class at the 'Goodyear School of Dancing' in Bath and was taught by Anthony Goodyear.
She left school at the age of 16 with 6 GCE'S and was about to enter a career in banking, but was offered a position as a Student Dance Teacher by Anthony, much to her mother's disgust, who wanted Paula to have a secure job in a bank.
However, with her father's blessing, she became a dance teacher and very soon qualified in Ballroom and Latin American. At the age of 17 she became Head Assistant at the school and at times was left to run a very busy dance school.
The Goodyear School of Dancing flourished and was at a later date renamed The Bath DanceCentre.
During the sixties Anthony and Paula partnered up and had a very successful competition career. They became third in the world Latin American, seventh in Ballroom, and were Great Britain's Ten Dance Champions representing Great Britain in all major championships.
They travelled the world competing, demonstrating, lecturing and adjudicating and in 1976 they were married. In 1997, due to Anthony's ill health she became principal of the Bath DanceCentre.
Since retiring from competitions Paula has adjudicated the British Championships, both Adults and Juniors, on several occasions.
She is a Fellow and Examiner in Ballroom, Latin American, and Club Dance. She is also a Fellow in DFR and Licentiate in Rock 'n' Roll, and greatly enjoys travelling and visiting other dancing schools.
She is an ISTD Ballroom Committee member and has been so for over 20 years.
In the past she has taught dancing and given demonstrations on P&O Cruise Ships and now regularly cruises around the world as a passenger. She has a great circle of friends around her and lives in a lovely village close to Bath. She is also learning to play golf.
Recently she received her ISTD Accredited Prior Learning and now is working on understanding the new examinations of the Society.