Robert Harrold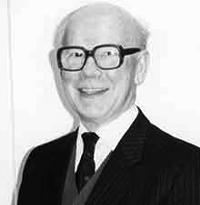 Robert Harrold was born in Wolverhampton and studied dancing in Birmingham where he made his debut in 1940 with the Anglo-Polish Ballet at the Prince of Wales Theatre, dancing in 'Cracow Wedding'. Robert then studied with Marie Rambert, joining the company in 1941 and danced all the leads in the Tudor, Ashton and Howard ballets. At this time, the company was playing at munitions factories and hostel camps and when no digs were available, the dancers were offered hospitality by local residents.
Robert's accommodation was once with the Dean of Lincoln and he astonished the worthy gentleman by borrowing his sewing machine and producing a dressing gown from old blankets. In 1942, he danced in the 'Tales of Hoffman' with ballets by Frank Staff, re-joining Ballet Rambert in 1943 when it was re-formed, giving a memorable performance of 'A Personage with Long Ears' in the Carnaval Des Animaux, before being called up in 1944.
With 'Stars in Battle Dress' he toured India, Ceylon, Italy and Austria and to Germany with the Central Pool of Artists. After the war he danced in films and television, studied Spanish Dancing, Scottish, the Cecchetti Method, Ballroom, Latin, Modern, Imperial Ballet, and later went on to learn National Dance in Helen Wingrave's studio at Warwick Square.
Miss Wingrave recalled that he took all his examinations in record time and was soon on the ISTD Committee. From 1952 to 1955, Robert danced four seasons at Glyndebourne and in 1961, became their choreographer for several years.
He also produced and choreographed 'El Amor Brujo' for the Turkish State Ballet in Ankara. In the early 60's, Robert and Helen Wingrave formed the 'Mondial Dance Group', giving lecture recitals all over the country and at Dortmund Festival in Germany under the auspices of the British Council, who also, in 1978, directed their visit to Bulgaria.
Always in demand, Robert has examined, adjudicated, lectured, broadcast, taught at Summer and Winter Schools and spread the work of the National Faculty, both in the UK and abroad, with untiring energy, humour and an unfailing eye for talent and correct style.
Add to this the many articles on a wide range of topics, a book titled 'Ballet' and another called 'Folk Costumes of the World', plus some delightful photography for different journals over the years, and you have an outline of this incredible, multi-talented and much loved man who was given the Imperial Award in 1985, became the Chairman of the National Faculty in 1986 and received the Carl Alan Award in 1994.
Grand council: Grand Council Member