Sir Peter Wright CBE, DMus (Lond), FBSM, DLitt (B'ham)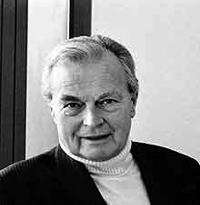 Sir Peter Wright made his debut as a professional dancer with the Ballets Jooss during World War II, and in the 1950's worked with several dance companies including Sadler's Wells Theatre Ballet. It was for this company that he created his first ballet A Blue Rose, in 1957.
In 1959, he was appointed as Ballet Master to the Sadler's Wells Opera and teacher at the Royal Ballet School. In 1961, he went to Stuttgart as teacher and ballet-master to the company being formed there by John Cranko. He choreographed several ballets, including The Mirror Walkers, Namouna, Design for Dancers and Quintet and also mounted his first production of Giselle.
He has subsequently produced this version of Giselle for the Royal Ballet, Birmingham Royal Ballet and many other international companies. His other interpretations of the classics include The Sleeping Beauty, Coppelia, Swan Lake and The Nutcracker and these productions now feature regularly in opera houses throughout the world.
During the 1960's he also established himself as a successful producer of television ballets and choreographed various West End musicals and revues. In 1969, he returned to the Royal Ballet as Associate to the Directors, and then became Assistant Director and Associate Director. In 1977 he was appointed Director of Sadler's Wells Royal Ballet, taking the company to Birmingham in 1990, when it became Birmingham Royal Ballet.
On his retirement in July 1999, he was made Director Laureate of Birmingham Royal Ballet. He received the Evening Standard Award for Ballet in 1981, and in 1985 was made a CBE.
In 1990 he was awarded an Honorary Doctorate of Music from London University, the University of Birmingham conferred on him the title of Special Professor of Performance Studies and he was presented with the Elizabeth II Coronation Award from the Royal Academy of Dance.
In 1991, he was made a Fellow of the Birmingham Conservatoire of Music. He also won the 1991 Digital Premier Award, which he used to commission a new ballet for the company.
He was awarded a Knighthood in the 1993 Queen's Birthday Honours list and in 1994 an Honorary Doctorate of Letters from the University of Birmingham.
Grand council: Grand Council Member