Sue Passmore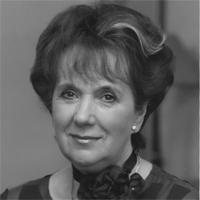 Chair
Sue Passmore is currently the Chair of the ISTD, and also serves on the Board for StopGap Dance. She is an Examiner on the DADA scheme validated by Trinity College, an external examiner for IAB in Barcelona, an assessor for the CDMT and a professional Consultant for the Arts.
As Artistic Director of Bush Davies Ballet School she worked for 17 years beside Joyce Percy and Daphne Peterson whose guidance formed the benchmark she has followed throughout her career in Dance Education and Training for all ages groups.
For 17 years she was Artistic Director of Bird College and then as CEO she introduced the BA Hons Degree in Theatre Performance validated by Greenwich University. In 2008 she created and delivered a Foundation Degree in Performing Arts for the University of Gloucestershire, which was developed into a BA Hons Degree in 2010. This new degree featured a creative Intergrated Dance module with StopGap Dance and the Star College for disabilities.
For the past decade she has focused on inclusivity in dance training and performance introduced to ISTD Student Teachers at a new Springboard event in London.
Council: Chairman
Finance & Audit Committee: Committee members
Governance & Human Resources Committee: Committee members