Susana Montero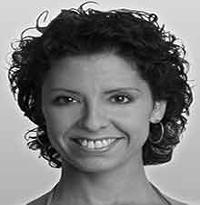 Susana Montero is established as one of the premier Salsa teachers, dancers & choreographers in the UK. Born & raised in Madrid, Spain. Professional ballet dancer. Worked for the The Spanish National Ballet until she moved to London in 1995. Trained in Flamenco, contemporary, jazz & Afro-Cuban, as well as the Latin dances. PhD in Psychology.
Susana is currently working in Madrid as the Artistic Director of the Dance Council. Co-founder of the largest Salsa Dance School in London, The Latin Dance Academy.
Twice British Salsa Champion , awarded Best Dance Performer and Teacher in the UK and for her contribution to the Latin Dance and Culture in Los Angeles(USA) Russia, Malaysia and Italy.
Appearances including Living TV's "Diet on the Dance Floor, Salsa Broadway Musicals directed by Maria Torres,'Psychology of Dance' BBC's Radio 4, 'Queer Eye for the Straight Guy' Channel 4, Esther Ranted, Channel 4, GMTV , Miami TV, Indian TV and C9 Spain TV.
Susana has worked/assisted Richard Marcel in many occasion, strictly Come Dancing, So You Think You Can Dance, Let's Dance for Sport Relief and The Royal Albert Hall. It was Richard who introduced Susana to the ISTD, recommending her as the expert to prepare the new examination for Salsa teachers. She became a member of the Club Dance Faculty in 2008.