Yvette Sargent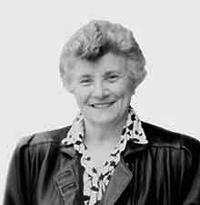 Yvette Sargent began dancing at the age of eight years; learning ballet with Biddy Pinchard, she continued her training at The Robinson School of Dancing in Streatham where she later joined the teaching staff. During the war she opened her own school in Chesham and subsequently branches in surrounding districts from which she retired in the 1980's.
Other teaching commitments included the College of the RAD where she was responsible for the ISTD National work. She is widely experienced as an adjudicator and served on the committees of the British Federation of Music Festivals and The All England Competitions.
She has been involved with the Joint Examining Board & Assessment panel of the Council for Dance Education & Training. Miss Sargent's interest in introducing the ISTD overseas has occupied much of her time since the early 1970's when tours were unofficial; she has travelled extensively throughout the world examining, teaching, lecturing and directing her energies to its growth and development.
Miss Sargent is a senior examiner of the Imperial Ballet, Modern Theatre and National Faculties. In addition she is a member of the Grand Council, Theatre Faculty, International Development Committee and Imperial Ballet Faculty. In 1991, she was the proud recipient of the Imperial Award.
Grand council: Grand Council Member