Tap Dance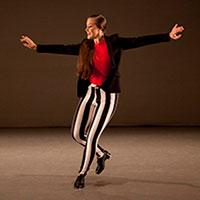 Tap has evolved as an American dance form, popularised throughout the world, with debate about its origins coming from African dance, Irish dance and/or clog dancing. The dancer uses their feet to strike the floor, beating out different rhythms, with dancers wearing tap shoes which have small metal plates on the toe and heel to give the distinctive sound. Tap dance is a theatrical art form often seen on stage in musicals.
Download history of the Tap Dance Faculty. If you would like to find out more about ISTD history you can order your copy of 100 Years of Dance from our online shop.
Important updates on Vocational Graded Examinations and QUEST (August (2019)
The new syllabus can be booked on QUEST as TAP INT REV. At the same time, some adjustments have been made to the components wording and mark allocations for Tap Advanced 1 and Advanced 2.
Please download full details here

Star Tap Challenge 2019

Unfortunately, the faculty has been unable to secure a suitable venue to run the Star Tap Challenge event in 2019. However, we will be running it again in 2020.
The faculty will instead be hosting a 'Bursary Award selection process' to find faculty representatives for this year. This will be taking place in October 2019. Please be aware of this alternative event and look out for entry forms and details later in the year.

Bursary Awards
Bursary Award competitors are drawn from the winners of the Tap Challenge upon recommendation from the Tap Dance Faculty.

Changes to Licentiate and Fellowship Entry and Requirements (with effect from January 2016)

For Grade 4, Grade 5 and Intermediate Playlists please contact the Faculty Co-ordinator.

Download the Tap Dance syllabus from the theatre dance syllabus page.

ISTD dancewear for the Tap Dance Faculty is available for dance teachers and schools to purchase through International Dance Supplies.

To open an account, or shop now if you already have an IDS account, call +44 (0)1626 36 3232 or visit www.ids.co.uk.

Show how much you value ISTD teachers and download a selection of jpeg images to share on social media or post to your website.
Video demo
A Tap demonstration by Eilidh Ross and two ISTD students at Move It 2015.
A film produced by Deborah Foote and Sue Passmore.
News
03 Oct

Feedback from this year's CPD training

02 Oct

Who are the Tap Faculty committee members?
Events
Mon

Tue

Wed

Thu

Fri

Sat

Sun

1
2
3
4
5
6
7
8
9
10
11
12
13
14
15
16
17

18

19

20

21

22

23

24

25

26

27

28

29

30

31

January 2020
Sunday 09 February

Sunday 16 February