International Examinations
Read the latest News from Around the Globe!
---
Examinations dates for 2014
The dates for international examination sessions in 2014 are now available below. Please see when the next examination session will be in your country! If you wish to enter candidates for any particular session, please download the Intent to Enter form complete it and return it to your Exams Officer before the deadline for Intent to Enter, which is stated alongside the relative examination period. If you are new to the Intent to Enter procedure and/or you have any queries, please contact your Examinations Officer who will be happy to assist you.
Things are changing….
We know that all teachers appreciate learning of their examination dates at the earliest possible moment so that dance studios can be booked and extra classes can be scheduled for the students. With this in mind, we have reviewed our examination processes as we are committed to improving our service.
The ISTD is implementing a new stage in the examination process and this will affect all teachers outside the UK who are having examinations from 1st August 2012. It is called the 'intent to enter' process and it will be a compulsory process that all non-UK teachers will need to comply with if they wish to have examinations.
All teachers will need to download this form, complete and forward to their Examinations Officer by email or fax no later than the 'intent to enter' deadline that is stated alongside the examination dates for all countries.
You will receive an email from your Examinations Officer to acknowledge that your 'intent to enter' form has been received. Consequently, only teachers who have submitted their 'intent to enter' form will be sent the Examination Pack by their Examinations Officer which needs to be completed and returned by the closing date, as per current procedures.
It is so important for teachers to submit their 'intent to enter' form by the 'intent to enter' deadline. If teachers do not submit their form, they will be prevented from participating in the examination session taking place later in the year. Don't miss out – download and complete your form!
Click here to download Examination Dates 2013
Click here to download Examination Dates 2014
Click here to download the Intent to Enter Form (Word doc)
Click here to download the Intent to Enter Form (PDF doc)
---
Left: Helen Green with Donna Wilkins and Advanced 1 Tap students in Canada
Right:
Examiner, Celia Johnson during exams with teacher Prangvalai Chotepanyawong and her husband Paul at their On Pointe Studio in Chiang Mai, Thailand
---
Malaysian Memories
2012 was a great year for travelling, a time when I was very lucky to visit, amongst other places, India, Australia and Malaysia.
I had the opportunity to return to Kuala Lumpur for three weeks of examining and private coaching, where the teachers always give examiners such a warm welcome. I was again greeted by familiar, smiling faces, together with some new ones and also unexpectedly reunited with an ex-LTA student whom I had met many years ago, Tan Pek Khuan.
| | |
| --- | --- |
| | |
The teachers there are producing a most encouraging standard of work and are all so eager to learn, develop and improve their understanding of what we do and why we do it. Together with Celia Johnson and Sadie Morgan, we hosted a little gathering for the teachers in Kuala Lumpur and had a very happy, productive evening. The potential for growth and the enthusiasm of the teachers will see a huge development of ISTD work in Malaysia in the future. I look forward to returning one day and have very fond memories of working with the teachers and examining the most expressive, beautiful little children. It brings home to we examiners why we do what we do. I am very privileged to have such a fantastic job.
Lyn Richardson
---
Hong Kong Examinations
The Hong Kong Ballroom Dance Examinations on 14th August 2012 were conducted by examiners Agnes Ang, Richard Hunt, who is also Chairman of the Ballroom Examinations Board, and Caroline Chan. Five of the candidates took Professional Ballroom examinations and two took Amateurs examinations. They were: Jose Tang, Daniel Kwok, Tiffany Pau and Ringo Cheong (Ballroom Fellowship), Alex So (Ballroom Associate), Amanda Law, Edwin Law and Edward Chu (Bronze Medallists).
Jose Tang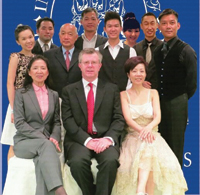 14th Best of Best Dancesport Championships in Hong Kong
The 14th Best of Best HK Open Dancesport Championships, held on 25th December 2012, was the 51st competition that I have organised over the past 20 years. 43 dinner tables were sold out and almost 180 couples and 50 solo dancers entered. These statistics surpassed all previous records of entries and ticket sales from the past 50 competitions.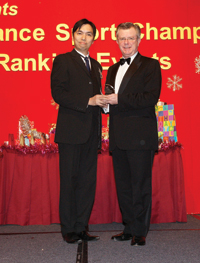 The dancers from Ukraine, Italy, Finland, Singapore, Indonesia, Thailand, Japan, Korea, Malaysia, China and Hong Kong pulled out all the stops on Christmas Day, producing a packed day of events full of energy, drama and incredible dancing quality.
For myself, the most precious and nerve-racking moment on the day was to deliver a short speech to introduce and congratulate the Chief Adjudicator, Richard Hunt, who has recently been appointed as Chairman of the ISTD Dance & Dancesport Faculties Board and is also Chairman of the Modern Ballroom Faculty.
Lawrence Chan, ISTD Fellow & examiner in Hong Kong
---
A Tour of South Africa
This was my first trip to South Africa and a very memorable one it proved to be. I was lucky enough to meet and examine approximately 800 children of all ages and made to feel welcome by all the teachers, who are very dedicated and loyal. I applaud you!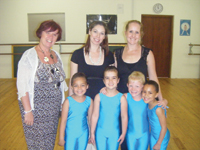 My journey began in Johannesburg, where I was welcomed by Wilcarena Yeates and Annebelle, both National Dance examiners. I examined National Dance for them, which included the first entries in South Africa of the new Intermediate syllabus. The children looked immaculate and were all so keen. Whilst in Johannesburg, I spent time with Modern and Tap examiner, Trish McKenna and examined pupils of Nadia Katz, Paula Lopez, Marcia Arezina, Janet de Brauyn, Desiree Bain, Rika Bradenhorst and Alexandra le Maitre.
A short trip to Pretoria followed, where I was captivated by the stunning Jacaranda trees that lined the streets. Here I visited the studios of Tessa Wessels.
Durban was the next leg of my journey where I was looked after by Minette de Klerk and her partner Sandy. Minette's school is based in an old Sunday school hall and this was where I examined lots of children who were pupils of Minette, as well as Jean Wiggill, Candice Danielz, Wendy Reinhardt and Amy Rotheroe.
I then made a quick visit to Pietermaritzburg to examine for Lisa Jennings, finally followed by a flight to Cape Town where I was lucky enough to share some time with Paddy Hurlings and Vivienne Saxton. Here, I examined for lots of teachers including Jacqueline van Tonder, Toinette de la Harpe, Adele van de Venter, Sylvia Stander and Angelique Schoeman. One of the most memorable examination experiences was at the amazing Parklands College, a private school with the most up-to-date facilities for very privileged young ladies.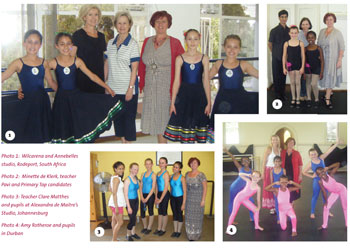 I must thank Delia Sainsbury for her hospitality and for organising a lovely day-trip around the Cape where I saw some amazing sights but was also touched by the sight of the townships, reminding me how some of us are luckier than others. Delia is an inspiration to many of the younger teachers in Cape Town and beyond, and is now an organiser for them. Her commitment is commendable and I know she will keep the ISTD work going strongly. I hope to return to South Africa again and wish all the teachers and pupils the very best of luck for the future. Thank you all for your hospitality.
Cathi Conroy-Jones
The ISTD in South Africa
The main tour for ISTD examinations in South Africa is held during October and November. In 2012 this tour was undertaken by four ISTD examiners from the UK. Cathi Conroy-Jones, who has also written an account of her visit, Myra Tiffin, Chairman of the Modern Theatre Faculty, Vivienne Saxton Chairman of the Imperial Classical Ballet Faculty, and myself, Paddy Hurlings, Artistic Director of the ISTD.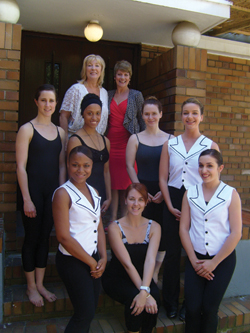 At this time of the year in South Africa, spring turns into summer and coming from the very cold spell of weather in the UK, we all felt the benefit of some glorious sunny days and appreciated the abundance of flowers that bloom during this season.
None of us had previously examined in South Africa and we were extremely pleased to find that the general standard of work throughout our tours was very high across all the genres and standards. We met dedicated teachers who train their pupils to dance with enthusiasm and a sense of style.
Our thanks go to Mara Sandres at ISTD HQ who liaises with the teachers and then makes the travel arrangements for all the examiners included in the tours. She is always calm and patient and, in order to phone teachers at a convenient time, she is often sitting at her desk long after the time she should have gone home.
In Cape Town, Vivienne Saxton and I managed to meet with many of the teachers working around this area. They came to a buffet lunch, which was an informal, largely impromptu event but it did give us the opportunity to talk with a wider range of members than we would normally have met.
Delia Sainsbury, the ISTD Liaison Officer for South Africa was responsible for arranging this lunch and we are hoping as part of her promotion of the ISTD she will, in the future, be able to extend this idea to other areas. We wish to give our teachers the opportunity to discuss a wide range of topics and to state their requirements for courses and regional meetings will provide the opportunity for members to express their views.
The ISTD is grateful to Delia for her concern for members in South Africa. During our visits to her school, it was obvious how well respected she is by the dance and theatre community in this part of the world. With the help of all the resident examiners, and Trish McKenna in particular, she will strive to promote the work of the ISTD in South Africa and beyond.
Vivienne, Myra and I thank all the teachers for their kindness and wonderful hospitality during our tours.
Paddy Hurlings, on behalf of all the examiners who visited South Africa during 2012
---
---
Contact Us
Please contact the International Examinations Department directly on +44 (0)207 377 1577 or nonukenquiries@istd.org if you have any questions about International Examinations.
Please click here for a full list of International Examinations Department contacts.