Membership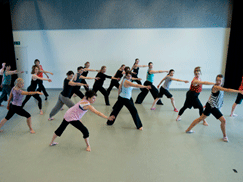 The ISTD is dedicated to meeting its members' needs throughout the world.
So, if you're a dance teacher or student teacher, or just curious about the world of dance, why not join us?
From a website dedicated to promoting ISTD teachers globally, to DANCE, the Society's popular quarterly magazine, we offer our members many valuable services.
We have a broad range of membership categories to best suit the requirements of our 7,500 members across the world.
Are you a current ISTD member? Now you can renew online!
You can now renew your 2013 membership online!
Just click here and follow the instructions to log in to our secure members' area.
Find out more about our wide range of membership benefits and how to join by following the links on the left, or contact the Marketing & Membership Services Department:
ISTD Membership Services
Nick Murray
Membership Services Administrator
Tel: +44 (0)20 7377 1577 (ext. 824)
Fax: +44 (0)20 7655 8829
Email: membership@istd.org
---
Start a conversation
We are always here to help, but If you have ideas or questions that you would like to share with your fellow members don't forget that you can start a discussion on the ISTD's Facebook or Twitter pages!
---
Looking for a teaching position or want to buy a school?
Check out our classified ads page for listings for teachers wanted, studios for hire, dance schools for sale, music for sale and much more.
---
Are you an ISTD school that wants to use our logo on your website?
ISTD members, ISTD faculties and ISTD departments may use the official ISTD logo for any publishing (print or web), any promotional material, programmes, events or advertising for the ISTD that have been sanctioned by the Society.
Approved Dance Centres are also permitted to use a special logo in order to promote themselves as centres of dance teaching excellence. Find out more.