Sequence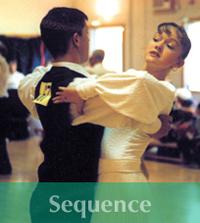 The Sequence Faculty was formed in 1947 as the Victorian and Sequence Branch. Its aim was to encourage the dances which were popular prior to the First World War and which are now generally referred to as Old Time dances.
At this time there was a great revival in this form of dancing and the ISTD Council invited three Fellows of the Ballroom Branch who specialised in Old Time Dancing to form a committee: Cecil Ruault, Netta Brooke and Margaret Cadman. Miss Ruault was appointed Chairman, a position she held until 1980.
Today Sequence dancing includes not only the authentic Old Time style, but many dances and sequences based upon Ballroom and Latin American techniques. It is probably the most popular form of social dance today, as Sequence Clubs are to be found in nearly every village and town. Two of the great attractions of this form of dance as a pastime are the friendly atmosphere which prevails and its appeal to all age groups. For those who wish to improve their standard the examination system and Medallist Competitions provide the necessary goals for which to aim.
2016 Dancesport Congress DVD

DVDs of the 2016 Dancesport Congress will be available from mid-September. Pre-order your copy now!

Download an order form and send it back to guarantee your copy.

For further details please contact the Education & Training Department on +44 (0)20 7377 1577 or coursebookings@istd.org.

Scripts

There are a few discrepancies or amendments to the scripts of the following dances: Richmond Gavotte, Engagement Waltz and Marquesa Rumba.

Please see our newsletter for details, available from Katherine Costain 07551 159470.

Faculty Newsletter

To obtain more information and to keep up-to-date with Sequence matters, please see the Sequence Faculty Newsletter.

Copies are available from Katherine Costain on 07551 159470 or email Sequence.Club@istd.org.

Sequence 3-Dance Competition Dances 2017

| | | | |
| --- | --- | --- | --- |
| | Classical | Modern | Latin |
| Juvenile | Washington Two Step | Woodside Waltz | Let's Jive |
| Junior | Windsor Glide | Emily's Foxtrot | Shoebury Samba |
| U/35 | Countess Waltz | Universal Quickstep | Pear Tree Rumba |
| O/35 | La Mascotte | Tango Classique | Vistamar Cha Cha Cha |
| O/50 | Princess Mazurka | Helenbrooke Waltz | Paso Espana |

The ISTD celebrated its 110th anniversary in 2014

Download a fascinating history of the Sequence Faculty, written to mark the occasion.

If you would like to find out more about ISTD history you can order your copy of 100 Years of Dance from our online shop.
News
19 Dec

Reports from another successful Dancesport competition

12 Dec

New syllabus dances
Events
Mon

Tue

Wed

Thu

Fri

Sat

Sun

1

2

3

4

5

6

7

8

9

10

11

12

13

14

15

16

17

18

19

20

21

22

23

24

25

26

27

28

29

30

31

May 2017
Sunday 12 February

Friday 10 March