26 July 2022
A sincere thanks and congratulations to everyone, from all of us at the ISTD and the Modern Theatre Faculty, for making the Janet Cram Awards such a special day.
It was an absolute joy to see Heats Competitors and the Finalists on stage, demonstrating such talent, passion, and professionalism throughout.
Janet Cram was a major figure in the development of Modern Theatre dance in the UK and set out to create new standards for the dance profession, emphasising the necessity for technical and creative training. Zelia Raye, the founder of the 'Stage Branch' (now the Modern Theatre Faculty), noticed her talent and gave her considerable responsibility in the running of Raye's performing arts school in London, cultivating her teaching and methodologies. Through Raye's mentorship, Janet Cram became a leading lecturer and encouraged major developments in the study of Modern Theatre dance.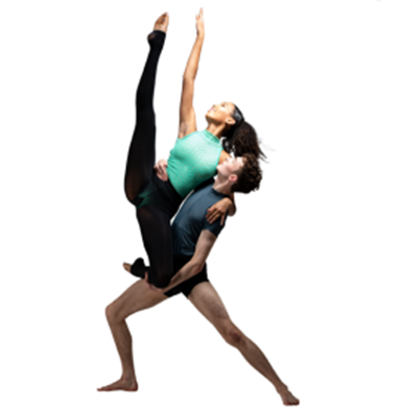 The Janet Cram Awards were first held in 1965 as a tribute to her invaluable contribution to the Modern Theatre Faculty, reflecting her influence and dedication as a mentor, ISTD teacher and examiner.
This event would not have been possible without the support and hard work of the following people, and we would like to extend our sincere thanks and appreciation to our Heats and Finals adjudicators, class teachers and assistants for their time and expertise, to Dancewear Central for sponsoring the Crams and to the Greenwood Theatre for welcoming us back so warmly.
A special thank you must go to our Modern Theatre Faculty Committee for their commitment, creativity and forward-thinking in the newly developed hybrid Cram format.
Thank you to our faculty volunteers, front-of-house staff, backstage team, chaperones, and the Dance Department team, for their hard work and support to deliver the heats and finals so smoothly and professionally.
Lastly, thank you to each, and every competitor and teacher that took part in the Janet Cram Heats and Finals, and to parents, friends and family members who have supported us throughout. Congratulations to all!

You can read the reflections from participants here.
Please see our winners, runners up and commendations below.


Awards

Junior Section overall awards
Winner: ELLA HAYWARD (11) (Emily Charlton - Vale Studios)
Runner Up: SAFFRON TAYLOR (26) Emily Charlton - Vale Studios
Commendation: KAYLEEN NGUEMA (18) (Emily Charlton - Vale Studios)

Junior Class Awards
Most Engaging Performance: HALLIE WOODALL (30) (Nazene Langfield - Nazene Danielle's Dance Dynamix)
Professional Potential: ABBIE NORTH (19) (Victoria Goodwin - Cheshire Theatre School)
Outstanding Musicality: ATALIA MAE CORNELIA (3) (Suzanne Sharkey - Elizabeth Hill School of Dance)
Outstanding Technique: SAFFRON TAYLOR (26) (Emily Charlton - Vale Studios)
Outstanding Commitment: ROSIE HARRISON (9) (Sarah Cairns - Langley Dance Academy)
Junior Awards for Solo
Outstanding Technique in Dance: DAISY FLEUR HOWE (12) (Kerry Buckby - Kilburn School of Dance)
Outstanding Performance in Dance: ELLA HAYWARD (11) (Emily Charlton - Vale Studios)
Junior winner - Winner: ELLA HAYWARD (Vale Studios)
Junior Runner Up: SAFFRON TAYLOR (Vale Studios)
Junior Commendation: KAYLEEN NGUEMA (Vale Studios)


Senior Section Overall Awards
Winner: KRISTEN-LEIGH PETIT (53) (Jodie Squirrel and Louise Harrison - Ignite Dance Company)
Kristen-Leigh Petit is awarded our Modern Theatre Bursary Nominee for the 11-14 years section
Runner Up: KESSIA HADFIELD-WALKER (43) (Melanie Hadfield-Walker - Walker Starlight Academy)
Commendation: GABRIELLE ENGLISH (40) (Sarah Cairns - Langley Dance Academy)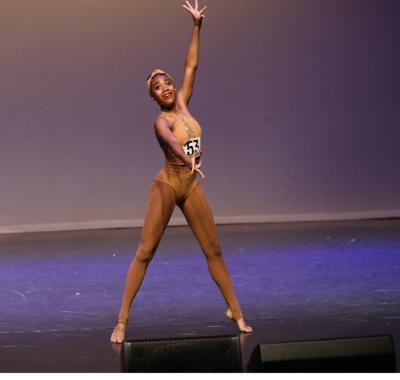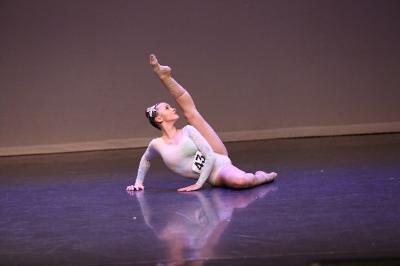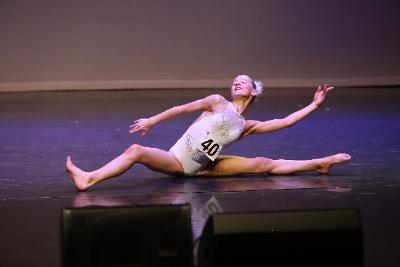 Senior Class Awards
Most Engaging Performance: NIAMH RILEY (56) (Nazene Langfield - Nazene Danielle's Dance Dynamix)
Professional Potential: ISABELLE WASHBROOKE (59) (Linda Virgoe - Linda Virgoe Dance Studios)
Outstanding Musicality: KRISTEN-LEIGH PETIT (53) (Jodie Squirrel & Louise Harrison - Ignite Dance Company)
Outstanding Technique: KESSIA HADFIELD-WALKER (43) (Melanie Hadfield-Walker-Walker Starlight Academy)
Outstanding Commitment: REBECCA MO (52) (Suzanne Sharkey-Elizabeth Hill School of Dance)
Senior Awards for Solo Dances
Outstanding Technique in Dance: GABRIELLE ENGLISH (40) (Sarah Cairns - Langley Dance Academy)
Outstanding Performance in Dance: AMELIA CRAMANT (35) (Emily Charlton - Vale Studios)
Senior Winner: KRISTEN-LEIGH PETIT (Ignite Dance Company)
Modern Theatre Bursary Nominee for 11-14 years section
Runner Up: KESSIA HADFIELD-WALKER
(Walker Starlight Academy)
Senior Commendation: GABRIELLE ENGLISH
(Langley Dance Academy)
Premier Section Overall Awards
Winner: CAMERON JONES (78) (Nazene Langfield - Nazene Danielle's Dance Dynamix)
Cameron Jones is awarded our Modern Theatre Bursary Nominee for 15 – 18 year section
Runner Up: MATHILDA MACMILLAN (81) (Victoria Goodwin - Cheshire Theatre School)
Commendation: MOLLY THORPE FRANKLIN (90) (Nazene Langfield - Nazene Danielle's Dance Dynamix)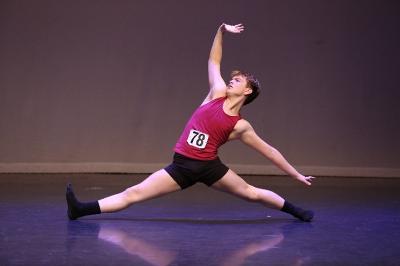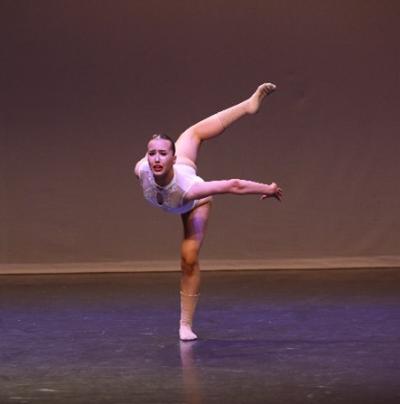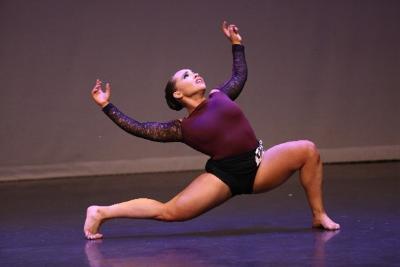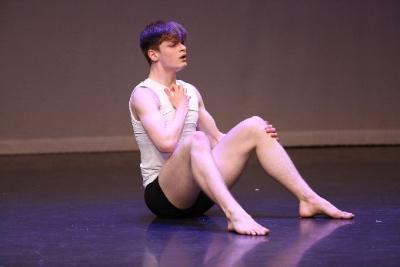 Premier Class Awards
Most Engaging Performance: SCARLETT BROWN (67) (Sophie Amison - Rox School of Dance & Drama)
Professional Potential: CAMERON JONES (78) (Nazene Langfield - Nazene Danielle's Dance Dynamix)
Outstanding Musicality: MATHILDA MACMILLAN (90) (Victoria Goodwin - Cheshire Theatre School)
Outstanding Technique: DARCEY RICHARDSON (84) (Paula Dymock - Harlequin)
Outstanding Commitment: HANNAH HUTCHINS (77) (Laura Bruce - Laura Bruce Dance Academy)

Premier Awards for Solo
Outstanding Technique in Dance: MOLLY THORPE FRANKLIN (90) (Nazene Langfield - Nazene Danielle's Dance Dynamix)
Outstanding Performance in Dance: CHARLOTTE BEAN (87) (Emily Charlton - Vale Studios)
Alison Willett Award: WILLIAM TWISTE (80) (Victoria Goodwin - Cheshire Theatre School)
Winner: CAMERON JONES (Nazene Danielle's Dance Dynamix)
Modern Theatre Bursary Nominee for 15–18 year section
Runner Up: MATHILDA MACMILLAN (Cheshire Theatre School)
Commendation: MOLLY THORPE FRANKLIN
(Nazene Danielle's Dance Dynamix)
Alison Willett Award: WILLIAM TWISTE (Cheshire Theatre School)
Teacher Awards
Elliot Clarke Award winner
Nazene Langfield - Nazene Danielle's Dance Dynamix


Elliott Clarke Teacher Commendations
Emily Charlton – Vale Studios
Kerry Buckby – Kilburn School of Dance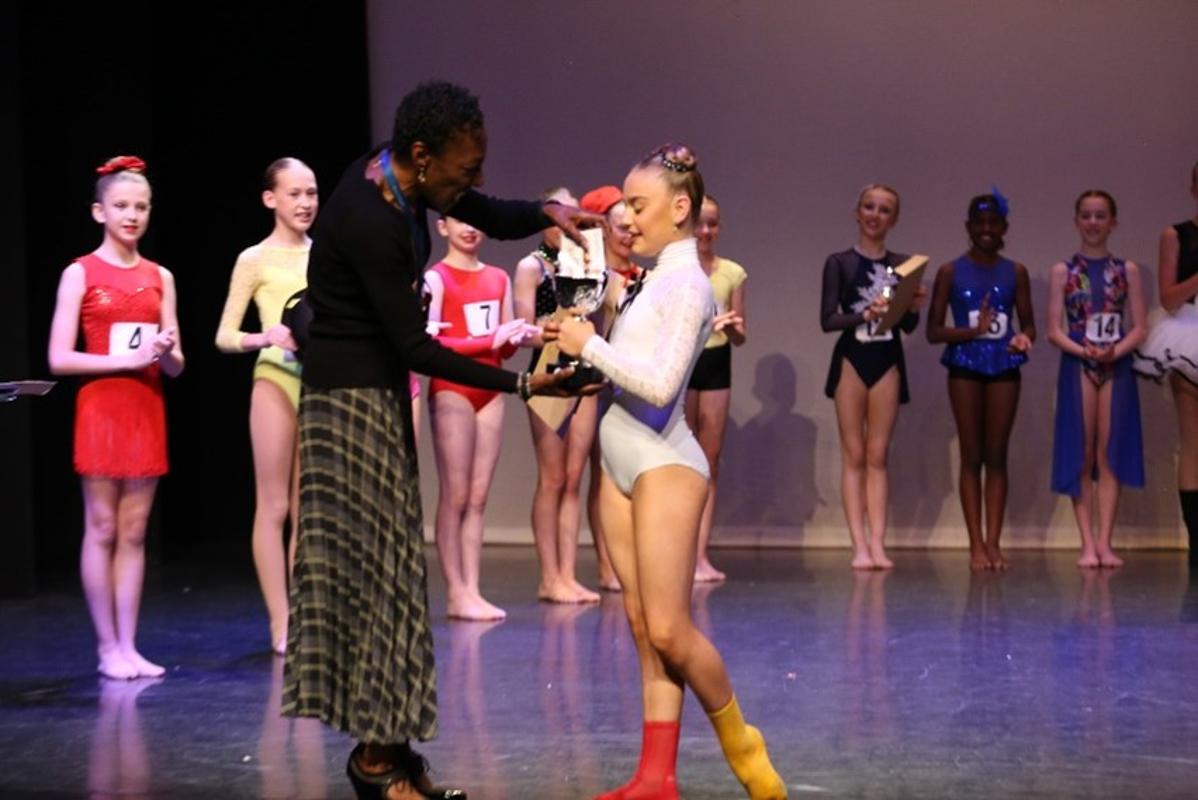 Junior Adjudicator - Dollie Henry with our Junior Winner – Ella Hayward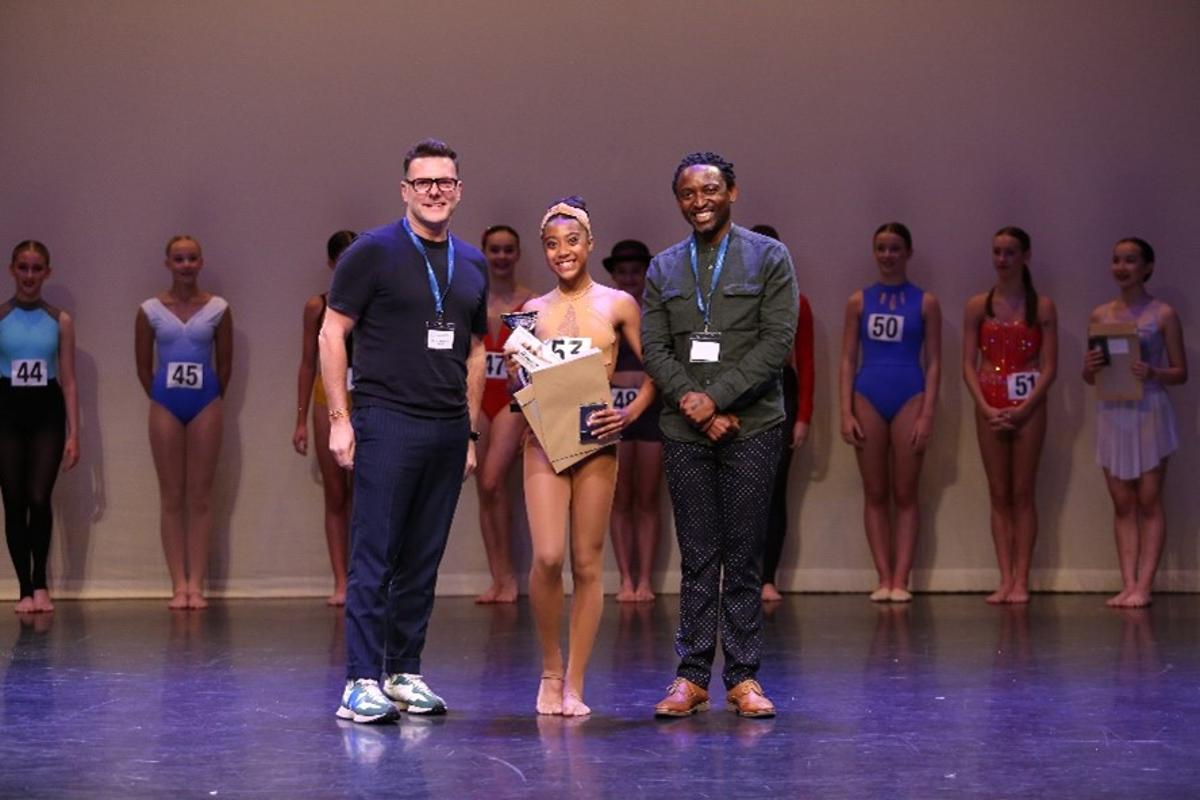 Senior Adjudicators – Bafana Matea and David Leighton with our Senior Winner – Kristen-Leigh Petit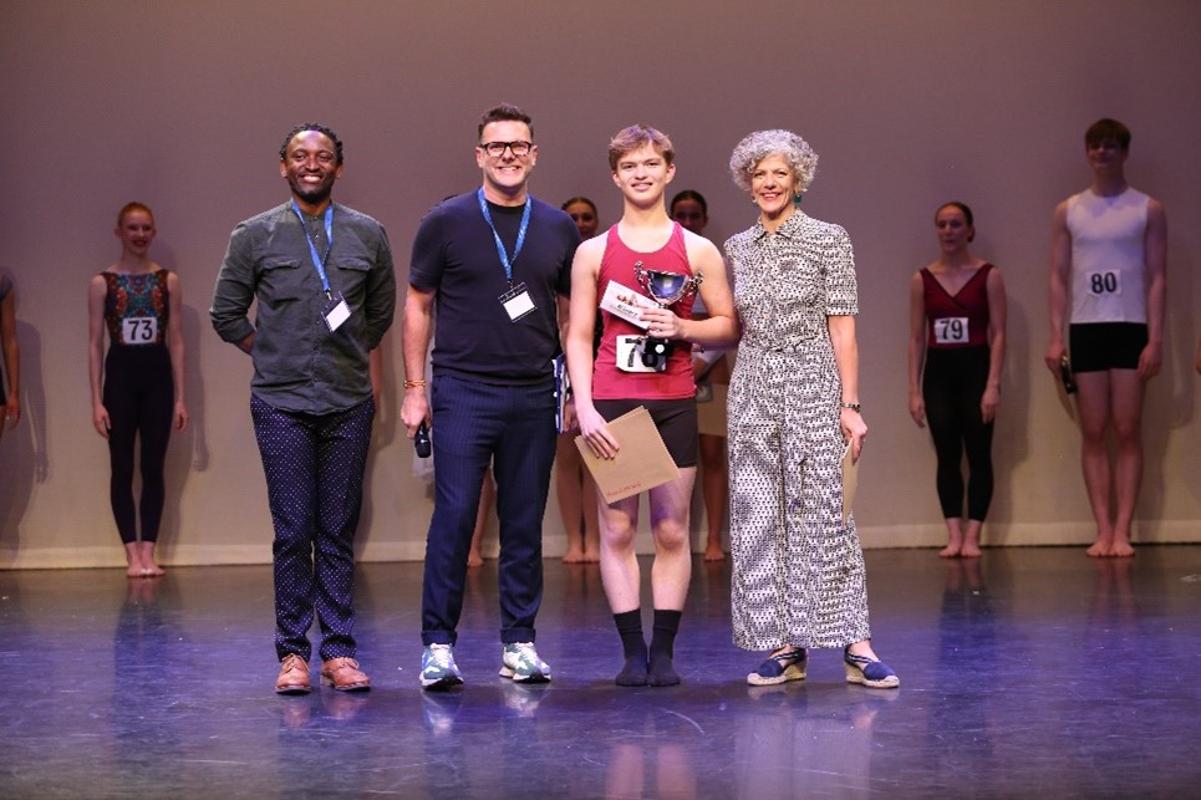 Premier Adjudicators – Bafana Matea, David Leighton, and Tereza Theodoulou with our Premier Winner- Cameron Jones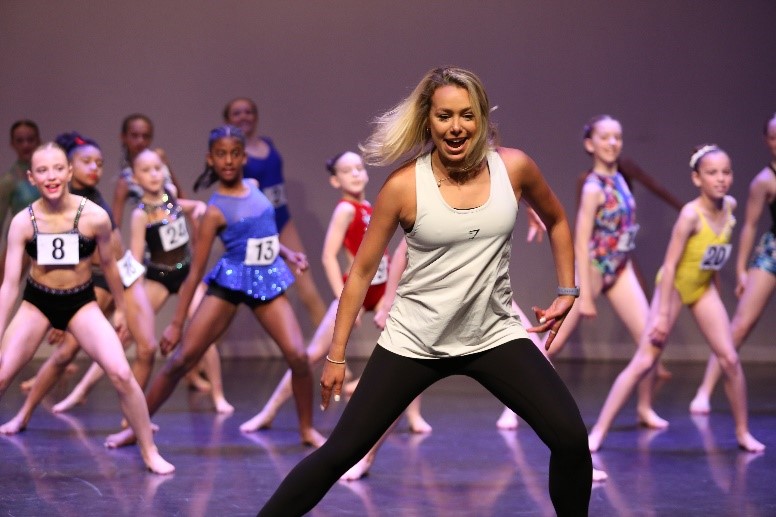 Junior Class Teacher – Becky Herzsenhorn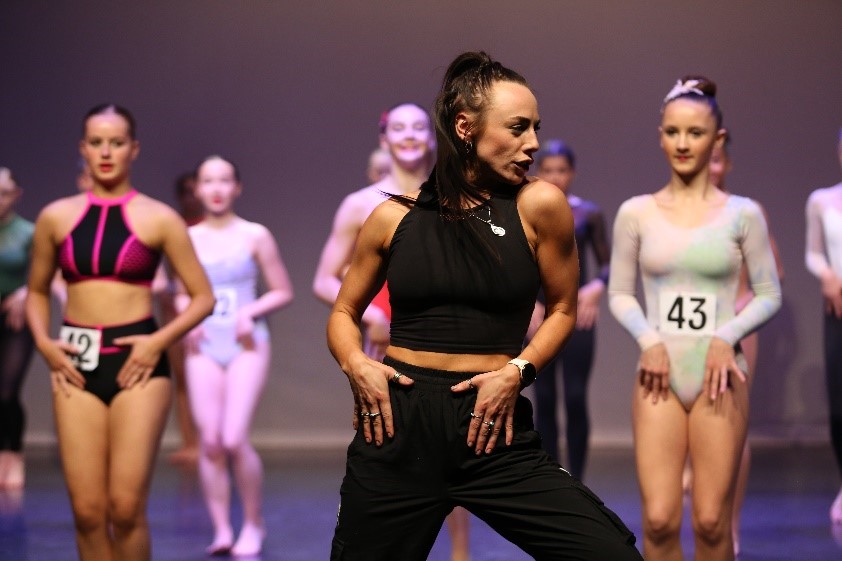 SENIOR CLASS TEACHER – KARINA HIND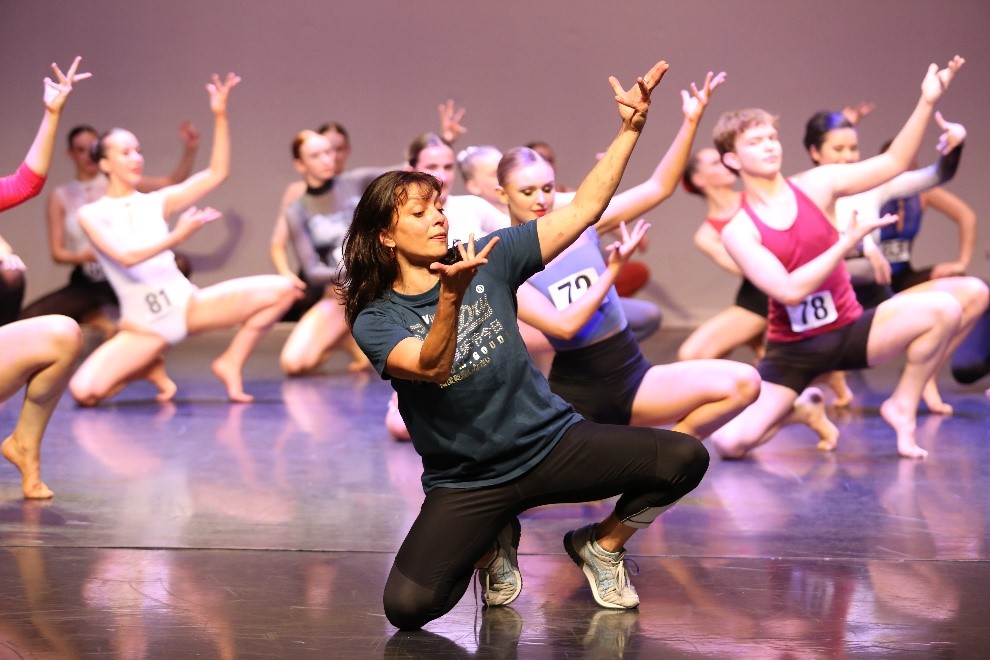 Premier Class Teacher – Belinda Basu
Photography credited to James Hudson – Hudson Photography