2 November 2021
Classical Indian Committee member Dr Swati Raut is the Founder and Artistic Director of Swati Dance Company and an established dance artist. We spoke to Swati about her practice, how Bharatanatyam dance is beneficial to well-being, and the importance of an Indian Dance Company in the Northwest of England.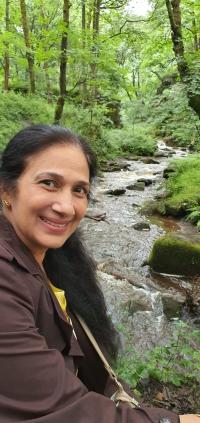 Swati Dance Company (SDC) was initiated in the summer of 2010, formed with the idea of propagation of Bharatanatyam through excellence in practice. At that time, there was not an Indian Dance Company in the Northwest. The focus was to make the practice more accessible to wider audiences, and the core aims to develop and mentor students for professional performance, preparing them for ISTD exams and Arangetrams, or 'dance graduation'.
Swati wanted to offer educational workshops in schools and communities to promote and educate people in South Asian dance and music. Now having been around for a decade, Swati Dance Company is a staple dance company to those in Parbold, Lancashire. So, what has the ongoing pandemic meant for SDC and Classical Indian dance?
In response to Covid-19 and subsequent lockdowns last year, SDC was granted money in the Emergency Response Fund from Arts Council England, helping the company to continue with classes at a reduced fee for all; beneficial to those whose income had been affected. "We were able to run fun fit sessions for adults continue our mentoring sessions and intensives for the Youth Group and host useful webinar sessions".
Work has continued since March 2020, but not as usual. Some classes are running digitally, and, Swati says "the process of moving to online teaching meant that a few students were lost, and a few others gained from further afield. Digital diligence is my new motto. It is exhausting and sometimes frustrating, both for the teacher and the taught. I think one can teach the art digitally… but not the craft."
Swati tells us that she saw resilience, changed attitudes, and determination in the world of Bharatanatyam dance, but the inevitable change of process has come at a cost for dance-teacher relationships, and ultimately, students' wellbeing. "The joy of a face-to-face dance class has been lost. Delegating jobs and assigning roles used to give students a sense of importance". Swati notes that teaching has become impersonal, with the lack of her regular communication with parents a factor. "Most students are engaged, but it almost feels mechanical. A lot of effort has to be made to sustain their interest week after week."
It's like the chicken and the egg, you need to be fit to do Bharatanatyam and Bharatanatyam keeps you fit!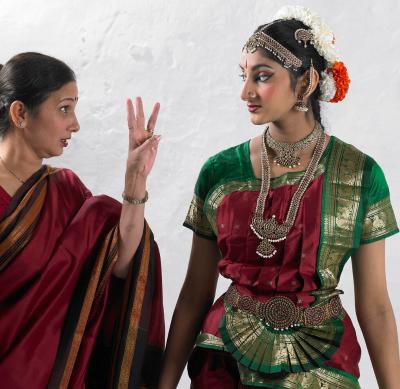 Swati teaching the three important means of communication in Bharatanatyam dance; the physical body, face and eyes

Fortunately, the physical aspects of Bharatanatyam dance remain beneficial to her students' well-being. "Akin to the practice of any Dance form, regular practice improves fitness. Practised correctly, it is a very strenuous physical activity that requires both stamina and endurance. The very basic, signature half-sitting stance, Araimandi, requires correct body alignment. A good posture, balance, a strong core, and agility are some of the physical qualities required. It's like the chicken and the egg, you need to be fit to do Bharatanatyam and Bharatanatyam keeps you fit!"
Swati adds "Bharatanatyam not only has a highly developed gesture language, but also the most sophisticated use of eyes and facial expressions. With so many aspects to think about simultaneously, one needs to be completely focused and immersed. Such immersion in practice makes you forget the mundane worries. A superb prescription for mental wellbeing".
The culturally immersive aspect of Bharatanatyam also plays an important part in raising self-esteem. "By default, a student of Bharatanatyam gets exposed to the rich tapestry of Indian poetry, myths, legends, and a myriad mythological character." As well as the important cultural connotations of the practice, we wondered if the fact Bharatanatyam is practised in the countryside played any part in the mental health and wellness of Shruti and her students. "Waking up to just the sound of the wind or birds is so much better than sounds of the traffic. Parbold, the village where I live is so tiny that if you are in a car and blink twice you have missed it. Nobody walks past you without acknowledging you." From the sounds of this, we certainly think so!
Swati and her students pose in traditional Bharatanatyam costume