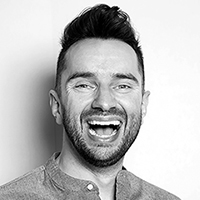 Trustee
Tom Hobden is a Suffolk-based independent choreographer, educator, mentor and founder and CEO of UNIT and has built a diverse and impressive career in the dance industry since 2002. He is regarded as a national leader in community dance practice and most known for his intergenerational performances, his mentoring and breadth of knowledge across digital arts and creative businesses.
Within his role in UNIT he has created touring productions involving participatory casts, standalone films presented in film festivals across Europe and creative learning projects and consultancy for young dancers, graduates, and dance organisations as well a flourishing YouTube channel.
Tom has significant experience in leading work with professional performers, dance educators, young people, FE and HE students, beginner and intermediate adults, older adults, young males, youth offenders and prison work as well as experience in inclusive practice and health and wellbeing settings.
As an educator and choreographer he has worked on behalf of organisations including the New Adventures, Royal Ballet School, Royal Opera House, Ballet Boyz, Dance East, Stopgap Dance, Studio Wayne McGregor, One Dance UK, Suffolk Art link, Dance United, Trinity Laban, Big Dance, Imperial Society of Teachers of Dancing, University of Suffolk. Tom has also had the opportunity to work alongside: Matthias Spurling, Tom Dale, New Art Club, Darren Ellis, Jasmin Varidimon Company, Luca Silvestrini, Etta Murfitt, Hofesh Schecter Company, Gecko Theatre, Alexander Whitley amongst others. Tom was associate artist at Dance East (2015 - 2017) Questlab Artist for Studio Wayne MacGregror (2018 - 2020) and Clore Short Course graduate (2017) and Guildhall Creative Entrepreneur (2019 - 2020)
Most significantly in his career Tom has led five large scale (250+ participants) intergenerational performances, curated Re:bourne's 'Overture' Programme (A national CPD programme for young leading community artists) and is a lead artist on the Chance to Dance programme for the Royal Opera House.
'When I think of the Imperial Society of Teachers of Dancing's ecology I think of its ambitious vision, its dynamic management and its dedicated members and education staff, all leading to an aspirational dance organisation and society. When considering becoming a trustee I am always looking to see where both my values and vision align and how I might be able to add value to the board and organisation with support, provocation and growing networks. With Ginny Brown's innovative new vision for the Society combined with long standing history of excellence I could not think better organisation in which to support through a trustees role. With my long-standing experience in community, education and independent dance at a national level, I recognised my potential to support the society with its growing future.'