Social media glossary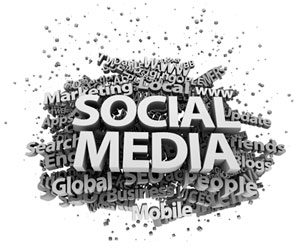 This is by no means a comprehensive list of all the digital and social media terms out there, but we hope we've managed to cover most of the basics for you!
If there's anything you think we should add, or you have a question please let us know.
---
A
Above the fold
The section of a web page that is immediately visible to a visitor without the need to scroll down.
Aggregator
An aggregator is a web site or computer software that aggregates (or collects) a specific type of information, such as news, polling data, movie reviews, or specific searches from multiple online sources and gathers it in one location for easy viewing. It means you don't have to visit multiple websites to read the relevant content you're looking for – you can pull the content to your desktop or a single website aggregator. Examples include the Drudge Report, the Huffington Post, or Google News.
Artificial Intelligence
Artificial Intelligence (AI) is a field that studies the intelligence of machines and the branch of computer science that aims to create it. The term was coined in 1956 by John McCarthy who defined it as "the science and engineering of making intelligent machines."
API
An API (application programming interface) is the system or application that allows a software programme to integrate with other systems, and allows for data to be exchanged. For example photos can be shared from sites like Flickr to your own website or social network sites, and comments you make on Twitter can be shared directly on your Facebook page via an API.
App
App is short for application, computer software that is designed to perform a specific function on your computer or handheld device. Most commonly known as additions to your iPhone like the game Angry Birds, apps can be anything from Web browsers and games to specialized programs like digital recorders or online music players.
Avatars
Avatars are graphical images representing people, or what you might look like in a virtual world. They can be used in online games and systems where you interact with other players (such as Second Life) and you can build a visual character with the body, clothes, behaviours, gender and name of your choice. They can also be used as a graphical image or likeness that replaces a photo of you on a blog or social media website. Avatar is also a term used in Hinduism for a material manifestation of a deity.
---
B
Blog
A blog is a self-published online journal that's updated on a regular basis. They can be about any subject and by anyone, from the CEO of a company updating customers with a personal insight into the business, to a student sharing their gap year experience with the world. Entries appear in reverse chronological order (the most recent first) and can contain photos, comments by other readers and links to other sites. They can also be available as feeds, meaning that you can subscribe and be updated when the blogger adds a new entry (or post).
Bookmarking
Bookmarking is the act of saving the address of a website or an item of content in your browser so that you can return to it easily without having to re-type the address or search for it again. You can also bookmark websites on social bookmarking websites like del.icio.us which is like a public library of bookmarked websites.

Browser
A web browser or Internet browser is a software application for retrieving, presenting, and accessing information resources on the Internet. Common browsers include internet Explorer, FireFox, Safari and, most recently, Google's Chrome.
---
C
Cloud computing
Cloud computing (also called "the cloud") refers to the provision of computer resources on demand via a computer network, meaning that users can access their data from anywhere rather than being tied to a particular machine.
Content
Content is used to describe text, pictures, video and any other meaningful material that is on the Internet.
Content Management System
A CMS is the collection of procedures used to manage work flow in a collaborative environment. These procedures can be manual or computer-based and allow for multiple people to access, contribute to and share stored data. CMSs are frequently used for storing, controlling, revising, and publishing documentation. A web content management (WCM) system is a CMS designed to simplify the publication of web content to web sites and mobile devices — in particular, allowing content creators to submit content without requiring technical knowledge of HTML or the uploading of files.
Creative Commons
Creative Commons is a not-for-profit organization and licensing system that offers creators the ability to fine-tune their copyright, spelling out the ways in which others may use their works.
CSR
CSR stand for Corporate Social Responsibility, a concept whereby businesses and organizations perform a social good or take responsibility for the impact of their activities on the environment, consumers, employees, communities, stakeholders and all other members of the public sphere. This can often take the form of pro-bono work or philanthropic contributions to charities.
---
D
Digg
Digg is a popular social news website that lets people discover and share content from anywhere on the Internet. Users submit links and stories and the community votes them up or down and comments on them. Users can "digg" stories they like or "bury" others they don't.
---
E
ebooks
An ebook (or e-book) is an electronic version of a traditional printed book that can be downloaded from the Internet and read on a computer or handheld device. Something as simple as a PDF document can be considered an ebook.
Embedding
Embedding is the act of adding code to a website so that a video or photo can be displayed while it's being hosed at another site. Many users now watch embedded YouTube videos or see Flickr photos on blogs or other websites rather than on the original site.
---
F
facebook
With more than 600 million active users, Facebookis the most popular social networking site in the world. Users can create a personal profile with personal and work information, upload photos, add other users as friends, join groups and exchange messages.
Feeds
Feeds are the means by which you can read, view or listen to items from blogs and other RSS-enabled sites without visiting the site, by subscribing and using an aggregator or newsreader. Feeds contain the content of an item and by subscribing to a feed you can receive frequently updated content in one place.
Flash mob
A flash mob is a group of people who gather suddenly in a public place for a specific purpose and then disperse with little notice e.g. the T-mobile flash mob dance at Liverpool Street Station. The meetings are typically set up through text messages, social media or viral emails.
Flickr
Flickr is an image and video hosting and sharing site. Its members have uploaded more than 5 billion photos. It integrates with many other social media websites and is widely used by bloggers to host images that they embed in blogs. Images are organized by tags, which enables users to search for images related to particular topics, such as places or subject matter.
Forums
Forums are discussion areas on websites, where people can post messages or comment on existing messages. Before blogs developed, email lists and forums were the main means of conversing online. Forum discussions happen in one place, and so can be managed and facilitated in ways that blog conversations can't because these are happening in many different places controlled by their authors.
---
G
Google Alerts
Google Alerts is a content monitoring service that automatically notifies users when new content from news, web, blogs or discussion groups matches a set of search terms selected by the user. Notifications can be sent by email, as a web feed or displayed on the users iGoogle page.
Google Alerts only provides content from Google's own search engine.
---
H
Hashtag
A hashtag (or hash tag) is a community-driven convention for adding additional context and metadata to tweets on Twitter. Similar to tags on Flickr, users add them in-line to Twitter posts by prefixing a word with a hash symbol (or number sign). Twitter users often use a hashtag like #bigdance to collate, organize and discover relevant posts.
Hosting
A blog, video or podcast needs a hosting service before it can appear online. Companies sometimes host their blogs on their own servers, but there are many other choices for video or audio hosting such as YouTube.
---
I
Instant messaging
Instant messaging (IM) is the act of real-time chatting online with another person using an IM tool like AOL Instant Messenger, Microsoft Live Messenger or Yahoo Messenger. The tools allow you to indicate whether or not you are available for a chat, and are often used as an alternative to emails for a rapid exchange.
---
M
Mashup
Mashups (or mash-ups) have several meanings. A music mashup is a combination of two or more songs, generally the vocals of one song overlaid on top of the melody of another. A video mashup is the result of combining two or more pieces of video, such as news footage with original commentary. A web mashup combines data and/or functionality from more than one source, with the aim of making enriching the existing information and making it more useful.
Metadata
Metadata refers to information – Including titles, descriptions, tags and captions – that describes a media item such as a video, photo or blog post.
Microblogging
Microblogging, or microsharing, is the act of broadcasting short messages to other subscribers of a Web service, for example on Twitter where entries are limited to 140 characters.
Myspace
Myspace is an online social network similar to Facebook. It was one of the forerunners of the social media world and caters to artists and bands who create pages and share their work with friends and groups. Some well known singers such as Lily Allen and Sean Kingston initially gained fame through Myspace.
---
O
Open Media
In its most common usage, open media refers to video, audio, text and other media that can be freely shared, often by using Creative Commons.
Open Source
In its strict sense, open source refers to software code that is free to build upon, permitting users to study, change and improve the software, and to redistribute it in modified or unmodified form. But open source has taken on a broader meaning — such as open source journalism and open source politics — to refer to the practice of collaboration and free sharing of media and information to advance the public good. Well-known open-source projects include the Firefox browser.
---
P
Personal media
Personal media (user-created material) refers to grassroots works such as video, audio and text. When the works are shared in a social space, the works are more commonly referred to as social media.
Platform
A platform is the framework or content management system that runs software and presents content. WordPress, for example, is a service that serves as a platform for a community of blogs. In a larger context, the Internet is becoming a platform for applications and capabilities, using cloud computing.
Podcast
A podcast is audio or video content that can be downloaded automatically from a website so you can view or listen offline. A podcast also refers to the show that comprises several episodes that can be accessed via a subscription. A podcast uses a feed that lets you subscribe to it so that when a new audio clip is published online, it arrives on your digital doorstep straight away.
Post
A post is an item on a blog or forum, such as a Facebook status update or a news/discussion item.
Profile
A profile is the information that you provide about yourself when signing up for a social networking site. As well as an image and basic information, this may also include your personal and business interests, a "blurb" about yourself and tags to help people search for like-minded people.
Public domain
A work enters the public domain when it is donated by its creator or when its copyright expires. A work in the public domain can be freely used in any way, including commercial uses.
---
R
RSS
RSS (short for Really Simple Syndication, sometimes called web feeds) allows you to subscribe to content on blogs or news stories and have it delivered to you through a feed, enabling readers to stay current with favourite publications without having to browse from site to site, by using an RSS reader.
---
S
Search Engine Marketing
Search engine marketing is the placement of paid ads for a business or service on a search engine results page. An advertiser pays the search engine if the visitor clicks on the ad (pay-per-click or PPC). SEM can help to attract customers and generate brand awareness.
Search Engine Optimization
Search engine optimization (SEO) is how you design and arrange your website to help it appear at, or near the top of search engine rankings. Adding key words and thinking strategically about the search terms that people will be using when they search for you, improving your content, design and layout can help your rankings.
Short Code
A short code is a mobile shortcut — a telephone number consisting of four to six digits that makes it easier for people to vote, subscribe to a service, order ringtones etc via SMS (e.g. text HAITI to 90999 in order to contribute to the Red Cross's relief efforts). This makes is easier for people to remember a word or number that they hear or see on an ad and they can then take action to buy discounted tickets or donate money to a cause.
Smart Phone
A smart phone (or "smartphone") is a mobile phone – or handheld device – that can do much more than make and receive phone calls and text. Capabilities might include email, chat, taking photos or videos or many other tasks that might already come with the phone or be able to be added as apps.
SMS
SMS stands for Short Message Service, a system that allows the exchange of short text-based messages between mobile devices. You use SMS each time you send a basic text to someone (without photos or other multi-media included – these require a Multimedia Messaging Service or MMS). SMS text messaging is the most widely used data application in the world, with 2.4 billion active users, or 74% of all mobile phone subscribers.
Social Bookmarking
Social bookmarking is a way of finding, storing, organizing, sharing and managing bookmarks of website pages without needing to be using a particular machine. You can store lists of online resources that you find interesting and log in from anywhere to access them. And you can usually make these lists publicly accessible. Delicious is the one of the best-known social bookmark sites.
Social Media
Now a very commonly used term, social media are works of user-created video, audio, text or multimedia that are published and shared in a social environment, such as a blog, podcast, forum, wiki or video hosting site. More broadly, social media refers to any online technology that lets people publish, converse and share content online – or a form of media that lets us be social!
Social Networking
Social networking is the act of socializing in an online community. A typical social network such as Facebook or LinkedIn lets users create a personal profile, find and add friends and communicate – or socialise – with other members using a range of social media tools including blogs, video, images, tagging, forums and messaging.
Social News
Sometimes called social sites, social news sites encourage users to submit and vote on news stories or other links, thus determining which links are showcased. Social news was pioneered by community sites like Slashdot, Metafilter and Fark and became more popular with the advent of Digg and similar sites such as Reddit, Newsvine and NewsTrust.
Streaming Media
Unlike downloadable podcasts or videos (which are downloaded and saved), streaming media refers to video or audio that can be watched or listened to online but not stored permanently. Streamed audio is often called Webcasting. Traditional media companies like to stream their programs so that they can't be distributed freely onto file-sharing networks.
---
T
Tag
Tags are keywords that can be added to a website page, blog post, photo or video to help users find related topics or media, either through browsing on the site or as a term to make your entry more relevant to search engines. Tags are also a kind of metadata.
Tag Cloud
A tag cloud is a visual representation of the popularity of the tags or descriptions that people are using on a blog or website. Popular tags are often shown in a large type and less popular tags in smaller type. A similar design concept is used in Wordles.
Threads
Threads are strands of conversation. On an email list or web forum they will be defined by messages that use the use the same subject. On blogs they are less clearly defined, but emerge through comments and trackbacks.
Tweet
A tweet (noun) is a post, update, message or "short burst of information" on Twitter, a real-time social messaging system. A tweet can be a maximum of 140 characters in length. RT stands for retweet. Users add RT in a tweet if they are reposting something from another person that they wish to share with their own followers.
Twitter
First launched in 2006, Twitter is a social network that lets members post text-based updates of no more than 140 characters which is displayed on the users profile page. An update or message is called a tweet and users can include links and hash tags as well as retweet (by including RT) other people's updates. Similar to the Facebook concept of friends or fans, users can follow each other's tweets and even create user lists to help categorize who they are following.
Twitter is estimated to have 200 million users, generating 190 million tweets a day and handling over 1.6 billion search queries per day. It is sometimes described as the "SMS of the Internet". Twitter users can use the service to point to news stories, to raise funds for charity, and raise awareness of social and political issues.
---
U
UGC
UGC stands for user-generated content, an industry term that refers to all forms of user-created materials such as blog posts, reviews, podcasts, videos, comments and more.
URL
Unique Resource Locator is the technical term for a web address like http://www.bbc.co.uk, that includes the full website address.
---
V
Videoblog
A videoblog, or vlog, is a blog that contains video entries. It can also be called video podcasting, vodcasting or vlogging.
Virtual World
A virtual world is an online computer-simulated community like Second Life that mixes aspects of real life with fantasy elements. Typically, you can create a representation of yourself (an avatar) and socialise with other residents. Virtual worlds are also used extensively in computer games, particularly those with multiple players online. They can also be used for commercial and educational purposes such as the Starlight Children's Foundation which helps hospitalised children to create a comfortable and safe environment to help them better understand their illness. Second Life is also being used by some nonprofits and businesses to run discussions, virtual events and fundraising.
---
W
Web 2.0
Web 2.0 refers to the second generation of the Web, which enables people with no specialized technical knowledge to create their own websites to self-publish, create and upload audio and video files, share photos and information and complete a variety of other tasks. The Internet becomes a sharing and collaborative platform that anyone can use without having to go to an expert. Some of the best-known Web 2.0 websites include Wikipedia, MySpace, Digg, Flickr and YouTube.
Web Analytics
Web analytics is the measurement, collection, analysis and reporting of Internet data for the purpose of understanding who your visitors are and optimizing your website. The types of elements that are useful to measure include clicks, unique visitors, visitor location, page view duration and search engine referrals. One of the most common analytics websites is Google Analytics.
Web Conferencing
Web conferencing is used to conduct live meetings or presentations over the Internet. In a web conference, each participant sits at his or her own computer and is connected to other participants via the internet. This can be either a downloaded application on each of the attendee's computers or a web-based application such as Webex where the attendees will simply enter a URL (website address) to enter the conference.
Webcasting
Webcasting refers to the ability to use the Web to deliver live or delayed versions of audio or video broadcasts allowing listeners to tune in from anywhere in the world. It's the equivalent of broadcasting over the internet.
Webinar
Short for Web-based seminar, a webinar is a presentation, lecture, workshop or seminar that is transmitted over the internet. In general, participants register in advance and access the presentation in real time over the internet and listen to the presenter either through computer speakers or a telephone connection.
Wi-fi
Wi-fi (or wifi) stands for wireless fidelity, a simple system that allows enabled devices to connect to the Internet within short range of any access point without cables or adaptors. Many cafes and public places such as airport lounges now offer wi-fi access for customers / travelers to go online, either as part of the service when you buy a cup of coffee or for a small fee.
Wiki
A wiki is a shared website that can be directly edited by anyone with access to it to create a collaborative online workspace. Wikis can be a good way for people to write a document together, instead of emailing files to and fro. The best known example is wikipedia, an encyclopedia created by thousands of contributors across the world.
Wikipedia
Wikipedia is a free online encyclopedia written collaboratively by volunteers. Sponsored by the nonprofit Wikimedia Foundation, it has editions in about 200 different languages.
Wordle
Created by IBM researcher Jonathan Feinberg in 2008, this is an online application for creating artistic word clouds from user-supplied text. Similar to a tag cloud, words that appear more frequently are given more prominence within the randomly generated design.
WordPress
WordPress is a popular open source blog tool and publishing platform powered. It's often customized into a Content Management System (CMS). It has many features including a plug-in architecture and a template system. WordPress is used by over 13% of the 1,000,000 biggest websites.
---
Y
YouTube
YouTube is a video-sharing website where users can upload, share, and view videos. It's the world's most popular video hosting site, making up 10 percent of all bits that travel across the entire Internet.
---
SOURCES: The Social Media Guide, Socialbrite.org, Wikipedia.