Social Media: the new spotlight for dancers
With social media having over 1 billion users, it is not reckless to assume that the world of the arts is heavily involved in the ongoing buzz. With its' fast changing pace and instantaneous communication, 69% of users such as actors and dancers, who are trying to market themselves, found it useful for building a loyal fan base. It opens up accessibility to others that are normally seen to be out of reach; such as celebrities and high profile businesses. However, platforms such as Twitter, Instagram and Facebook can all be a bit overwhelming - just how can you involve all of these to promote and market yourself as a dancer?
Dance has been tied to Twitter since its creation. Jack Dorsey, the innovator behind the social media phenomenon, had a former partner in the San Francisco Ballet. He also used ballets' ideas of 'coordination, simplicity and discipline' to form his 140 character tweets. Twitter was also the first social media website to create the hashtag. By simply adding #dance to the end of your tweets, you are able to access a large community of Twitter users that could be other dancers aspiring to get noticed. Follow the companies that inspire you and join in the conversation, using similar hashtags or by placing a hashtag in front of their name. By doing this, you can find and speak directly to artistic directors and casting agents; create a way to engage with them personally so you stand out among other dancers. Along with tweeting them, you can get inspiration on what information they display front and centre. Do they talk about a certain genre of dance? If they do, engage with them about this genre. If you are interested in it too, this is a great way to show off your specific talent. You can learn about other genres of dance this way too. Consider these marketing tools and apply them to your online presence; you never know when your luck might strike. For example, multi-award winning casting director Mark Summers tweeted, "Just about to book talent I found on twitter :) #paystofollow", to his 20,000 followers. All the fortunate follower had to do was connect with Mark via Twitter and that's how they got booked.
"Dancer's are all about visuals, so take the opportunity to post creative, unique and inspiring pictures"
Showing people in the arts industry like Mark Summers a video via Twitter or Facebook could be effective as well - you might be just what they're looking for. When you have images or videos in your online posts, you are 35% more likely to get likes and retweets. San Francisco ballet dancer Garen Scribner is also enthusiastic with this idea - he is a prime example of marketing himself via videos and photos. He started getting comments from the likes of contemporary choreographers Christopher Wheeldon and Jorma Elo. He argued that, "if these choreographers come into the company to make a work, maybe they'll already have me in mind when they come to cast it".
Research shows that people remember 20% of what they have read and 80% of what they have seen. Instagram is also a great platform to show videos and photos of you and your talent. Instagram also uses the hashtag, similar to Twitter, using the right hashtags with your images helps put your content in front of people searching for keywords and phrases associated with your brand, such as dance. Take advantage of this and choose the hashtags carefully, as it increases your reach across the platform. These photos and videos can then easily be integrated and shared amongst Twitter and Facebook too. Dancer's are all about visuals, so take the opportunity to post creative, unique and inspiring pictures - our ISTD Instagram account is also guilty of this!
However, it is important to know the difference between marketing yourself and spamming. Instead of constantly advertising and pestering casting directors, engage with the conversation and find unique ways of using these platforms. This will make you stand out. Also, remember to keep the content of your profiles professional - ballet companies are not going to want to see your latest night out. Find the balance and show your dance personality. You could also consider showing this dance personality by branding yourself across multiple social mediums. Consistent branding is key for followers to remember you - companies such as Ted Baker are praised for having all their key images identical on their Twitter, Facebook, Instagram and Google+ accounts. This enables the consumer to unite all their social media, constantly stay connected and ultimately remind them of the brand. Recently at the ISTD we have done a similar thing by changing all our social media to reflect a solid brand, reminding our followers of who we are and advertising the ISTD to prospective followers. Why not choose one key image or a logo if you have one, across your social media pages. When you participate in social media conversations or go to auditions your chances of being better recognised could rise.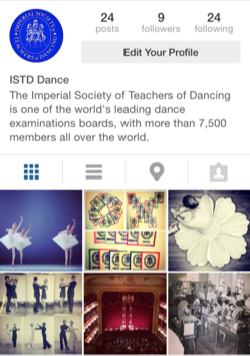 Using the tools available on these social media sites, the ISTD Marketing team aim to advertise information such as auditions and job offers in the arts. By having a fan base of over 10,000 people, we can access people all over the world with current dance news and opportunities. From a dancer's point of view, companies such as ours are great to follow as they may source that one job that you weren't able to find. Because social media has become such an important marketing tool to millions of companies, it is advisable to hop on the bandwagon. Whether you're marketing yourself as a dancer, or a company advertising jobs and news such as the ISTD, social media can bridge the communication gap and provide opportunities for everyone. You can enjoy our daily updates and images on Facebook, Twitter (@istddance) and Instagram (@istddance).
We would love to hear your social media success stories, and whether or not you think this way of marketing can help you as a dancer. Send us your thoughts at marketing@istd.org.
Georgina Meller