Twitter, the Basics
This article will outline the basics of how to use the social media medium Twitter and some useful tips to keep your tweets interesting and engaging.
Twitter is one of the faster paced social media sites. Tweets are short bursts of information hoping to peak readers' attention. Depending on what you want to read or write will depend greatly on what kind of Twitter account you create and those you choose to follow.

witter has created a whole new language; I have compiled a sample of useful words and what they mean. If you choose to join Twitter you will be asked to Follow users. You are then known as a Follower and you may gain followers. Every profile has a follow button. When you create your Twitter profile with a/your name the @ symbol will be placed in front of it. This symbol along with your Twitter name is called your Handle. ISTD's handle is @ISTDdance, all of our tweets show our handle. Each user has a profile: a picture, a profile summary and a list of every tweet they have written or shared.
When you write a message on Twitter and send it out to your followers and the public you are Tweeting. A singular message is a Tweet. Every tweet offers you the option to Retweet; sharing the tweet, Favorite the tweet; the same as the like button on Facebook, or replying to the tweet. The Twitter Feed is a list of live tweets sent out by those you follow, it can be found under the Home banner on Twitter. If you want to know if someone is communicating with you there is a Notification banner and also a Direct Messaging section. Anyone can communicate with you by writing a tweet including your handle. If a tweet is written with your handle at the beginning then they are speaking to you through a limited audience; only you, the tweeter and mutual followers can see this message. These are also called Replies. However, if a full stop is put in front of the handle, then the tweet is open to the public. If a tweet includes your handle in the middle or end of it, it is called a Mention and is also public. Direct messages can only be sent by those who follow each other, they are private.
@ISTDdance how many faculties of dance do you have? – limited audience tweet
.@ISTDdance can you direct me to your website? – public tweet
We had a great time dancing with @ISTDdance at the weekend – mention/public tweet
Something that is used on Twitter frequently are Hashtags (#). The hashtag symbol is a way of highlighting a word or phrase; this is useful when you want to search for something on Twitter. For example, #dance is used for all those who want to highlight their tweet as talking about dance. If a hashtag is used excessively in one day it will most likely be Trending. Trending are topics, people or items that are popular and the majority of Twitter users are mentioning them in their tweets. A popular hasthtag used on a weekly basis is #ThrowbackThursday or #TBT and the dance world use #TutuTuesday every Tuesday. These hashtags are a great way to get involved with discussion and interact on Twitter. A photo or video is usually included in these tweets.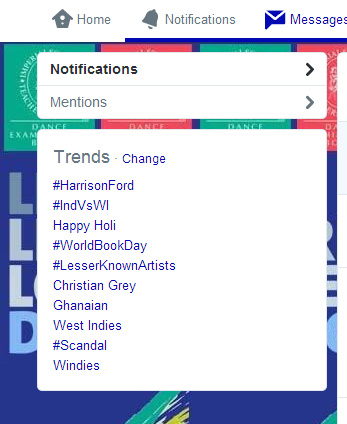 To best enjoy and not be overwhelmed by Twitter, the first thing to do is decide what kind of Twitter user you want to be. Three basic users are the Reader or Tweet Consumer, the Personal user and the Professional or Marketing user.
Reader/Tweet Consumer:
These users are active on Twitter to find information or keep up to date with their favourite celebrities, follow news items or brands they like. Usually they tweet little themselves. Twitter is a fantastic way to find and read bites of information fast, keeping up to date with your favourite topic, like dance. In order to hone your Twitter feed with all things dance you should follow the relevant people and those known as Influencers. Influencers often have a large number of followers or you can determine them by a blue tick on their account. Those who have a blue tick on their account are known as Verified Accounts. These accounts have been verified by Twitter and deemed as authentic and highly sought after. If you are keen to follow the real English National Ballet account for instance, you will know it is them by their blue tick. Another way to ensure you get the right tweets to your feed is to subscribe to Lists. Type the name of what you want to follow into the search bar. If you type dance into this search bar all things dance will then appear in a feed. Suggested users you should follow will appear. You will find on the left side Timelines, click on this and a feed of suggested lists should then show on your screen. Subscribe to these lists for influential/relevant tweets.
Personal:
Twitter, like other social media platforms can be used by those who wish to share their thoughts, photos, videos and life to a public audience. As with all social media sites, there is an option to make yourself private, only those who you allow to follow you will be able to see your tweets. If you wish to be private you can do so in your Security and Privacy section of your Twitter settings. Note that any tweets you sent before changing this setting will still be public. Those who wish to remain open to the public should remember that your tweets are visible on the internet to anyone, not only those who have twitter accounts. We advise that you do not write your own or others' personal email, phone number or address on your Twitter account. Although you are limited to 140 characters you can still have an interesting, fun and smart tweets. TIME Magazine online published an article and link enabling you to discover the reading level of your tweets. The magazine discovered from 1 million public tweets that 33% have an average reading level at 4th grade, equivalent to 9-10 year olds. Test out your average reading level through this link: http://time.com/2958650/twitter-reading-level/. Even though you character count is limited, how you tweet doesn't have to be!
Professional/Marketer:
Companies, brands and professionals all use Twitter for promotion and marketing purposes. Tweets sent out should be interesting, news worthy, comprehensive and as factual as possible. If you want your tweets to reach a large audience try to include photos or videos. Twitter Media Blog suggests that there is 35% increase in retweets that use photos. To ensure your photo will show not as a link, therefore increasing its visibility, it should be at least 500 pixels wide. Including links to websites or articles is very useful. There are free sites such as Bitly.com or Ow.ly that shorten links ensuring you don't use up valuable characters. Another way to get your tweet noticed and shared is to not repeat what others have written or to send the same tweet over and over again. Think of interesting things to say, engaging readers' curiosity with questions, and try not to repeat headlines from articles or websites. A simple tip is to remember who your target audience is and write as if you are having a conversation with them.
Twitter has great potential for those who wish to share interesting content, read news stories and communicate about mutual interests. If you have any questions regarding Twitter and how best to use it, or if you would like to share your experience of Twitter in DANCE, please contact the Marketing Department on marketing@istd.org or tweet us @ISTDdance.
Jane Cuppage