21 April 2023
The live finals took place at Central School of Ballet in London, one of the country's leading vocational training schools for classical ballet and a fitting setting for the aspiring young finalists selected to dance on the day. Being in the building offered them an inspiring insight into the life of a full-time vocational ballet student and they performed impeccably to the audience in the school's beautiful Gable studio theatre.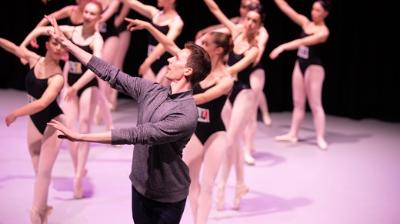 The standard of work in all four sections was extremely high and a real treat to watch. All the finalists had been beautifully trained by their teachers and the audience enjoyed a tremendous demonstration of classical ballet class work, accompanied by inspiring music from Kate Dickson at the piano. We were fortunate to have as adjudicators Vivienne Saxton, Lead Examiner for the Imperial Classical Ballet Faculty, and ex-professional dancers Desire Sammai, currently classical ballet teacher at Tring Park School for the Performing Arts, and Andrew Wilson, currently teaching at Performers' College in Essex. They judged the work with great sensitivity and warmth, taking time to offer constructive and meaningful feedback to all the finalists before presenting the lucky winners with Musicality and 3rd, 2nd and 1st place awards. In addition, 1st place winners received £200 vouchers for dancewear to spend with Freed of London.
Congratulations go not only to the deserving winners but to all of the finalists and their teachers for their impressive achievement. Sincere thanks are due to the class teachers who taught such beautifully artistic classes, and to Kate Dickson for her piano accompaniment. Thanks too to the helpers and chaperones who made the event possible and to the Imperial Classical Ballet Committee who worked so hard in planning and advising on this new model.
We hope you enjoyed your experience and look forward to seeing you at a future Imperial Classical Ballet event.
Grade 1 and 2 Winners
Class teacher: Sadie Morgan
| | | | | |
| --- | --- | --- | --- | --- |
| | | Teacher | School | Country |
| 1st Place | Tabitha Evans | Michelle Cheetham | Bella Danza Studios | UK |
| 1st Place | Rafferty Smale | Lorraine Swan | Junior Masters Performing Arts | UK |
| 2nd Place | Aubrey Roberts | Joanne Bond | Joanne Bond School of Classical Ballet | UK |
| 3rd Place | Oliwia Gomolka | Michelle Cheetham | Bella Danza Studios | UK |
| Musicality | Molly Harrison | Jamie Lee Tuffrey | Jamie Lee Dance Academy | UK |
Grade 3 and 4 Winners
Class teacher: Fleur Jones
| | | | | |
| --- | --- | --- | --- | --- |
| | | Teacher | School | Country |
| 1st Place | Hiraani Wagner | Sharon Glennie | June Glennie School of Dance | UK |
| 2nd Place | Nylah Ali | Bronwen Patching and Angela Allport | Adagio School of Dance | UK |
| 3rd Place | Isabelle Allen | Sharon Glennie | June Glennie School of Dance | UK |
| Musicality | Isabella Sheern | Lorraine Swain | Junior Masters Performing Arts | UK |
Grade 5, 6 and Intermediate Foundation Winners
Class teacher: Lisa Aldridge
| | | | | |
| --- | --- | --- | --- | --- |
| | | Teacher | School | Country |
| 1st Place | Maria Araújo | Teresa Vieira | Centro De Dança Do Porto | Portugal |
| 1st Place | Bárbara Beleza | Teresa Vieira | Centro De Dança Do Porto | Portugal |
| 2nd Place | Lara Brooks | Bronwen Patching and Angela Allport | Adagio School of Dance | UK |
| 2nd Place | Mia Bonner | Bronwen Patching and Angela Allport | Adagio School of Dance | UK |
| 3rd Place | Savannah Bryant | Heidi Speakman | Dance Projection | UK |
| Musicality | Poppy Newdick | Kirsty-Ann Farrow | The Kirsty Farrow Dance Academy | UK |
| Musicality | Eva Shand | Natalie Tough | Natalie Tough School of Dance | UK |
Intermediate and Advanced 1 Winners
Class teacher: James Butcher
| | | | | |
| --- | --- | --- | --- | --- |
| | | Teacher | School | Country |
| 1st Place | Morgan Phillips | Kahli Lewis | Kahli Lewis Dance Company | UK |
| 2nd Place | Maria João Andrade | Teresa Vieira | Centro De Dança Do Porto | Portugal |
| 3rd Place | Caitlin Walls | Janet Marshall | Janet Marshall Dance Studio | UK |
| Musicality | Penelope Eldridge | Corraine Collins | Corraine Collins Dance Studios | UK |
| Musicality | Mia Harrison | Katie Philpott | Katie Philpott School of Dance | UK |
List of all participating schools in UK finals
Adagio School of Dance
Anlaby Studios
Archway Dance Academy
Arts1
Azure Theatre School
Ballaré School of Performing Arts
Bella Danza Studios
Bovingdon Dance Academy
Brookes Dance Academy
Centre Pointe School of Dancing
Centro De Dança Do Porto
Clonmel Dance Centre
Cork School of Dance
Corraine Collins Dance Studios
Dance Projection
Dance Steps Academy
Deborah Hoskins Dance
East Sussex Dance Studios
ElliTe Studios
Footsteps Theatre School
Funky Feet School of Dance and Performing Arts
Giselle Academy
Grayes Theatre Arts
Hayley Sexton school of dance
HollyCollins school of Dance
Jamie Lee Dance Academy
Janet Marshall Dance
June Glennie School of Dance
Junior Masters Performing Arts
Kahli Lewis Dance Company
Katie Philpott School of Dance
Kelly Sheen School of Dance
Kirsty's Dance Academy
Leanne Edwards School of Theatre Arts
Leonard Dance Academy
Mala Dance
N B Dance Academy
Natalie Tough School of Dance
New London Performing Arts Centre
Pirouette Academy
Power Academy of dance
Queen Anne's School
Rebekah's Dance School
Roynon Performing Arts
Sammy's School of Dance
Sharpe Academy
SilverLee Stage School
Singer Stage School
The Beverley School of Performing Arts
The Blackheath School of Dance
The Dance Place
The Emma Coombs Dance Academy - TECDA
The Joanne Bond School of Classical Ballet
The Kirsty Farrow Dance Academy
The Lewis Foundation of Classical Ballet
Timestep Academy of Dance
Unique Dance Studios
Wilkes Academy Under 16's