10 January 2023
From Swan Lake performed in bathtubs to dancing on rooftops, in train stations, or in front of world-famous landmarks, site-specific dance endures in the memory. Choreographers such as Trisha Brown and Pina Bausch staged dance in unusual locations to create unforgettable works – and lockdown led to a plethora of inventive pieces in unexpected places. But how can dance teachers venture into this unknown territory?
"Things that work in your typical dance studio do not always work in other environments," says Sharon Payne, principal of Centre Stage Dance and Drama in Surrey, who coached one of her students to take part in the site-specific ISTD Challenge during the lockdown. "Be prepared to adapt and experiment with ideas to suit your surroundings. And don't be frustrated if things don't work out how you envisioned either – it's all part of the fun with site-specific work."
The ISTD Challenge included three categories: Task A: Dance Inside, Task B: Dance Outside, and Task C: Dance with a prop or object. "My student completed all three tasks," continues Sharon. "Dancing inside her living room and incorporating the living room doors into her choreography for Task A; dancing outside in a local field, a place she spent a lot of time during lockdown, for Task B; and using a muscle roller to portray a car crash within her dance for Task C."
"The most fulfilling moment of the ISTD Challenge was knowing that my student's work was being shown to professionals in the industry."

Assessing the risks
What advice can Sharon share with other teachers considering site-specific performances? "Consider the floor and surroundings when working indoors," she begins, "especially if you have a family also using the home whilst you are working. Carpet hindered some movement as we needed to prevent friction burn, and experimenting with doors when someone could enter from either side was a big risk factor! Challenges outdoors include the floor (uneven or wet patches of grass), weather (lack of sunlight or rain), and other people using the same space publicly (playful dogs running by). Communication is key, and always be vigilant of everybody at home or nearby if you're outside in a public place. Most of these things are out of your hands, too, so have plans B, C, and D in place, which are normally just 'common sense' solutions."
Kathak dancer, teacher, and choreographer Urja Desai Thakore is the artistic director of Pagrav Dance Company in Milton Keynes and an ISTD committee member and examiner. She began creating outdoor work in 2007 when she was asked to co-choreograph the outdoor spectacle Bells for Akademi, the South Asian dance organisation. "I have done small pieces of commissioned work since then, but my first outdoor work under my company was Deva, which premiered at Birmingham International Dance Festival in 2022," Urja explains. She recommends experiencing as much site-specific work as you can before creating your own. "One also has to always think about the practicality of presenting the work outside, from weather to the space to the proximity of the audience," she advises.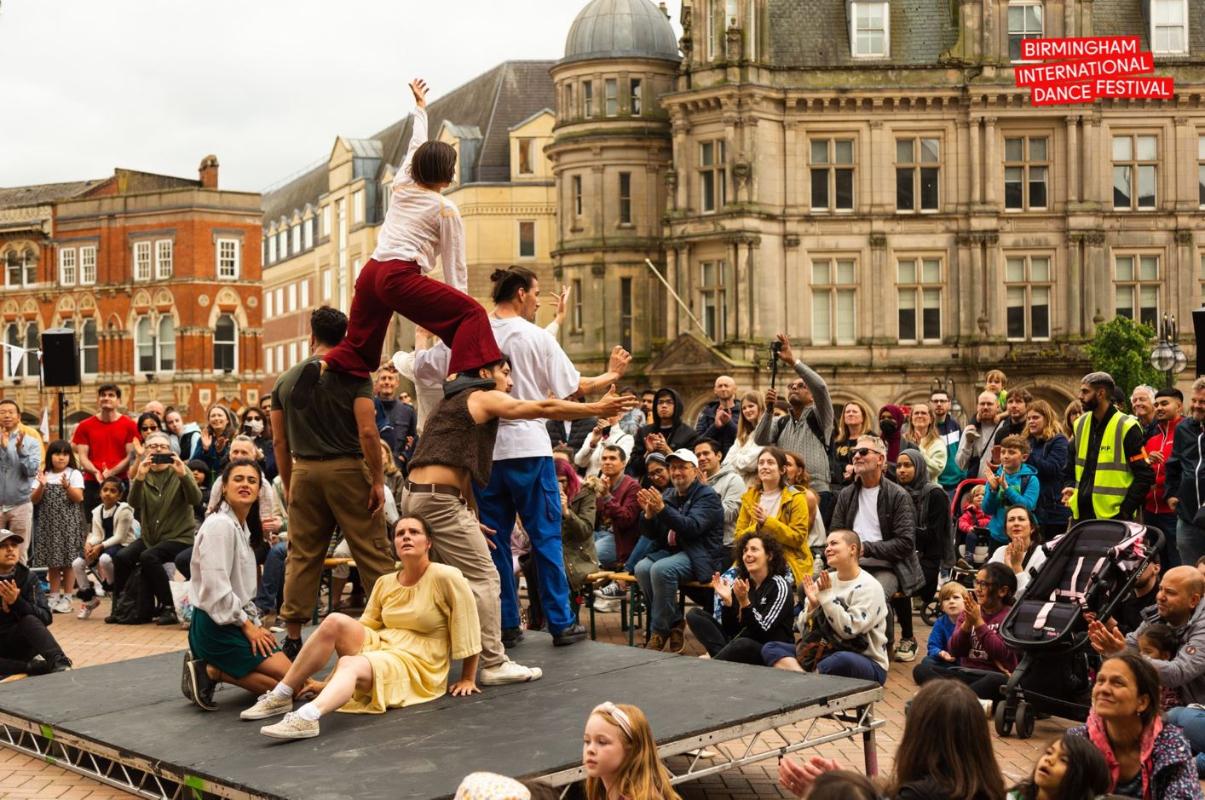 Make your surroundings work for you
Heather Cooney, principal of the Cairngorm School of Dance, encouraged her students to make the most of the beautiful landscape around them in their work in the ISTD Challenge. "We live in the Cairngorms in the Scottish Highlands," she notes, "so it's extremely beautiful. I asked my students to choose places they'd found particularly meaningful during lockdown – they found two separate spots. For Task C, with the prop, I said, 'Why don't we do something at Broomhill?' It's a local station with a steam train for tourists, which is featured in the television series Monarch of the Glen. All three of us did that together, using a prop, which was a suitcase… As it's an old train station, we played a Scottish song, 'Caledonia,' and passed the suitcase around between the three of us."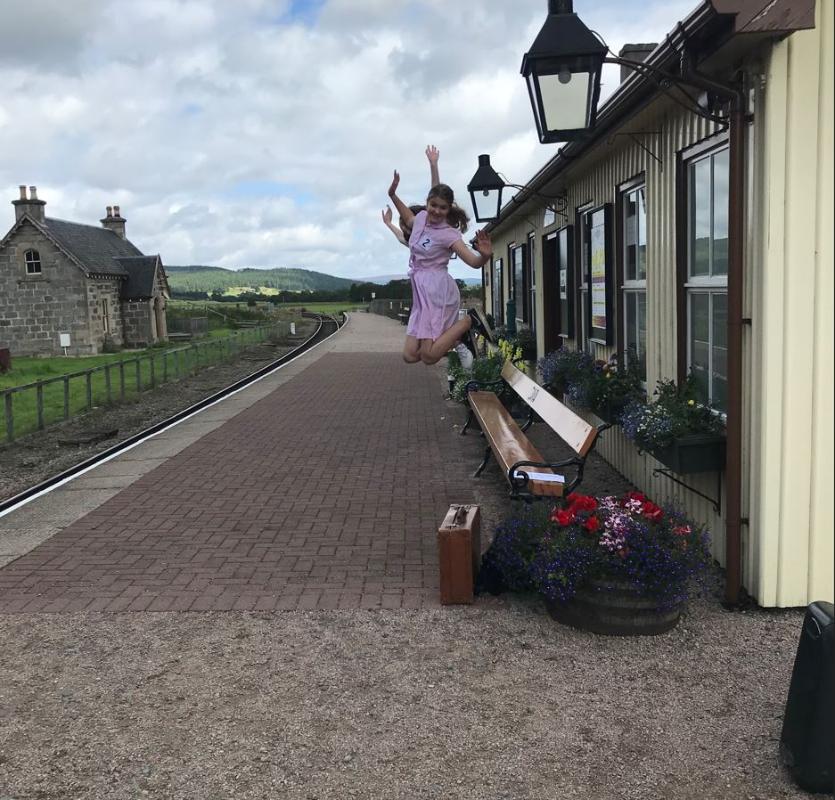 Heather Cooney's students perform for the ISTD Challenge in the Scottish Highlands
Did she talk to her students about the risks of dancing outside? "They're very used to being in the outdoor environments," she says. "They ski and skateboard and they picked places they knew well and were secure in. If they hadn't known it so well, I would have approached the task differently. It was quite freeing for them and we do live in a spectacular place, so it was great to explore it and get outside. You could see the mountains and that led us to the choreography."
Consider your audience
It might seem an obvious point, but it's worth considering if your intention is to perform for a live audience or not. In the case of the ISTD Challenge, the work was filmed rather than aimed at an in-person audience, because of lockdown restrictions. Astrid Sherman, the Society's International Representative in North America, is based in Los Angeles, California, where she coached and mentored students over Zoom during the lockdown. Two of her students in Vancouver and one in Northern California took part in the ISTD Challenge.
"The students of today love creating videos," Astrid says. "It's how they connect and communicate and how they 'live' and explore their dance world with their friends via TikTok, Snapchat, and so on." Of course, safety is paramount. "Have an open and frank discussion with younger students about what they post," she advises. "Share and debate about privacy and filming, discuss the content in regards to their growing awareness of the society they live in and respect for their own bodies and environments. I was quite amazed at the maturity, sensitivity, and depth the youngsters had when discussing these issues."
In Heather's case, when it came to filming the ISTD Challenge, an impromptu audience gathered. "If I were doing it again, the planning would be to do with other people watching," she says. "Everybody stopped to see what we were doing, so my students had a bit of an audience – one liked it and the other not so much." In the future, she would take into account that audiences can be unpredictable and she would aim to have more control over external involvement. "I think, if I did it again, I'd do something like what we did at the train station and involve more of the school and the community, too. The train station loved it, so if I were to do it again, I'd invite them in more."


Community and inclusivity
Site-specific dance offers the opportunity to share our art form with people who might not otherwise experience it. "I think things like the ISTD Challenge could build relationships with a dance teacher's community very well," says Sharon, "as all three tasks could be undertaken somewhere or using something that is only available to their local communities."
Urja notes that site-specific dance can bring two audiences into one place: "One who goes to see theatre work and one who mainly witnesses community performances," she says. "When I have audiences share their positive feedback on how it has impacted them and how they see the work without exoticising the artform, I feel I am on the right path." She is also always mindful of inclusivity. "I have incorporated a British Sign Language interpreter into my choreography, as we use text, and we have also used audio description and offered 'touch tours' for visually impaired audiences."


The benefits of site-specific work
All of the teachers I talked to spoke warmly about their experience of site-specific dance. "The most fulfilling moment of the ISTD Challenge was knowing that my student's work was being shown to professionals in the industry and that she was being recognised and rewarded for her ideas during such a hard time," enthuses Sharon.
"I loved that the Challenge gave me an extra inspirational tool to utilise for my Zoom teaching," adds Astrid. "After our Zoom ballet classes, we would talk about how their choreography was shaping up and discuss ideas on how, where, and what they were doing. For me, watching their videos for the first time was the most fulfilling moment of the experience as I was not involved with their day-to-day choreography or progression."
As for live site-specific performances, the interaction with the audience is crucial, notes Urja. "Site-specific audiences react instantly," she muses. "As a creator, you know immediately if your work has reached them or not and it offers you new challenges to think outside the box."
More appreciative of her beautiful surroundings, Heather has organised an outdoor photoshoot with her dancers with a photographer from Scottish Ballet. "The great thing about the experience was breaking the barriers of being in the studio and the restrictions we have there," she recalls. "I've got the perfect location on my doorstep and I never used it before. The experience has opened my eyes."
You can read more about the ISTD Challenge on our website.


Tips for staging site-specific dance
Assess the risks carefully and communicate them clearly with your dancers: this advice applies whether you're staging live dance or filming a piece for the internet (see Sharon Payne's and Astrid Sherman's recommendations above).


Overprepare and then go with the flow: site-specific dance can work more like improvisation, so be prepared to adapt the choreography to your environment.


Consider your audience: like the environment around you, your audience can be unpredictable – whether it's a formal gathering, curious passers-by, or friendly dogs, so discuss this with your dancers and prepare them to adapt to the circumstances.


Work with your community: site-specific dance can be a wonderful opportunity to share the art form with the wider community. Consider the ways in which you might make the most of what's on your doorstep (see Heather Cooney's advice above). Also, bear in mind Urja Desai Thakore's tips for making your performance as inclusive as possible.


Encourage your dancers to be present and enjoy themselves! Site-specific dance can be highly rewarding for both audience and performers. While it's important to assess the risks and prepare carefully, once you're out on the site, it can be a freeing – and even life-changing – experience for everyone involved.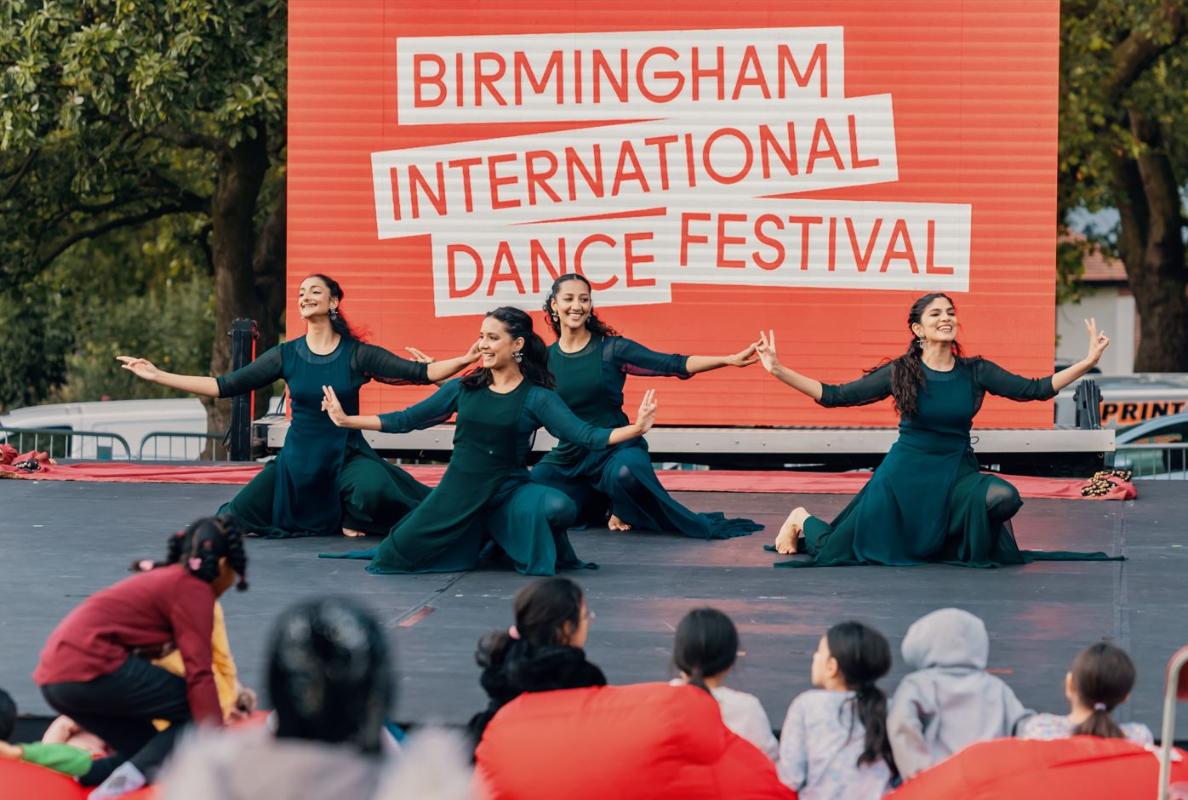 Deva by Urja Desai Thakore and Hetain Patel, presented by Birmingham International Dance Festival 2022
Nicola Rayner is a dance journalist and novelist. To read more on our performance issue, visit the Dance magazine area of our website.