24 November 2022
NEWS LISTINGS PAGE PHOTO CREDIT: Hannah Todd Photography
With International Day of Persons with Disabilities coming up, and during UK Disability History Month (16 November - 16 December), we speak to Kate Stanforth, 28, Dancer and Founder of inclusive dance academy Kate Stanforth Academy of Dance.
"I was training to be a professional dancer when I suddenly became ill at the age of 14 and was diagnosed with a number of conditions, including ME, EDS, MCAS, and Vasovagal Syncope. I had a number of rough years with my health, at one point I was paralysed, but after around the six-year mark I started to stabilise enough to use a wheelchair and get back into dance. It's been a very slow slog, but I steadily adapted to teaching and dancing with my ever-changing health, so I now have a career in the dance industry!"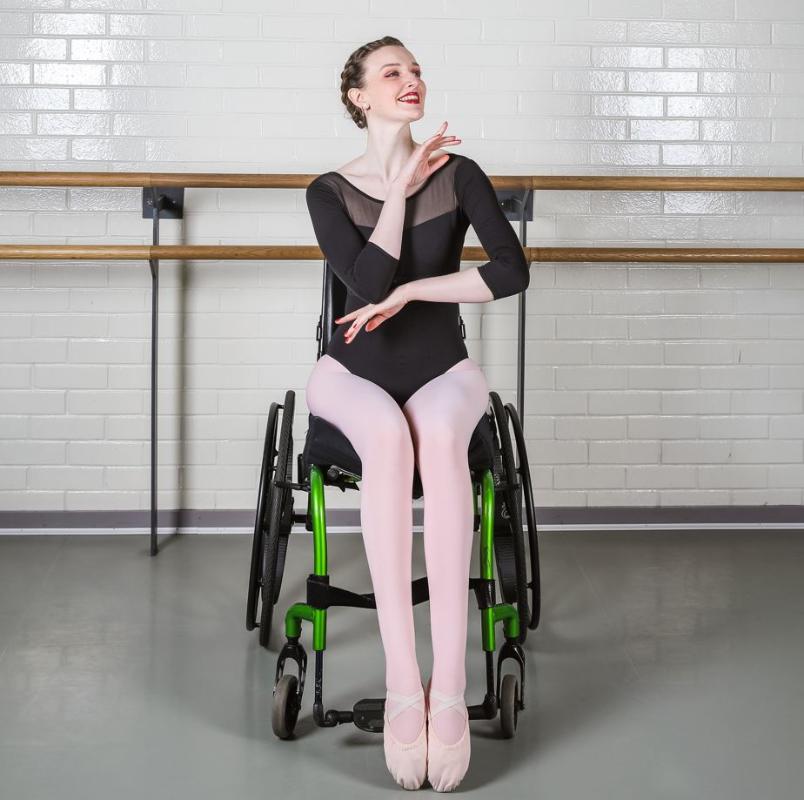 PHOTO CREDIT: SNAG TIGHTS
How did you come up with the idea to offer inclusive classes for those who cannot access adapted dance lessons?
My dance school has an open-door policy, and we try our best to cater to anyone who'd like to join. We like the fact it's inclusive, instead of exclusively 'disabled', which gives our dancers a more rounded experience. I thoroughly believe that we, as disabled artists, should have access to the same opportunities and experiences as non-disabled artists so I'm trying my best to help provide a little stepping stone towards that.
"I dance to open up the conversation, and that's exciting."

What are some of the things in place in your school to help disabled children and adults?
One of the main things we have in place at the dance academy is that all 4 teachers have lived experience of disability/chronic illness and, of course, dance. We just get it. I've hired some incredible teachers (if I do say so myself!) Which are a huge asset both in and out of class. Other accommodations we provide are things like recorded sessions, free 1-1 coaching, individualised adaptations, monthly social catch-ups… We are so much more than providing an accessible dance studio, we really strive to support our dancers as a whole.
What do you want to achieve with Kate Stanforth Academy of Dance?
I have big dreams, let's just say that! Some of these things I don't want to put down on paper yet because I'm not sure they'll happen, but let's just say I'd love us to continue to grow and support dancers all over the world. More than anything though, we really want change in the dance industry (in so many ways!). A big one for me especially is to be able to get my dancers through ballet exams in wheelchairs. That's my ultimate goal.


What has been the highlight of your teaching career so far?
It's honestly so hard to pick one. I was very fortunate to be part of a special project with Disney and Make-A-Wish Foundation this year, where I was hired as (a first for the UK events team) disabled professional, and helped a young girl dance for the first time in her wheelchair. Her Mum watched in tears, and it's always moments like that I think 'This is why I do what I do'.

What aspects of teaching do you enjoy the most?
I genuinely love dancing, so the fact I get to do that each session fills me with so much joy! I love a challenge, too, and teaching people with disabilities is like a constant process of solving puzzles - my job is never the same. Even when I have the same dancer in my session, their health often varies, so each week we have to think about the adaptations to create. I really get a lot back when I manage to get something right when it comes to adaptations.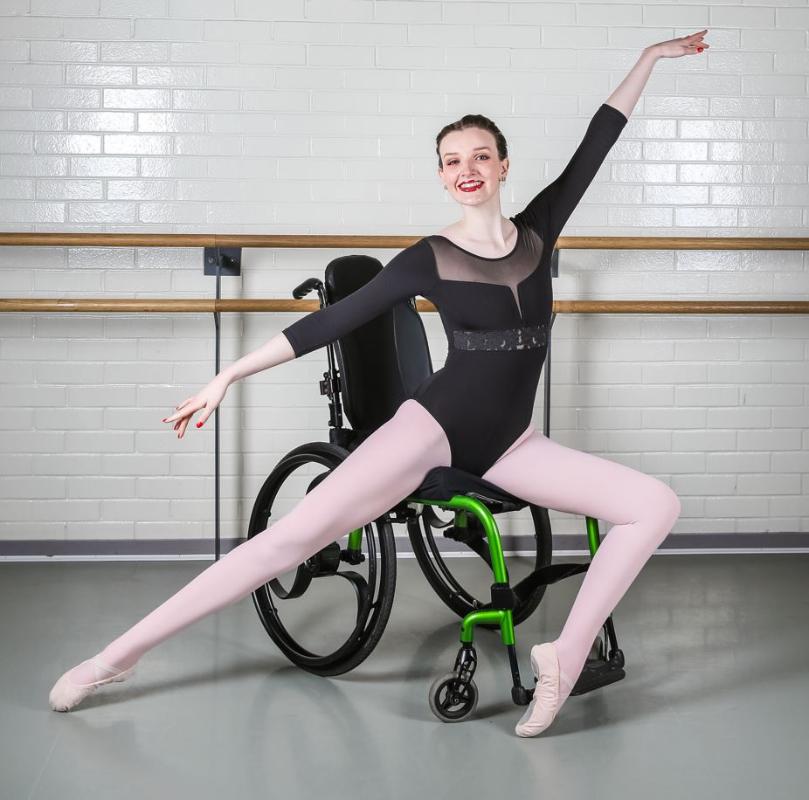 PHOTO CREDIT: SNAG TIGHTS

How far has the inclusivity in dance come since you've been further involved or in the last 20 years?
I became disabled at 14, which was 10 years ago, and I didn't even know there was any other disabled dancers. I'm happy to see more inclusive dance companies, more disabled dance artists and increased opportunities for inclusive practise available in the industry.
We still have a long way to go, though. The reality is that we need to be looking at better inclusion and support for disabled dancers in the industry. I nearly had to turn down a job the other week because my wheelchair broke, and there's no funding for disabled dancers to get equipment to help them dance - my wheels are my legs and dance is my job! I've seen only a handful of disabled dancers on stage or film in the past few years, and that's not exactly representing the 1 in 5 of us who have disabilities… I think there's a lot of change to come.
"I've lost count of the number of times that I haven't been able to either audition or do a job because of my disability."

What do you think some of the many barriers in place for disabled people are in the dance world and how can we combat them?
What a question. I think the pathways to becoming a professional in the dance industry, whether it's a dancer or a dance teacher, aren't accessible. And without that, you're never going to see disabled dancers further up the industry, like on stage, or in films. I really struggle to get any of my disabled dancers through dance or teaching exams.
There are a lot of outdated reasonable adjustment policies still out there, and it does frustrate me when we are trying so hard to come up with reasonable adaptation ideas. It's a bit more accessible to get a qualification through colleges, but a lot of disabled people can't manage that, so we really need to be looking into these other pathways and how we can support at grassroots level - that's where it starts!

Do you think the dance industry lacks diversity? If so, how has it affected your dance career?
The dance industry absolutely lacks diversity. Every time I see a new film or show, and there isn't one disabled dancer in the casting… it's just so sad. For me, it's had both its pros and cons. Because there aren't many of us dancing professionally, I've had some incredible job opportunities in the past few years as a result, which I might not have got as a non-disabled dancer. But also, I've lost count of the number of times that I haven't been able to either audition or do a job because of my disability. Sometimes, it really, really hurts.
It is so important to see disabled dancers. Just today, someone said to me 'I didn't realise people could dance in wheelchairs'. When people see me dance in my wheelchair, it educates people about disabilities, ambulatory wheelchair users, and about the fact disabled people can have jobs, careers, lives… it ends up being so much more than dance.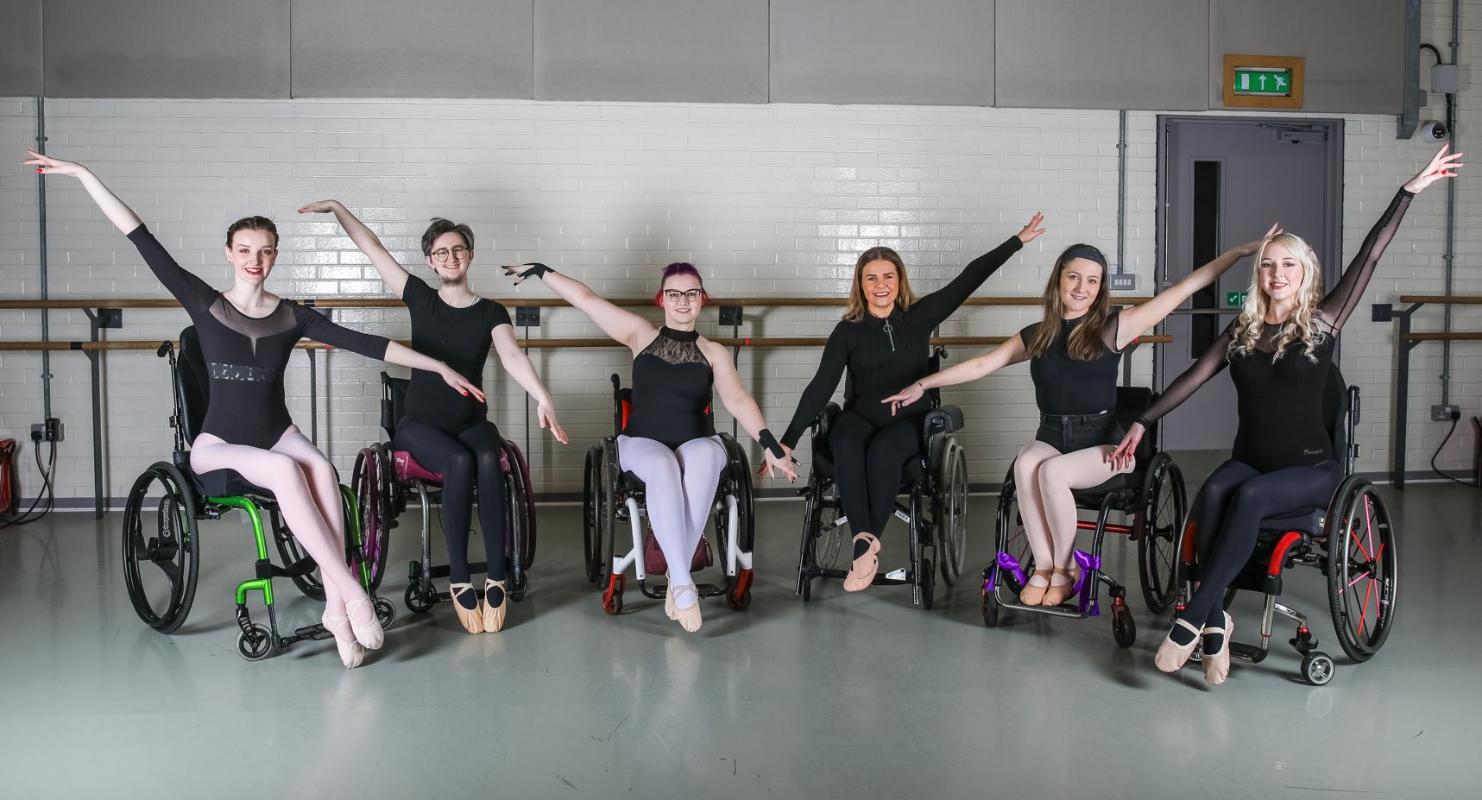 PHOTO CREDIT: SNAG TIGHTS
The Society has recently been working on a new approach to Applications for Reasonable Adjustments which puts what the candidate can do at the heart of the process. Keep your eyes peeled for our policy updates in the coming weeks. Feel free to browse our Diversity and Inclusion Hub for tools and resources to help make your teaching more accessible.