19 March 2023
Chloe Hillyar is a researcher and founder of The Pregnant Dancer, a dance project that ran from Nov 2020 – Jan 2021, funded by Arts Council England.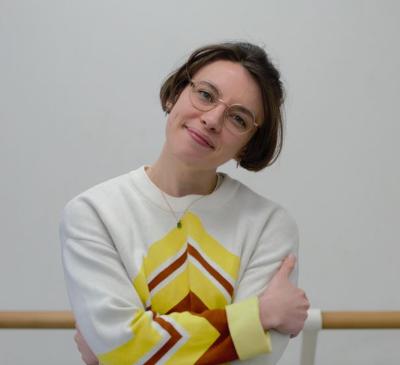 "As a female anticipating fertility issues, planning for a family seems somewhat of an improbable prospect, especially for a dancer. I took the traditional route of training at a dance conservatoire, after which I graduated into the freelance lifestyle. During my training, a peer of mine discovered she was six months pregnant. Our course was highly physical, and the school was ill-equipped to support her; she was forced to drop out.
As a result, I adopted the notion that pregnancy and dance were incompatible. As demonstrated, pregnancy (and parenthood) in my experience, was not addressed during training and is seldom discussed in the sector. As a dancer, naturally, I am career-driven, but outside of dance: I am characteristically maternal. However, for fear of being deemed as unambitious, I side-lined my maternal interests and suppressed concerns regarding fertility for a later date. That was until the 2018 One Dance UK Conference in Leeds.
To have a space where a pregnant dancer can exist, to be celebrated rather than sacked, is huge and really valuable


During the conference, I became particularly engrossed in a talk given by Performance Specialist, Dr. Steve Ingham. He spoke about his experience working with Dame Jessica Ennis-Hill during her first pregnancy prior to the 2016 Rio Olympic Games. He designed and delivered a programme with the aim of maintaining Jessica's elite sporting ability that also accommodated each trimester. And furthermore, supported her postpartum transition back into high-intensity training. To me, this bespoke service seemed revolutionary. I wondered how this could be implemented on a national level for dancers. My back-benched maternal interest sprung to the front of my mind.
Dancers are unique in that they rely on their bodies to work and pregnancy can take away their ability to earn a living. And yet, there is an absence of physical support for the maternal period in our sector. To combat this, I won Arts Council funding to develop a system of training that supports maternal dancers. This research project is called The Pregnant Dancer and exists to end maternity discrimination.
As a dancer, naturally, I am career-driven, but outside of dance: I am characteristically maternal.

The research seeks to create a system of training that ensures safe physiological practice for maternal dancers. The training addresses issues of inconsistent information regarding physical activity during pregnancy in relation to the demands of dance employment. It provides a safe programme for professional dancers to maintain and recover their technique. As a result, I hope to support freelance employment prospects, the normalisation of maternity, and grow parent participation in a professional, performance context.
The research began by creating a database of: un/employed parent dancers; policies addressing parent employment; and contemporary dance curricula in the UK. I collected this data via a general survey which reached 50 artists. Then I worked with three artists to deliver 6 experimental maternal classes to a select group of maternal dancers (case studies). These classes were delivered once per day over the course of 3 days.
The classes were due to take place in-person within a studio environment. However, the government announced a second national lockdown at the time the experiment was supposed to take place and the studio was no longer available. In response, I shifted the programme online. This turned out to be an unexpected benefit. The accessibility and instant nature of online classes suited the participants better due to the tolls of sleep deprivation, breastfeeding, and pre-existing childcare responsibilities. Having the classes available to them at home omitted the cost of childcare, travel expenses, and the added risk of contracting Covid-19. This accessibility proved to be an extremely important aspect for maternal dancers; it was the difference between being able to attend class and being absent from it.
Case Study B, 2020
27 out of 50 artists have children. Out of the 23 who did not have children, 79.2% stated they wanted them. In conclusion, 47 out of 50 artists in the dance sector, either want or already have children. Suffice to say that most dancers will aspire to start a family/become pregnant at some point during their careers.
Participants noted that there are inconsistent sources of information regarding pregnancy, and an additional lack of physical support for pregnant dancers. Considering that British dance was 'founded by women' (Jennings, L. 2013), it seems unfitting that the dance sector is ill-equipped for pregnancy.
As a professional dancer, I understand the penalty that pregnant women pay. I am not the first to realise this, and I certainly will not be the last. I am, however, as far as I know, unusual in the fact that I carry this interest without having experienced pregnancy first. The Pregnant Dancer is my first, albeit small, contribution to this movement. I hope this research offers a reflective and much-needed resource for dance practitioners who wish to plan a family, and even for those who do not.
I hope my findings can stimulate further thought-provoking discussions in hope that dance leaders may hear them and make better choices regarding their employment practice. And lastly, I hope my post-research recommendations serve as new ideas for how dance and parenthood may co-exist.
I have written a full report that details the physiological considerations, research findings, and my proposal for a maternal class formula. To read The Pregnant Dancer Report, please visit https://www.thepregnantdancer.com/
I would also like to invite ISTD members to get in touch to carry on the pregnancy conversation. This is a conversation open to all gender identities regardless of having the ability to fall pregnant. The Pregnant Dancer website curates data, stories, and resources to share amongst the dance community; I want to grow this community to reach as many people as possible. Whether you are a parent, someone thinking about starting a family, or interested in this research, I urge you to get in touch to add your voice to the movement."
Interview with project participant Elly Braund
Elly Braund is a freelance dancer and has worked in the industry for 10 years. She performed with Richard Alston Dance Company for nine years, in 2019 she toured with the production Inala – A Zulu Ballet, choreographed by Mark Baldwin, and was one of 27 British dancers chosen to perform in Night of 100 Solos: A Centennial Event, celebrating the life and work of Merce Cunningham. Elly signed up for the project when she was pregnant and was 6 weeks post-partum with my first child as the project began.

Can you tell us a little about the reality of taking part in a class with a new baby in tow?
The project was originally meant to be in the studio with child care provided, however, it went online due to Coronavirus. My partner is a dancer and yoga teacher, and at the time was teaching in studios, so suddenly there was no childcare. Initially, I thought, 'well this will be fine, the baby can be at home with me sleeping.' However, as time went on, I realised that at six weeks old, naps are really irregular, and babies require constant attention so I wondered how I would manage this when the time came.
There were three days of classes. On day one, my partner was able to go out on a walk with Orli. It was the first time I'd been apart from her since she was born, and as much as I didn't want her to leave, it was also kind of amazing. It was the first time I'd had time to myself and I found it really emotional. As soon as I started moving I was crying. At that point, I'd been through the pregnancy, and labour, and I had a child there that all of my focus was on; it's stressful and tiring and there are always worries. Then all of a sudden I knew she was perfectly safe on a walk with her dad and I had the freedom to move.
As soon as I started moving I was crying.

Day two, I had a tired mum moment and got the timings wrong, so the childcare I had organised was going to arrive after the session had finished. Although Chloe was recording the sessions so that we could do them at a later time, I decided to try to join in, put Orli in a bouncy chair, and do my best. Miraculously, she watched me for the whole session and I was able to continue talking to her as I took part.
On the final day, I joined one of the dancers in the pre-natal group and she was able to do her session and then watch Orli while I did the post-natal session which worked really well.
3. What worked particularly well for you as a new mum?
[The workshops] Being online was a blessing. Initially, I'd thought that it would be really nice to be out of the house and how wonderful it would be to have childcare provided while I danced. In reality, when it got to six weeks I was really happy that I wasn't handing Orli over to someone that I didn't know, and that I wasn't travelling on a train, especially during Covid times. So when it got to it, I was really happy that I was in my own home, that Orli was in a space that she knew, and that I could be available for her if and when she needed me.
The classes were delivered with options to allow each of us to engage with the work as intensely as we felt we could, and it was handed over to us to self-manage which worked really well. This approach helped me to realise that I was still capable of doing pretty much everything. Yes, my core was a bit weaker, but that was almost the only difference. Chloe taught me that I had more strength after going through pregnancy. This obviously depends on each individual's experience of pregnancy and labor, however, mine was very straightforward, and at six weeks post-partum I was ready and fine to move.
Yes, my core was a bit weaker, but that was almost the only difference.

For me, this is what was great about the project, because the work was still challenging, but I knew I was working with people who had knowledge of pregnant and post-natal bodies and were well-informed to guide us. As professional dancers, your body is used to moving, and just because you've had a pregnancy, it doesn't mean that everything completely falls apart. I didn't know that. Maybe that's because of society, or the idea that after giving birth you're physically weaker. Listening to Chloe talk about strength after pregnancy made me realise that I didn't know that I could feel strong, and through carrying a baby in the womb, you're building strength, not losing it. While labour is a really big thing to go through, and you need some recovery time, for me, at six weeks post-partum I was ok. That being said, I was fortunate enough to have a straightforward home birth.
For me, much of the experience was about mental health and looking after myself, and how important that was. I hadn't realised at that point that I was in a fog of 'wow, my life has changed so much and this wonderful little thing requires all of my attention.'
4. Did the project have any unexpected benefits or outcomes for you as an individual?
The biggest thing was meeting and talking to other women who are dancers and mums! Chloe built in time to talk before and after class, and this was so important because the other mothers were the most generous and supportive people. One of the dancers was two years postpartum and I was able to learn from her experience,,, I took huge comfort in that.
For me, I couldn't imagine being able to work again, logistically not physically. There are a lot of things that you can't imagine or comprehend, like 'how do I figure out child care?', and the other mothers in the group were really supportive and reassured me with the experience of having been through the same thing themselves. It was incredible to hear about their journeys because I could see that it will all work out. It's totally possible.
5. Why do you think this work is important?
There are so many misconceptions in the industry and generally about pregnancy and strength and what women are capable of. I think I had those misconceptions myself. I didn't expect to be as strong and active as I was throughout my pregnancy. I was hiking up hills in the lake district when I was 34 weeks pregnant and it didn't take me long to feel physically ready to move again after giving birth. There was a period where I needed recovery but it didn't take that long. The body can heal and stamina can actually increase through pregnancy.
There are so many misconceptions in the industry and generally about pregnancy and strength and what women are capable of.

I think there is an idea that women will be out of action for a long time and it will take ages to recover after giving birth, and it isn't true. There just needs to be a supportive environment for parents to return to and flexibility for dancers around childcare and timing. My partner is about to embark on a dance project, and the company is really supportive and has already acknowledged that they can be flexible if there are any childcare issues or if I need help. I am hopeful that I may find this to be the case when I return to work and the work Chloe and other women are doing is super important.
6. What are your hopes and ambitions for the outcomes of this project long term?
Increased knowledge, support, and awareness. There are so many parents in the dance industry that shouldn't feel restricted because they have children. It needs to be spoken about more and considered by organisations and companies when they are planning work and seeking funding to encourage parents back into the studio.
I hope that the industry starts to retain talent by offering better support for parents who want to work and bring their experience and passion to audiences.
As dance artists, we are understanding, it's in our makeup to work in communities and to understand each other. Experiencing birth and motherhood is a transformational and wonderful thing to be celebrated in every context including the dance world.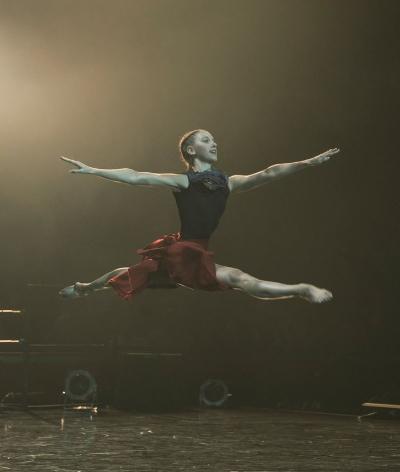 PHOTO CREDIT: ANDREW USPENSKI
If you'd like to know more about pregnancy, parenting, or caring, readers can engage with The Pregnant Dancer project. Danca Mama, and Parents for Carers in the Performing ARTS (PiPA). You can also read more on this topic in our article with Lucy Mcrudden, Founder of Dance Mama.