11 August 2021
This month, our Chief Executive Ginny Brown has an article featured in Dancing Times magazine, highlighting the value of dance as an antidote to a digital world.
Amongst a number of vital topics in the dance world, Ginny covers the joy of dance, the importance of accessible online dance glasses, building strong connections across the dance sector and our grant from the Cultural Recovery Fund. You can find the article in the August 2021 issue on pages 19 - 21.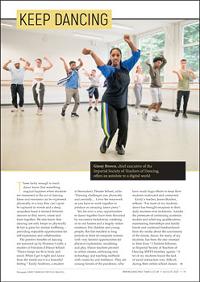 Be sure to look out for a further article reporting on the successful 'Talking Dance: the Future of Cultural Education' event in the October edition of the magazine.