11 May 2021
This week marks Mental Health Awareness Week, and to celebrate the publication of our new Wellbeing issue of Dance Magazine, we've spoken to our CEO Ginny Brown to find out how she incorporates good mental health and wellbeing into her life and work.


What does a (working) day in the life of Ginny Brown look like?
At the moment, the Society continues to follow Government guidance by working from home. So, I like to start my day with some yoga to get my body moving before a long day of sitting at my computer. Every working day is different, but the week starts with a Leadership Team meeting where we discuss plans for the coming week and issues that need to be resolved. Most days I then have a series of project meetings which focus on new plans in development. When possible, I try to keep the afternoons free to take forward actions from the morning's meetings and to keep abreast of new developments in the arts and education.


How do you incorporate wellness into your day?
Whilst working from home, I think it is particularly important to have a clear divide between work time and family life. I must admit that I'm not very good at taking a proper break at lunchtime (although I know that is important!) but I finish my working day with a walk. I find getting some exercise and fresh air really helps me unwind and leave the challenges of the working day behind.


What are three things that you do to look after your general wellbeing, or that you find beneficial to your wellbeing?
I really enjoy yoga and have been attending the same weekly class now for years. I also love getting out in nature by going for long walks in the countryside at the weekend. I'm fortunate to live on the outskirts of London so have fairly easy access to the beautiful Surrey Hills.
But the thing that has had the greatest impact on my ability to cope with the stresses and strains of leading an organisation (particularly through a pandemic) is mindfulness practice. This is a form of mediation that draws on a combination of ancient Buddhist knowledge and modern psychology. I first learnt mindfulness through a structured 8-week course and have done several follow-on courses which have been immensely supportive. Strange as it may sound (given that mindfulness is essentially meditation) but one of the joys of practicing mindfulness has been connecting with a group of likeminded people, who all come from completely different walks of life.


How important and why is good mental health and wellbeing for Imperial Society of Teachers of Dancing staff, and what is in place to ensure this?
I hope it goes without saying that staff wellbeing is our number one priority at the Society. Without our staff we are unable to deliver our services and we are very aware of the impact that the last year has had on everyone. Whether we have too many people at home, or too few, working and living in the same space has been challenging for many of us. And I'm sure we all miss the camaraderie of working together in the office.
We support staff welfare in several ways. The Society offers a free, confidential helpline and the support of our HR Business Partner. We also have brilliant staff Social Committee which has helped keep moral up with regular social events (like online quizzes) and free online monthly yoga and mindfulness sessions. Keeping everyone connected whilst working remotely is essential, so we also produce a bi-weekly staff newsletter packed with updates and wellbeing tips and we host a monthly all staff meeting, where staff are encouraged to contribute news and updates from their departments.

You used to be a dance teacher. Do you have any advice on how teachers can look after their mental health and wellbeing in their practice?
Many of our members work alone, or are responsible for other teachers in their schools, so I'm conscious that they may not have the network of support that employees of larger companies enjoy. So, connecting with the broader dance community is an essential source of support.

At the Society we provide this network through regular member meetings, talks and CPD courses and regular updates (many of which are a free member-benefits). I hope this has helped our members to feel supported and connected during an incredibly challenging year.

And I'm sure that as teachers return to teaching in the studio, seeing their students light up with the joy of dancing will make all the struggles of the last year feel worthwhile.
My advice to dance teachers is the same as for our staff – pace yourself, because unfortunately this pandemic is a marathon, not a sprint!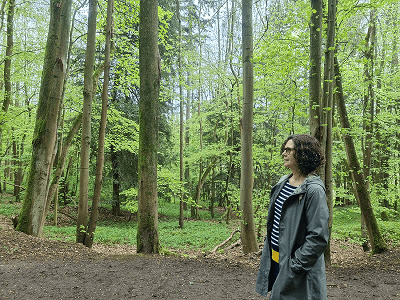 Ginny enjoying a walk in the fresh air in local woodland