8 February 2021
Q+A
As seen in Issue #491 of Dance Magazine
Lisa Harrison Jones, Head of Faculty Development for Modern Theatre and Classical Indian, catches up with singer, dancer and actor Layton Williams.
When did you first fall in love with dance?
My love for dance started when I was younger, watching and dancing to the Spice Girls and MTV, making up shows to perform and entertain my family. I was envious of my cousin who visited every Thursday afternoon after dance class, so decided to ask my mum to put me into a local dance school.
I attended Carol Godby's Theatre Workshop in Bury and within the year had answered an audition advert in the local paper that my mum had seen for Billy Elliot. I thought 'why not?' and joined the audition with over 4000 boys. Everything happened from there!
Who were your role models when you were growing up?

Growing up, I lived in a small council estate in Manchester, so I didn't know what it was to be a dancer or much about being in the West End. I'd never seen a West End show, so I didn't have 'role models' as such.

When I started at Billy, I was thrown into West End life, which was all very new. We used to go and see 'Wicked' in our breaks and when mum visited, we'd go again, so this show was an inspiration for me growing up. I've not been in the 'Wicked', but I did perform one of the songs for my singing assessments at Italia Conti Academy and give it my best Fiyero!
After classes at home, you came to Sylvia Young and then moved on to Italia Conti Academy. How did you find the transition to more formal training in London?
While I was at Billy, I lived with the other dancers from the show. I loved the fact I could mix with such diverse people and gain inspiration from my best friends. They were all training at Sylvia Young Theatre School or Italia Conti, and I wanted to dance and train like them. While I was at Sylvia Young I could attend school classes and still perform in Billy, though it wasn't until I went to Italia Conti that my formal training started.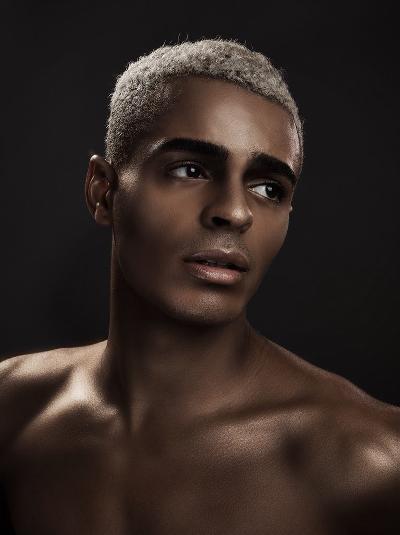 What were your memories of your Imperial Society of Teachers of Dancing exam classes and your experience of working with the Society's syllabus?
At Billy they trained us well - to perform the show, perfect all the turns, backflips, and kicks in the choreography. However, I didn't always understand the steps or the names of them.

Once I was at Italia Conti, I was in all of the Imperial Society of Teachers of Dancing exam classes. I remember the exams so well; the bell ringing, being nervous because I wanted to do well and gain distinctions for everything. I entered the Imperial Ballet Awards, which was a great accomplishment as I didn't see myself as a 'ballet boy' before then.

I loved learning within the Society's syllabus and working my way up through the grades. I'm very thankful for my time at Conti's as it solidified and honed what I knew and nurtured everything, to allow me to progress and grow in confidence.
Have you experienced major challenges in your career? If so, how did you overcome these?
I remember being in pantomime and receiving an email from my agent that Matthew Bourne wanted me to be in The Car Man. I was "shook"! Although I saw myself as a dancer, I did not see myself as a classical dancer as I have flat feet and not much turnout.

With Bourne being one of the most famous choreographers in the world, the chance to perform as part of his company was a massive challenge. I felt a lot of pressure to fit in with such a classical and contemporary company, but it is incredibly diverse and has shown me that I can do this style and fit it, just as I am. It was clear that Bourne wanted me to be who I was and did not want me to change, which allowed me to accept that "here I am, this is me and I am good enough.


In relation to the Black Lives Matter (BLM) movement, what do you think can be done to help change and educate people? How does being in a creative industry help?
The Black Lives Matter Movement has been amazing as it has started conversations about colour that are so important. I personally haven't had issues of discrimination in my training and my career, but I appreciate and understand this is not everyone's experience. When I started my career, I 'broke the mould' in my first job. From this I always had a quiet confidence, that if I worked hard and believed in myself that the producers would see this rather than the colour of my skin and if I was right for the part I'd be cast. For many of the auditions when I was younger, I'd see the same black dancers going for the same parts, but this is changing.

When we had the Jamie auditions for the new cast, there was such a variety of boys in the audition line-up that I'd not seen before, with all colours of skin, showing such diversity and that times are moving on.



"To any students and graduates out there, be patient, keep inspired!"

You have been cast in so many brilliant shows. What would you say was your most significant accomplishment to date?
It is so hard to look back and choose one show or one accomplishment, but I can never not appreciate what Billy did to bring me into this industry. To see my face up on billboards for Jamie on Shaftesbury Avenue was amazing and unforgettable and I could retire tomorrow knowing I was lucky enough to have this.
With the postponement of last year's tour of 'Everybody's Talking About Jamie', what are your plans and what are you steps to stay positive and inspired in this 'new normal'?
At the moment it is a waiting game, like so many other shows, and we are hoping that we can get back into the theatre with social distancing soon. I've also been involved with a concert version of Hair and have filming coming up which is very exciting.

I spent some of last year travelling across the UK with my 'Pros with the Shows' workshops. This type of teaching is my inspiration; seeing students' excited faces and their passion and want for the industry is what keeps me going and staying positive.
Lastly, is there any advice for aspiring dancers and performers through the pandemic?
I would say this is a passing moment and there is a light at the end of the tunnel. To any students and graduates out there, be patient, keep inspired, take online classes, listen to your teachers and take in as many experiences as possible.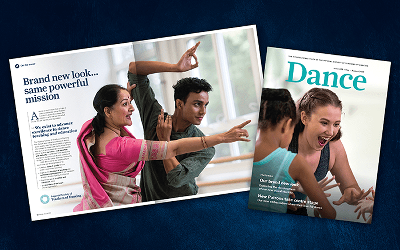 SUBSCRIBE
Dance Magazine
This article featured in Issue #491 of Dance Magazine.
Stay informed with the latest news and views from the Society, best practice in teaching, and inspirational stories from our alumni with your copy today.