19 October 2020
A dancer and performer who boasts a string of amazing credits including Aladdin, The Lion King, Fame, Footloose and more, Tarisha Rommick started off her training with a foundation in Ballet followed by training in Jazz, Disco and Modern Theatre with the Society. Tarisha talks to us about her love of dance and journey into a career in Musical Theatre, and the challenges that she has overcome that have made her the performer that she is today.
When did you first fall in love with dance?
I first fell in love with dance when I was about 5 years old. Before dance, I was quite shy as a child and my mum wanted me to come out of my shell, she hoped that dance would help me express myself. The first few weeks felt so alien to me, I just stood there not moving a muscle, but she was very persistent and after a month I finally decided I would have to participate.
It helped my confidence tremendously, I found once I got into it, I was able to express myself naturally. It's also a great way for kids to make and build friendships.
When did you begin your formal dance training?
I began my formal dance training around 5 years old at a part time dance school where we studied the ISTD syllabus in Modern Theatre, Tap Dance, Jazz and Disco. My favourite genres were Jazz and Disco because they were so energetic! I loved the dancing competitions because they helped me enjoy and get used to being on stage which definitely contributed to my chosen career path.
I think the examination process also helped; passing and wanting to get to the next stage pushed me to want to do better.
Why did you decide to go into theatre?
When I got into Millennium Performing Arts, one of the reasons that inspired me to go into theatre was because they were so inclusive; they never questioned my size and always pushed me to be the best. They also identified my talent and nurtured my passion for singing which made me look at a career in musical theatre, and then it just developed from there.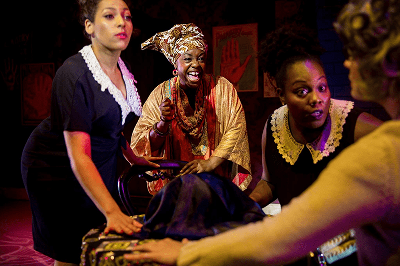 Do you have any role models that have inspired you in your career?
I love reading book and looking at articles featuring dance companies such as Dance Theater of Harlem and Alvin Ailey any professional dancers that look like me. Throughout my training, I have also been fortunate to be taught by teachers who have inspired me to the best I can be. They never questioned my weight which boosted my confidence to pursue my chosen career.
Have you experienced any major challenges in your career and how have you overcome them?
I have had a few experiences where I have been the only, or one of a few, black people within a production or show for whatever reason, and I was always expected to look after my own hair and makeup because no accommodations were made for me which was a shame. I often had to dye my own ballet shoes because it was impossible to find suitable shoes for me.
Stereotyping was something I had to overcome. Because I was bigger, it was difficult to break out of the stereotype to play the 'big black mother role' especially as a 19-year-old. Luckily, I was fortunate to experience roles like I have in The Lion King and Aladdin which were predominantly ethnic shows, and it was nice to experience a show where you are catered for like everybody else. I think the industry has definitely moved forward but I do feel it's still necessary to educate people about black skin and hair to ensure experiences like these are few and far between.
Unfortunately, I also had to deal with unpleasant experiences such as being told to give up dance, especially ballet 'as it just not for my body type'. Being a fuller dancer people expect you not to be able to do a lot of things, so I felt like I had to work really hard to prove them wrong and grow thick skin.
Do you have any advice you would give to young people in the industry?
My advice to young people is not compare yourself to anyone else and trust in your journey. It is so easy to look on social media and do that these days, but I have found that dedicating myself to my craft and maintaining my vision has brought me to where I am today.
I believe everything happens for a reason and if your journey isn't going in the direction you want it to go in - there is also a reason for that and it may push you into another path that you may not have originally considered.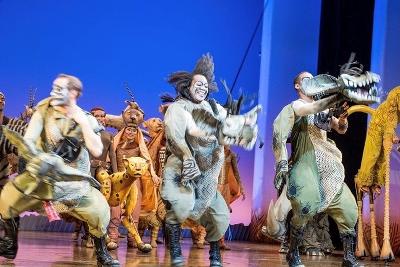 Tarisha Rommick's credits include:
Musical Theatre: Aladdin (West End), Ghost (UK Tour), Shenzi in The Lion King (UK/International Tour); Mabel Washington in Fame (UK Tour); Choir Member in Chess (Royal Albert Hall); Urleen in Footloose (UK Tour); Ensemble in Carmen Jones (Southbank Centre).
Television & film include: About a Boy (Universal, Dir. Chris & Paul Weitz); Slytherin Pupil in Harry Potter & The Chamber of Secrets (Warner Brothers, Dir. Chris Columbus).
Live Events: Singer at Secret Cinema presents Casino Royale (2019)
Tarisha trained at Millennium Performing Arts.