13 July 2021
Eve Pettinger MBE passed away peacefully in her sleep on 15 July at the age of 92 years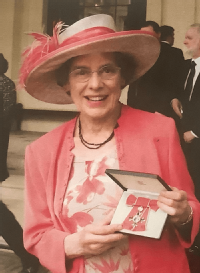 Eve after receiving her MBE
1929 - 2021
Her teaching career, by the time illness overcame her, had spanned sixty-four years at the Arts Educational schools in both London and at Tring. It was at the latter, now known as Tring Park School for the Performing Arts, she continued to teach until 2013.
Her passionate love of Ballet was born at the age of five, when having seen a performance in Leeds she was inspired to become a dancer. At twelve years old she was sent to the Cone-Ripman boarding School which moved to Tring Park after the war. She shared many vivid memories of the school's various locations during the war period and recollected John Gilpin studying there at the time.
After training at the Arts Educational School in London, she joined the Markova-Dolin Company at its inception. However, it was her innate teaching gift, recognised very early on by Grace Cone, that brought her back to the school to teach. Among her pupils in those early years were David Howard, Dudley von Loggenburg, Keith Maidwell, Alain Dubreuil and Ben Stevenson. The latter, with whom she recently spoke, hosted Eve, annually, for nearly thirty years as guest teacher to the Houston Academy, and Company, where he was Artistic Director.
Many students will remember Miss Pettinger's auditions for Nutcracker. The London Festival Ballet (formerly Markova-Dolin Company and latterly English National) mounted an annual production for which the Arts Educational Schools provided the children. It was the ambition of most eleven year olds to be chosen for the Christmas season with the Company and Eve was responsible for the rehearsing, dancing and professional conduct during these performances. The party scene required certain dramatic abilities, at which Eve herself excelled, so much so that one year the Company suggested she went on stage as a parent. The children that night were taken by great surprise to see her performing there with them and found it challenging to maintain their own act!
A talented choreographer, Eve created a number of solos for the Cecchetti Society and Royal Academy of Dancing, as well as many ballets for both schools. A particular highlight was the Markova Award, choreographed annually for final year students and adjudicated by Dame Alicia, herself. Many past pupils will remember, with certain nostalgia, the intense and often last minute rehearsals. She seemed to receive waves of inspiration just as time was running out but it felt sacrilegious to interrupt her! Eve had endless energy giving freely of her time and on occasions losing track of it altogether.
Eve's support and promotion of the Cecchetti work was unceasing throughout her career. As an examiner she travelled extensively in the UK and abroad. She sat on a number of sub-committees, to restructure both grade and vocational syllabi, and taught at many national and international Cecchetti Courses. Her very considerable contribution to the Faculty of the ISTD was rewarded in 2008 when she received the Cecchetti Gold Medal.
The achievement she deeply cherished was that of being awarded the MBE in 2007 for services to Ballet. The memories she treasured of the day she visited Buckingham Palace were often recounted with pride and the photograph, taken of her on this occasion, remained displayed in her room at St David's Nursing Home for the remainder of her life.
A testament to the high esteem in which she was held by her pupils, students and colleagues was the packed house that attended the gala performance, arranged in her honour, by Tring Park School for the performing arts in 2016. The artists, all of whom were past students and Cecchetti Scholars, were as proud to participate as Eve was delighted to be entertained. Indeed Eve's long, passionate and dedicated career has inspired many students down the years both at home and internationally. They will hold lasting memories of her energy to achieve better, and, undoubtedly, feel ever indebted to her.
Cara Drower