11 August 2021
From the 1950s onwards, the stalwart pioneers of the National Dance Branch (as it was then) who first taught and examined the syllabus abroad were Robert Harrold, Joan Lawson, and Helen Wingrave. These wonderful teachers helped to create the syllabus together with Mrs Grandison Clark as the Chair of the committee. New generations were, and continue to be, inspired and influenced by these pioneers of the genre.
Members, including Robert Harrold; to his left Miss Heather Rees, to his right Miss Marjorie Barton, Miss June Rycroft and Miss Joyce Percy
Joan Lawson taught both History of Ballet and National on the Professional and Teachers' course at The Royal Ballet School. Helen Wingrave had a studio in central London before moving to Putney where she and Robert Harrold shared her studio.
They all wrote extensively, sharing their knowledge and providing background information on style, music, and costume. Therefore, they were the primary source for teaching the syllabus abroad and then subsequently examining the work.
Irene Grandison Clark and Joan Lawson founded the National Dance Branch in 1952 and since then it has developed as both a theatrical and an educational form of dance. A theatre approach demonstrates how various dance styles can be used as the basis for choreographed presentation and an educational approach allows students to study the culture around the dances, including the music, customs, and costumes of many countries.
In 1972, Helen Wingrave conducted the first overseas examinations, which were held in New Zealand. There was great enthusiasm for the work, and it subsequently spread to other countries such as Canada, Cyprus, Hong Kong, Mexico and South Africa. The experiences overseas were not limited to dancing, Helen Wingrave wittily recalled while examining in South Africa the weather was very hot and the teacher had kindly opened the doors at the bottom of her studio. To Miss Wingrave's amusement, two cows entered the exam room to listen to the music and stood watching the dancers performing! Miss Wingrave calmly stood up, gently shooed the cows out and continued with the exam.
Another pioneer was Miss Patricia Crail, whose best and most devoted love was that of the overseas development of the ISTD. This she started in 1972 during a period of searching for new ventures. Following an invitation to teach in Calgary, Canada, she knew she had found her chosen path and for some considerable time she continued to promote the work throughout the world.
It was brave and adventurous in those early days. Often Miss Crail funded her own way and, by invitations to teach, she managed to extend her visits by days and weeks until the tours were often months long. In February 1979 she left Liverpool for Mexico, however, this was not plain sailing. There were problems with freezing Arctic conditions in England causing flight delays. Eventually, on arrival in Mexico City her case was lost – so on top of all the delays she found herself with no luggage.
On this trip, as well as examining National Grades, Medals and Vocational work, Miss Crail also introduced Popular Tap Tests, Tap Grades and Modern Grades, giving as much help as possible.
From Mexico City she went on to Los Angeles, Seattle, New Jersey, Long Island Connecticut and Boston, totalling forty four days travelling for the tour – wow!
She always spoke with pride and generosity of the faculties she had been so deeply involved with: National, Modern Theatre, Imperial Classical Ballet and Tap, and was a true exemplar of the qualities that have been the hallmark of the teaching of the Imperial Society of Teachers of Dancing worldwide.
Like Patricia Crail, June Rycroft and Yvette Sargent also spent many months out of the UK examining, encouraging and supporting teachers in other parts of the world. These three women did so much to inspire teachers worldwide and to encourage them to strive for better standards and they leave us with a treasure trove of memories.
Building on the solid foundations laid down by these wonderful people, we are fortunate to have a generation of young and inspiring national dance teachers with fresh and innovative ideas for ways to continue promoting the national syllabus, keeping it alive and relevant for future generations.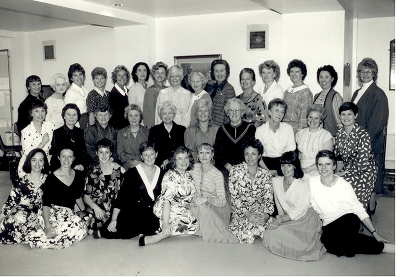 Above: Pioneering members of the National Dance Faculty, some are Imperial Classical Ballet examiners, some National examiners as well.
Back line from left to right: 1 Joan Hardy, 2 Margaret Benson, 3 Drusilla Duffill, 4 Cynthia Carr, 5 Mavis Butler, 6 Elizabeth Hodgson, 7 Alex Barnes, 8 Rosemary Woodd, 9 Jean Frecker, 10 Margaret Dixon 11 Barbara Coales, 12 Judith Hockaday, 13 Elizabeth Harrison, 14 Hilary Say 15 Patricia Prime.
Middle line: 1 Patricia Plaisted, 2 June Rycroft, 3 Yvette Sargent, 4 Marjorie Barton, 5 Joyce Percy, 6 Doreen Bird, 7 Ivy Baker, 8 Jean Campbell, 9 Margaret Ward, 10 Marianne Mansell Edwards.
Front Line: 1 Suzanne Hobbs, 2 Eunice Walton, 3 Leigh Bushnell, 4 Anne Winter, 5 Cherry Lloyd, 6 Jayne Taylor, 7 Gillian Farr, 8 Mary Cooke, 9 Heather Fish
Want to learn more? Find out more about our National Dance Faculty here.